Homemade Whipped Cream is so much better than Cool Whip and easy to make!
I make whipped cream with my KitchenAid Mixer using the whisk attachment. Before I had my KitchenAid I used a handmixer. It took so much longer longer but with the KitchenAid mixer it's much quicker and easier. There are a few tricks to getting perfect whip cream every time. This recipe comes from my 1987 KitchenAid Cookbook that came with my mixer.
It only takes 3 basic ingredients to make whipped cream!
When making whipped cream, you need three things - heavy cream also called heavy whipping cream, a flavoring such as vanilla extract but you can use other flavors, and a sweetener such as confectioners sugar.
Everything must be very cold!
To make the best quality whipped cream both ingredients and tools must be very cold. I put my mixer bowl and wire whisk attachment in the freezer for an ½ hour before I make my whip cream. I also put my flavoring and my sweetener in the refrigerator with my heavy cream to make sure all those ingredients are chilled to the max.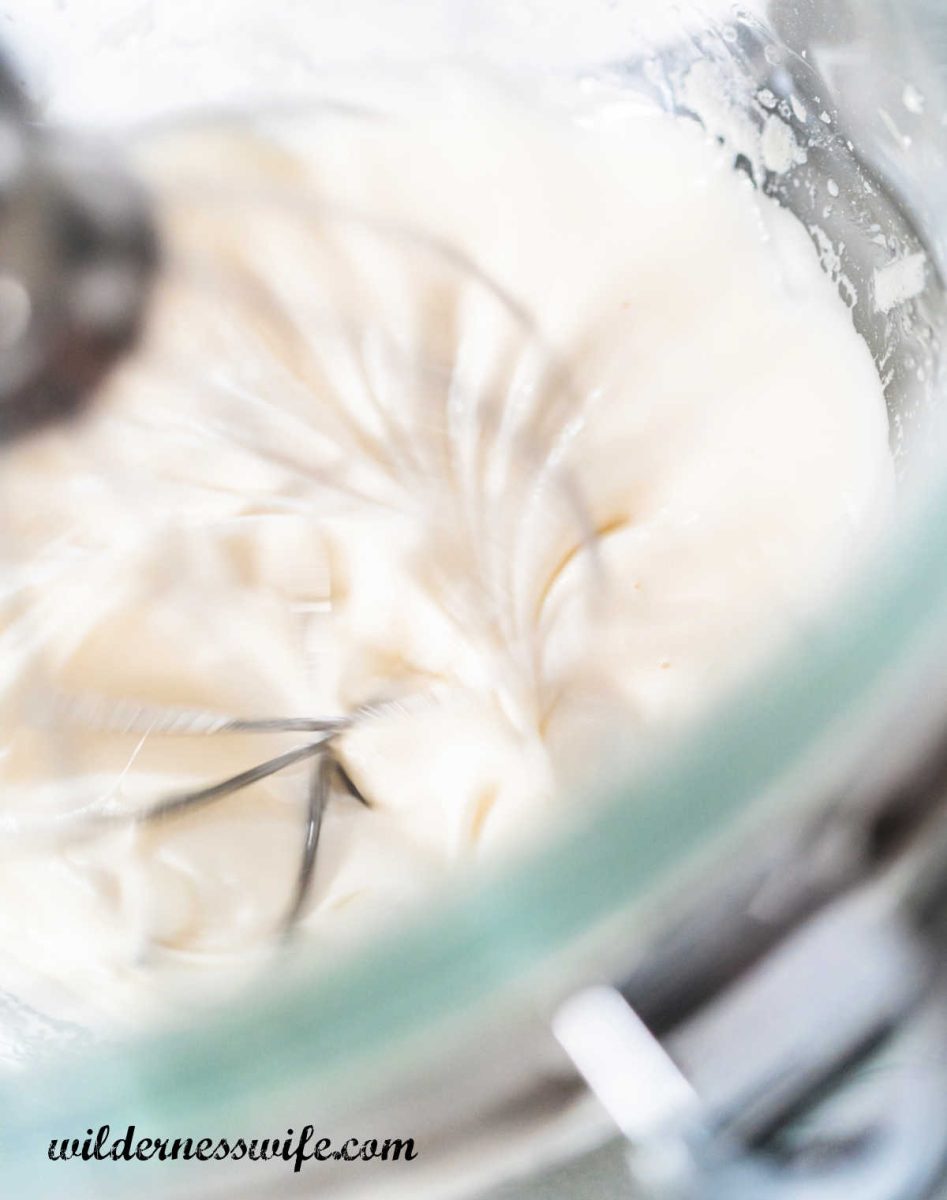 What kinds of cream are best for whipping?
You should use heavy cream, sometimes labeled as heavy whipping cream, as it will hold its shape better. It has 36% milk fat and makes a much creamier end product. Avoid "Ultra-pasteurized" heavy cream as it can be trickier to work with, so to ensure a good outcome, use regular pasteurized heavy cream. Whipping cream, also known as light whipping cream, has 30-35% milk fat. You can use it but it will not hold its shape well or form nice stable peaks. It does not work as well when used in piping decorations on a dessert.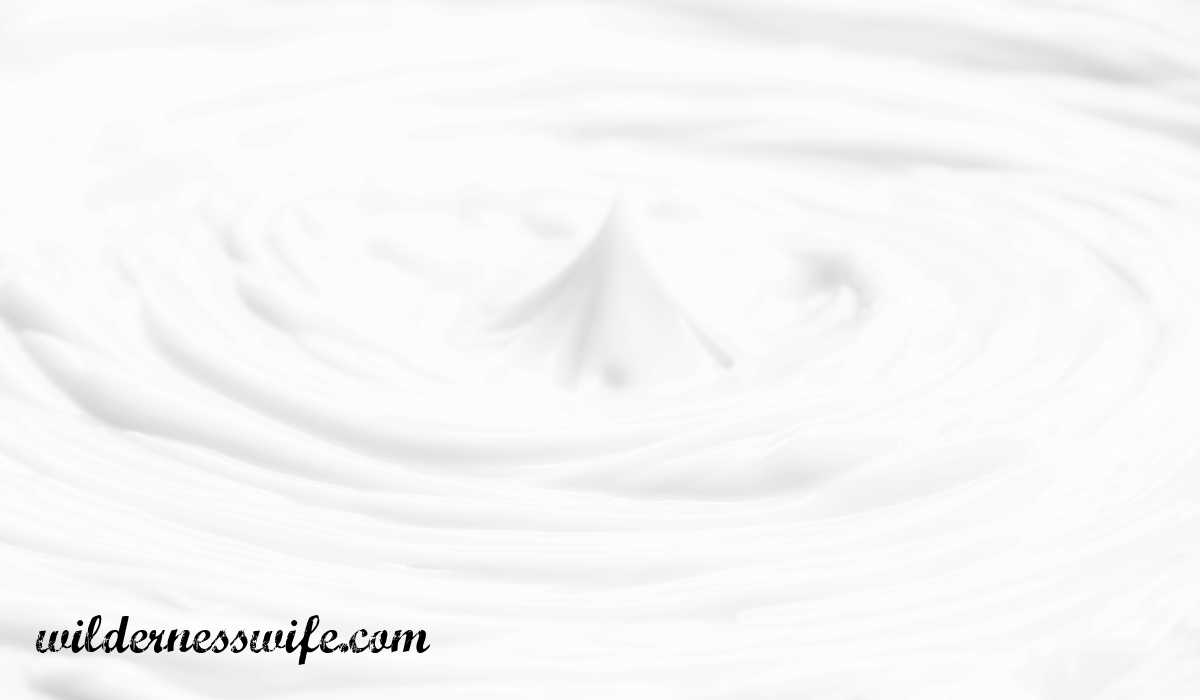 Can whipped cream replace Cool Whip in a recipe?
For any recipe that calls for Cool Whip, you can substitute homemade whip cream. In substituting the homemade whip cream, use it 1:1 in place of Cool Whip. Homemade whip cream will store well in the coldest area of your refrigerator (never on the door) for 24 hours but if you stabilize it by adding ⅛ teaspoon of cream of tartar to every cup of cream at the beginning of the beating process, it can last 3-4 days.
Can I pipe this whip cream?
Yes, you can. And piping this whipped cream makes a dramatic effect on your desserts. It's easiest to do with a large star tip on your piping bag. Treat homemade whip cream like you would frosting. You can even spread it with a knife or a spoon.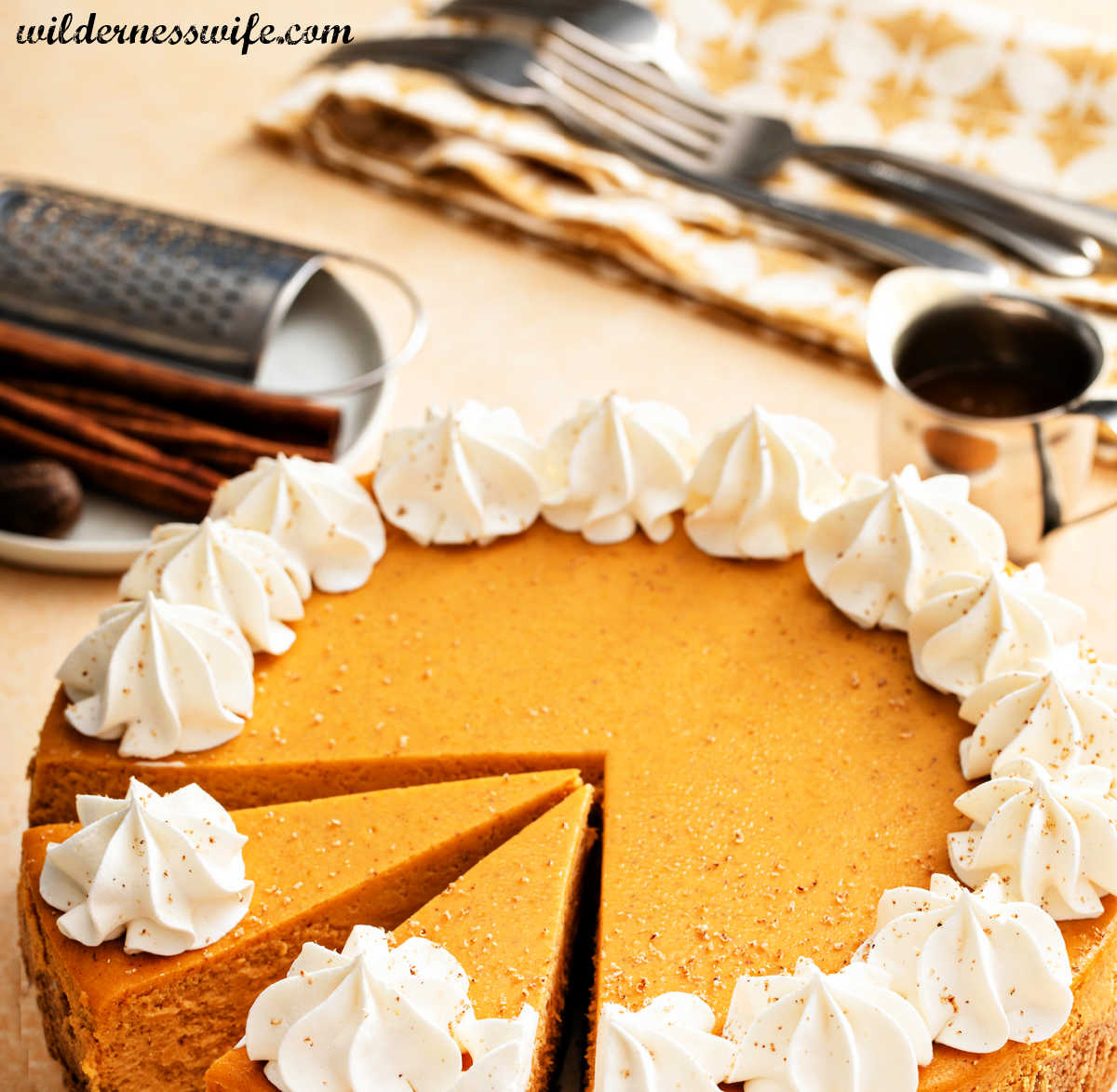 How to stabilize your homemade whip cream for longer storage?
The whipped cream final product is best if used within 2-3 hours of your making it. If you intend to keep it longer you need to stabilize it. This is done by adding ⅛ teaspoon of cream of tartar to every cup of cream at the beginning of the beating. When storing it in your refrigerator, always place it in the coldest area and never keep it on the door! For more information on how long you can store food go to Can It Go Bad, a very informative site that gives great information about the longevity of food.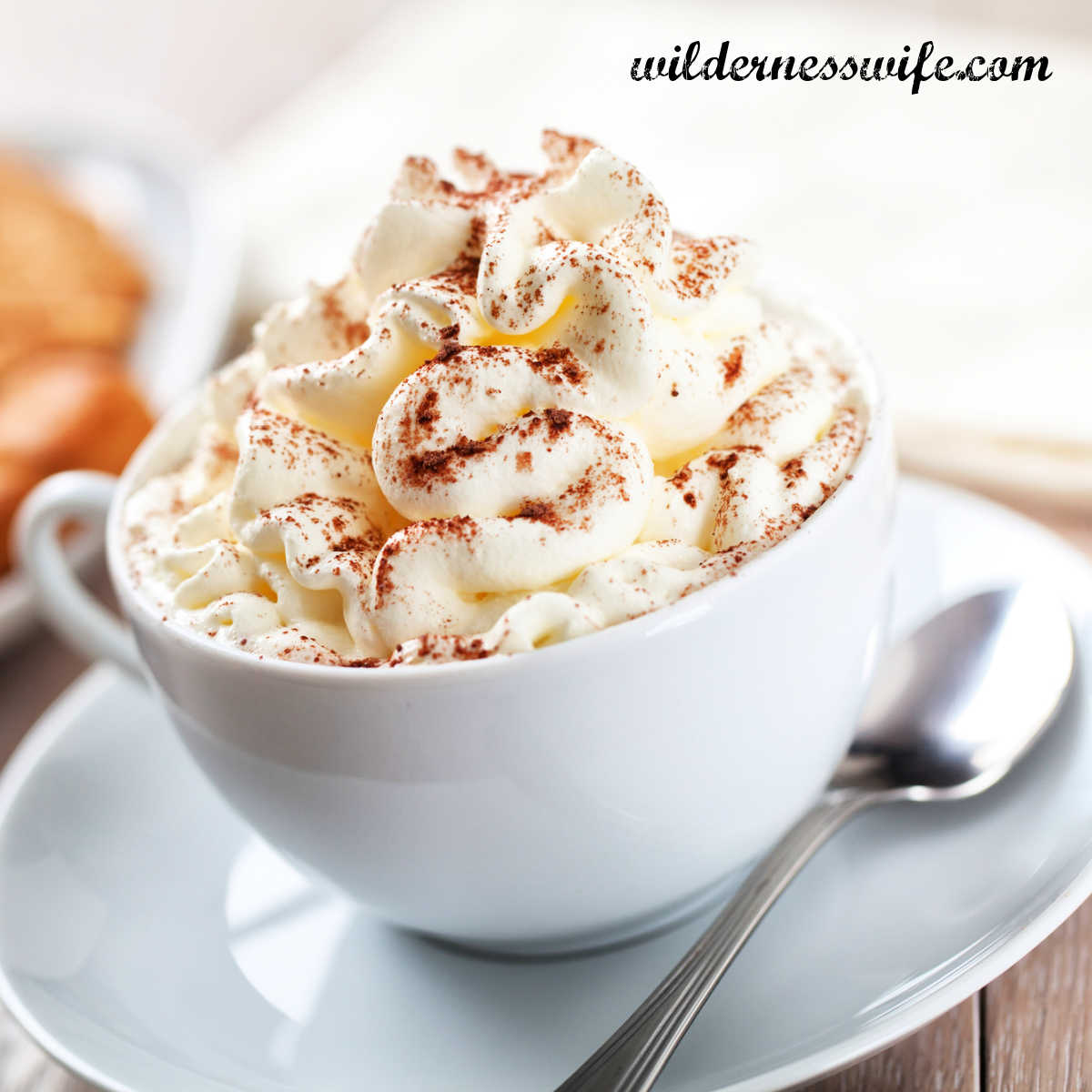 How to change the flavor of your whipped cream recipe
its very easy to change the flavor, by just changing one ingredient. The vanilla extract can be replaced with any number of extracts that are available such as butter rum extract, strawberry extract, mint extract to name a few. I have also changed it up by using liqueurs in place of extract in the same amounts. I have used Crème de Menthe, Coffee Brandy, Apricot Brandy, and even Southern Comfort with great success.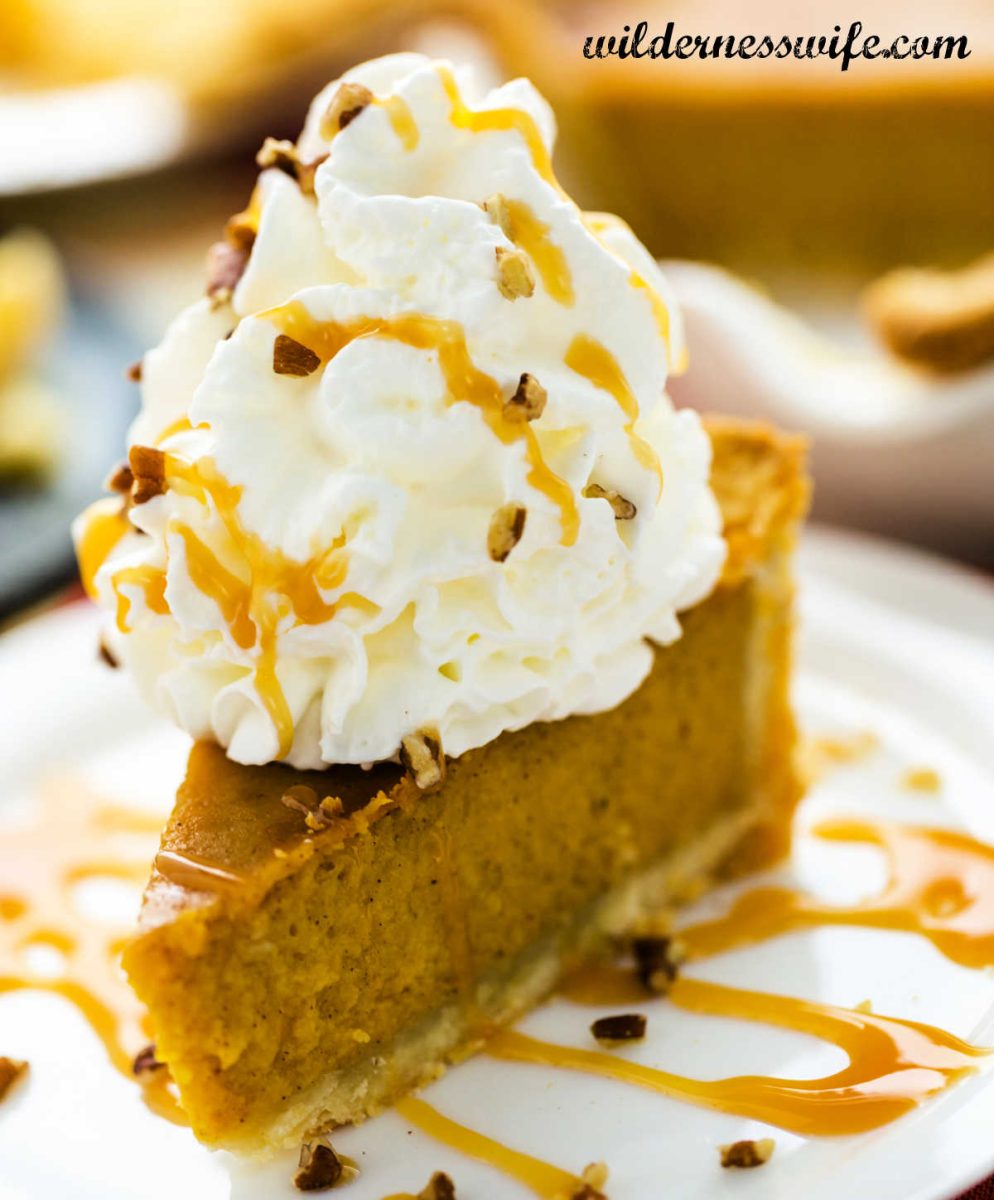 Recipes to use with your Homemade Whipped Cream
Print
KitchenAid Whipped Cream Recipe
Homemade Whipped Cream is not that difficult, especially if you have a Stand Mixer like my KitchenAid. And it is so superior to Cool Whip, please try making it! You will be thrilled with the outcome.
1 cup heavy cream
½ teaspoon vanilla extract ro other flavoring of choice
3 tablespoons of sweetener (prefer confectioners sugar as it makes a smoother product but you can use granular sugar)
Instructions
Place chilled cream and vanilla extract in a chilled bowl.
Attach chilled wire whisk and bowl to mixer.
Turn mixer to Speed 8 and whip until cream begins to thicken.
Continuing on Speed 8, gradually add sweetener until mixed well and cream is forming peaks, CAUTION: Do not over-whip as it will turn the cream to butter.