Rhubarb Crumble with Vanilla Ice Cream .....It's a Very Good Thing!
Rhubarb Crumble is good anytime of the year but I love it in the spring because that's when I can grab fresh rhubarb from the garden.  Let's face it....there's nothing like ingredients that are garden fresh!  Eaten alone, fresh from the garden, rhubarb is extremely tart! It makes a lemon seem sweet....talk about pucker power!  But when paired with other fruits and  some sugar and spice, it is so yummy.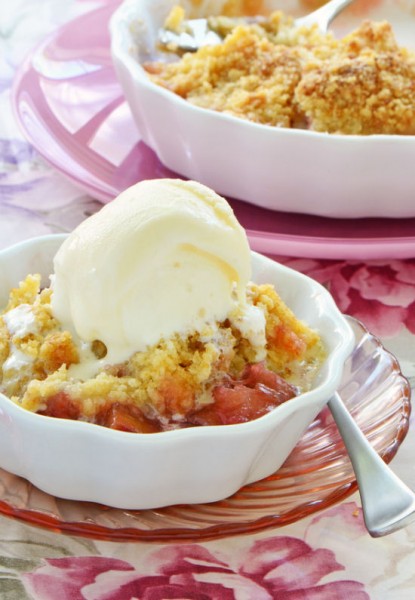 Preserve Your Spring Rhubarb for Year Round Use!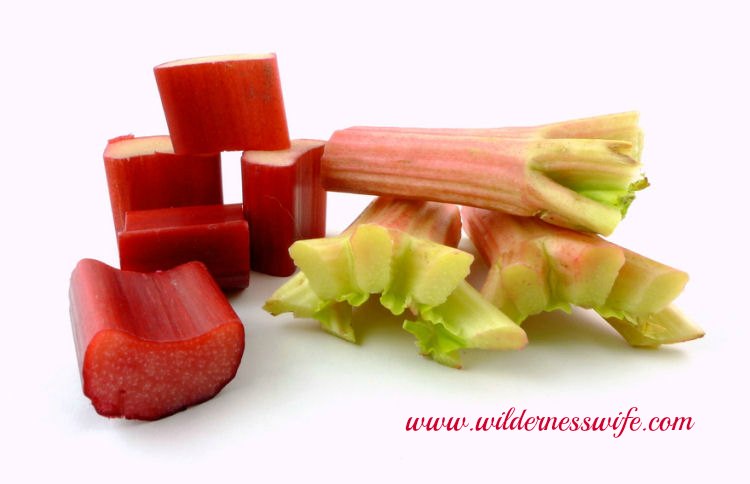 But there are no other fruits that are ready to harvest when rhubarb comes in season here in the far northern part of Maine.  I have a file of recipes that use Rhubarb all alone or with things that are readily available any time of the year I always freeze some to have on hand for pairing with different fruits all through the summer and autumn.  Freezing rhubarb is very easy and quick to do. Follow the directions in my post "How to Freeze Rhubarb". Try Rhubarb Jam in a previous post , the Rhubarb Crumble recipe in this post or a delicious and moist Strawberry Rhubarb Bread that's perfect for brunch.
You can also preserve rhubarb by canning making it into Rhubarb Jam and Rhubarb Sauce. I use the water bath canning method for my rhubarb jam and rhubarb sauce. My rhubarb jam recipe has instructions for the canning process. Water bath canning is an easy way to preserve certain foods and worth the minimal time and effort it takes. For me it always reassuring to know where my food comes from so growing it and processing myself save me money and give me peace of mind.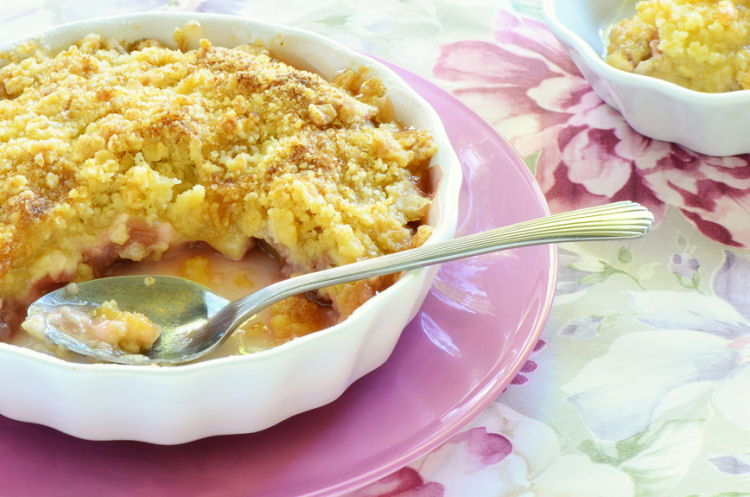 Print
Rhubarb Crumble - It's a Spring Thing!
Rhubarb is a favortie in the British Isles which is probably why Dad loved to grow it. My plants are plants that my Dad gave me and I divide and keep the patch going. His plants came from my childhood home in New Hampshire so these plants have been in my family for at least 100 years.My grand dad had them in his garden. I love the legacy of them and I love the taste!
Author:
Category:

Dessert

Cuisine:

English - American
1

lb. rhubarb, cut in 1 inch pieces

1

lg. egg

1

c. sugar

1

c. flour

1 ½ tsp

. pure vanilla extract

½

c. light brown sugar

½

c.old-fashioned oats

1

stick cold butter
Instructions
Preheat oven to 350 degrees.
Spray 8"x8"baking dish with cooking spray.
in medium bowl, beat egg.
Add vanilla, 2 tbs. flour and sugar to beaten egg, and continue to beat.
Add rhubarb to mixture and pour into 8"x8" baking dish.
To make crumble topping, combine brown sugar, oats, and remaining flour in a small bowl. Cut butter into small cubes, about ⅜" in size.
Using a pastry cutter or a fork, combine until crumbly.
Sprinkle crumbly mix on top of rhubarb filling.
Bake in 350 degree oven for 45 minutes.
Serve warm with whipped cream or vanilla ice cream.
For more rhubarb recipes and information on gardening rhubarb, go to these pages -