First we need Rhubarb and Strawberries for our Bread - Timing is everything!
I love making this strawberry rhubarb bread recipe. One of the earlier plants that comes up in my garden is my rhubarb. I'm not sure what variety it is but its a special plant to me. When we moved here to northern Maine from New Hampshire, my dad gave it to me to bring with me.  It was divided from the plant he had in his garden for many years. My rhubarb is a living reminder of him and his gardening. That was 27 years ago and I have divided that plant many times so I have quite a supply of rhubarb.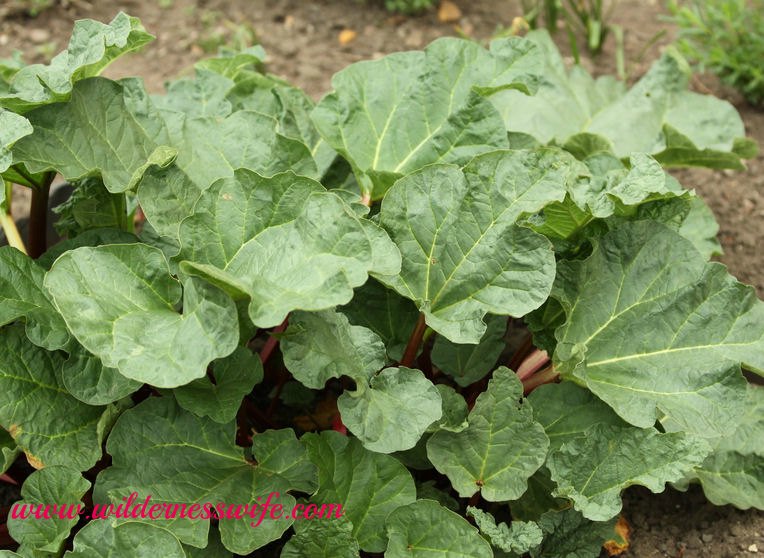 Now back in southern New Hampshire, the season for Strawberries and Rhubarb came together beautifully so I could make fresh strawberry rhubarb pie, strawberry rhubarb muffins, strawberry rhubarb bread, and my rhubarb jam all in the late spring/early summer. Here in northern Maine the strawberries don't come in till early July and by then my rhubarb has bolted and is starting to go to seed. My solution is to harvest the rhubarb, process it for freezing so my ingredients are ready when the local strawberries are at peak ripeness. For information on freezing rhubarb visit this page - Rhubarb Recipes and Growing Rhubarb in your Garden
This Strawberry Rhubarb Bread Recipe is so moist
The key to this strawberry rhubarb bread being moist and tender is partly ingredients and partly technique. If you want a nice tender quick bread with nice crumb texture don't over-mix your batter.  My technique is to "pre-combine" my ingredients so that I don't have to spend a lot of time beating the batter at the end.  I take all my dry ingredients and sift them, and then thoroughly combine them to evenly distribute things like baking powder, and salt and any spices.  Then I separately combine all my wet ingredients, using my stand mixer so that they are evenly distributed through the wet mix.  Finally when I combine the two together, using a wooden spoon, all I am doing is making sure that the wet ingredients and dry ingredients are just combined enough to bring the dough together and evenly distribute the moisture, but don't over-mix.  Over-mixing will toughen the final product.
Size is everything when it comes to Strawberry Rhubarb Bread
When making a product like a fruit quick bread or muffins, be sure to cut your pieces of fruit to a consistent size for even cooking. For this strawberry rhubarb bread you are dicing the fruit and rhubarb. I try to keep the pieces to a ½ to ⅜ inch size so that they will cook evenly to a desired tenderness in the allotted baking time. The fresh fruit ingredients are added to the batter last and are gently folded in.  Be sure to dust them with flour.  This prevents then from sinking to the bottom of the loaf pan and leaves them evenly distributed through the bread. When the bread is done baking, you test it by inserting a toothpick or a wooden skewer into the loaf.  If it comes out clean, with no batter stuck to it, your strawberry rhubarb bread is done.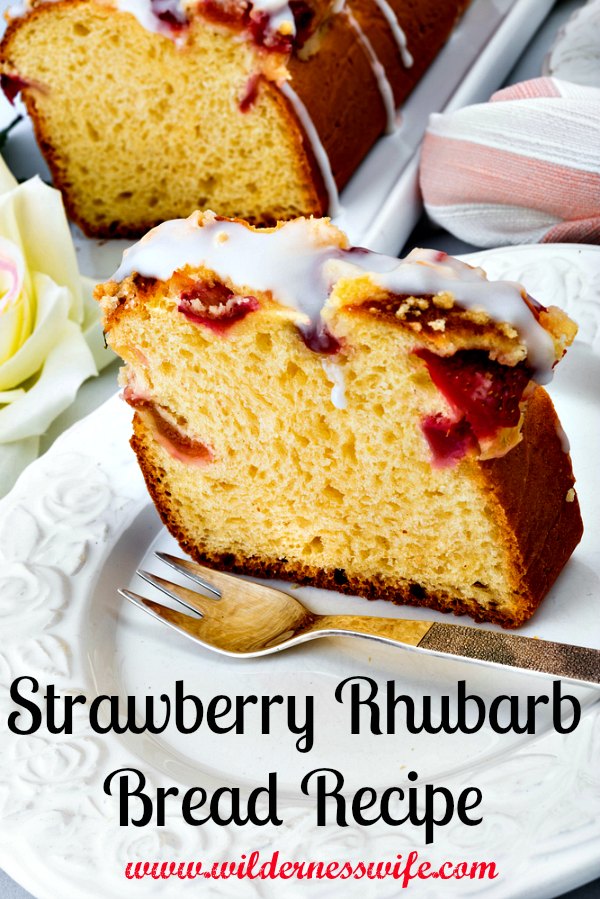 To glaze or not to glaze - that is the question?
You can glaze the top of the bread after it cools and that is a matter of personal choice.  I like it unglazed with a pat of butter spread on it.  If you do want to glaze it I have included a glaze recipe below. So enjoy this yummy bread.  Its change from the typical banana bread and zucchini bread.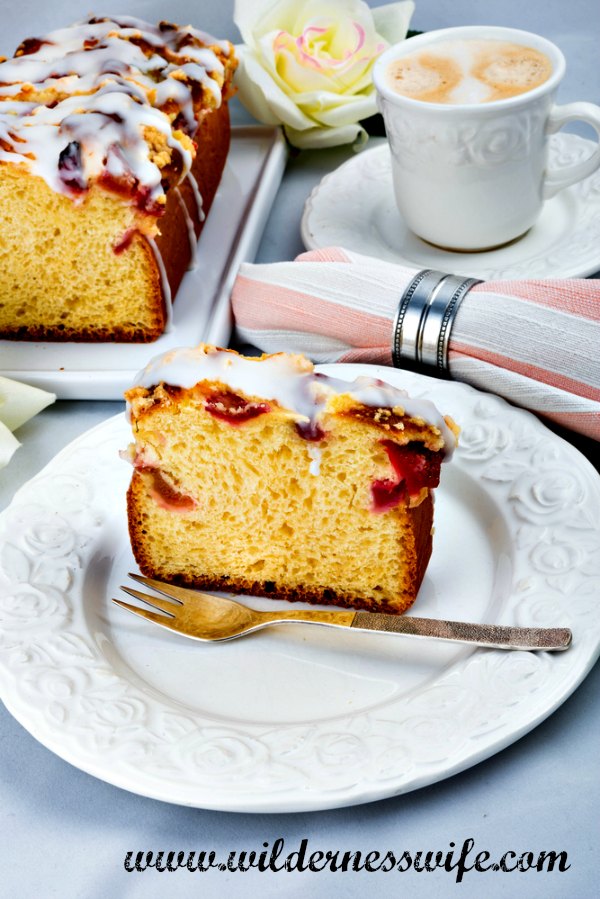 For more Rhubarb recipes try these posts -
Try these Wilderness Wife Strawberry Recipes -
Print
Best Moist Strawberry Rhubarb Bread Recipe
I love this Moist Strawberry Rhubarb Bread Recipe. It's the perfect quick bread recipe for a brunch menu or the perfect partner for an afternoon cup of tea.
Author:
Prep Time:

15 mins

Cook Time:

45 mins

Total Time:

1 hour

Yield:

2

loaves

1

x
Category:

Quick Bread

Cuisine:

American
1 cup

of brown sugar

½ cup

granulated sugar

⅔ cup

vegetable oil

2

eggs

1 tsp

. vanilla

1 cup

sour cream

2 ½ cups

all purpose flour

¾ tsp

. salt

1 tsp

. baking soda

½ tsp

. cinnamon

¾ cup

diced rhubarb

¾ cup

diced/chopped strawberries

1 tbsp

. all purpose flour
Optional: ½ cup nuts (I like walnuts or pecans)
Instructions
Preheat oven to 350F
Combine sugar and wet ingredients and mix thoroughly : brown sugar, granulated sugar, vegetable oil, eggs, vanilla, sour cream.
In separate bowl combine dry ingredients and mix thoroughly: flour, salt, baking soda and cinnamon.
With a wooden spoon, gently combine dry and wet ingredients. Do not over mix as it will toughen your bread.
Dust strawberries and rhubarb with 1 tbsp. of flour.
Gently fold in rhubarb and strawberries.
Transfer into 2 greased 8x4-in. loaf pans.
Bake at 350F for 45 minutes. Test for doneness by inserting toothpick which should come out of loaf clean.
Let set in loaf pans for 15 minutes and then remove from pan and continue to cool on wire racks.
Print
Best Moist Strawberry Rhubarb Bread Recipe
This quick and easy Vanilla Glaze is great to put over dessert breads, muffins, donuts, tec.
Author:
Prep Time:

5 mins

Cook Time:

5 mins

Total Time:

10 mins

Yield:

½ cup

1

x
Category:

Dessert

Cuisine:

American
1 cup

confectioners sugar

2 tablespoons

milk

¼ tsp

. pure vanilla extract
Instructions
Combine sugar, milk and vanilla in a small bowl. Stir until smooth.
Let stand for 5 minutes to thicken.
Spoon over cooled bread.
Quick and Easy Vanilla Glaze Recipe