Strawberry Shortcake Cookies - The Portable Alternative to a special dessert!
When summer is here in Maine, its Strawberry Shortcake time! But things like whipped cream or vanilla ice cream don't do well on a picnic or a camping trip, where portability is the big issue! This past weekend ended up a total bust! What had been planned as a Memorial Day picnic at the lakeside turned into a cold rainy weekend in the house.  Thank goodness we have a very large front porch (10' x 30') that accommodates a large picnic table and gas grill so we could keep the menu that had been planned.  And it was kind of fun to change up the original plans to fit the weather.  All the things for the menu had been planned with portability in mind.  I had made Strawberry Shortcake Cookies, which are great for a picnic when real Strawberry Shortcake isn't practical. No refrigeration required, no dishes to clean up....it works for me!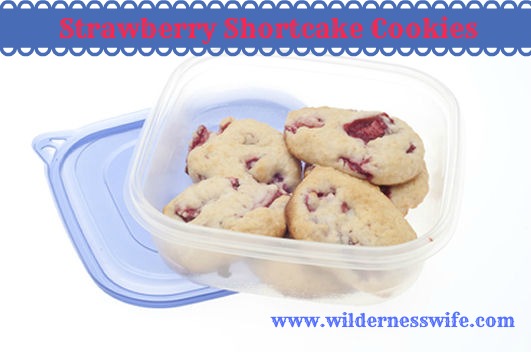 This cookie recipe is one of my all time favorites!
I think I found this recipe in Martha Stewart magazine or one of her cookbooks so I must credit Martha with this recipe.  I have made changes here and there over the years.  It's a great one to make snacks for picnics and hikes. Making this type of cookie, a drop cookie, is easy!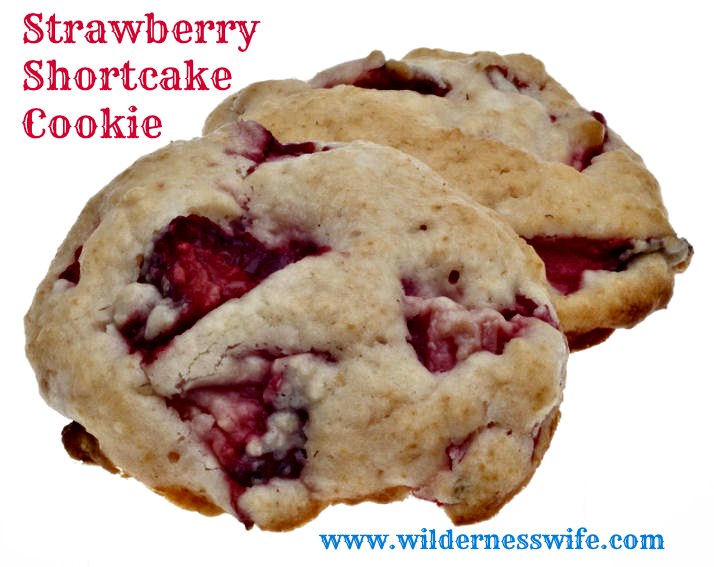 Tips for making great cookies!
These are tips for making great cookies that will give you success every time.
Unless the recipe specifically says otherwise, always use unsalted butter, unsalted nuts, large size eggs, and pure flavor extracts.
Baking successfully is dependent on the specific correct proportion ratios of the ingredients, so always measure carefully, particularly the first time preparing a recipe. If later you feel the need to make some adjustments for a better result, you at least have a baseline to work from.
The majority of cookie recipes call for all-purpose flour. Measure  by spooning the flour into a dry measure cup and level with a knife. Never sift the flour unless recipe instructions tell you to do so.
When placing your cookies on the baking sheet, always leave 2 inches of space between them so they have room to spread.
Baking times can be adjusted for the cookie texture you desire.  Shorter baking time yields a softer, chewier cookie, while longer baking time yields a more crispy cookie.
Always let the cookies thoroughly cool before attempting to decorate them.
When baking bar cookies, use the exact pan size called for in the recipe so the cookie bars turn out correctly proportioned.
Use parchment paper to line your cookie sheet so the cookies won't stick and you'll have an easy clean up.
Try these other Wilderness Wife Cookie Recipes -
Try this Wilderness Wife Strawberry Recipe -
Print
Strawberry Shortcake Cookies Recipe
With all the ingredients of a Strawberry Shortcake, this recipe gives you a very portable alternative!
Author:
Category:

Cookie

Cuisine:

American
2 cups

strawberries cut into

¼

-inch chunks

1 teaspoon

fresh lemon juice

⅔

sugar

2 ½ cups

all-purpose flour

2 ½ teaspoons

baking powder

½ teaspoon

kosher salt

6 tablespoons

cold unsalted butter, cut into small pieces

⅔ cup

heavy cream
Instructions
Preheat oven to 375 degrees F.
Combine strawberries and lemon juice in bowl.
Sift together flour and baking powder.
Add sugar to dry ingredients and thoroughly mix with wire whisk.
Using a pastry cutter, cut butter into dry ingredients until mixture resembles course crumbs.
Stir in cream till dough starts to come together, then gently add strawberries. Be careful not to over-mix or strawberries can become mushy. You want the strawberries to remain chunky.
Drop by the tablespoonful onto a cookie sheet lined with parchment paper. Be sure to use parchment paper. It will make the clean up easier, as the sugary fruit will scorch and stick to the cookie sheet if it comes in direct contact with it.
Bake until golden brown, about 20-25 minutes.
Remove to cool on wire racks.