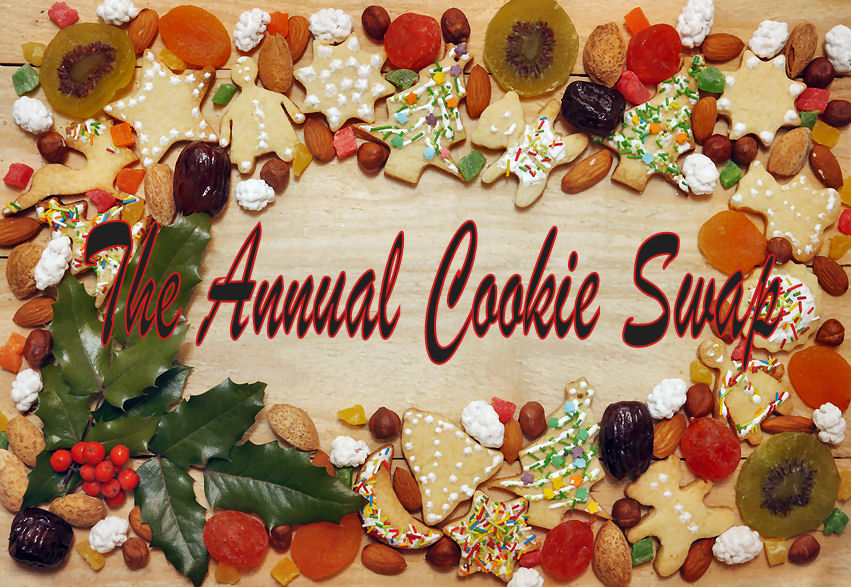 When you get to be my age, you have a lot of Christmases to reflect on; lots and lots of memories and traditions from Christmases past.  One of my favorite traditions was started by my sister Pat and her husband Moe (short for Maurice) – the annual Christmas Cookie swap.  It happened on the Sunday afternoon before Christmas at Pat and Moe's home in Peterborough, New Hampshire. Both Pat's family (small in comparison) and Moe's family (gargantuan with Moe being one of 9 siblings), including grandparents, great grandparents, aunts, uncles, cousins all gathered together for a potluck meal, carol singing and a cookie swap. With kids ranging from high school to newborn running through the house and adults catching up on the latest family gossip, it could get a little overwhelming but always warm, cozy, and fun. As the fire crackled in the fireplace, the younger kids would gather on the stairs to serenade everyone with Christmas carols lead by Aunts Doris and Tess.  The potluck buffet dinner was amazing with treats like Doris and Tess's Toutiere Pie (Moe's family was French Canadian and Doris and Tess had a little competition going as to who's Toutiere recipe was the best), Moe's File Gumbo, Gram's Kahlua soaked Bundt Cake, Boston Baked Beans, Sweet and Sour Pork, Jeff's Beer Chili, Pat's Brioche, Nana's Fudge and more delicious casseroles than a Church Supper. After the meal was done and cleared away, each family arranged their cookies on Pat's enormous dining room trestle table.  The kids would take their brightly colored holiday paper plates and pile them high with cookies of their choosing, and then Pat and Moe would wrap the plates with tissue anchored with bright holiday ribbons. At the close of the day, we would all head home stuffed to the brim with food and Christmas Spirit and wonderful Christmas memories to ponder for years to come.
In honor of Pat and Moe's wonderful Christmas memories, I'll be sharing Christmas Cookie recipes gathered from these events throughout this Christmas Season. Here's the first installment.
Soft and Chewy Christmas Cookies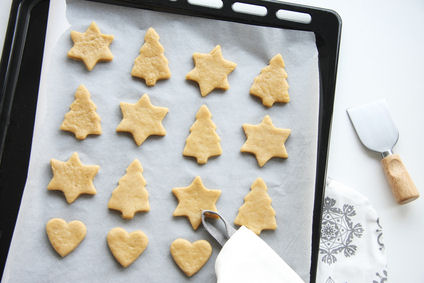 Print
Soft Sugar Cookies
Soft and moist, these aren't your typical sugar cookies...they're so much better!
Author:
Cook Time:

9 mins

Total Time:

9 mins

Category:

Cookie

Cuisine:

American
1

c. softened butter

1 ½

c. confectioners' sugar

1

egg

1 ½ tsp

. pure vanilla extract

2 ½

c. all-purpose flour

2 tsp

. baking powder

½ tsp

. salt
Instructions
Cream butter and sugar together in mixing bowl (using electric mixer) until light and fluffy.
Beat in egg and vanilla extract.
In separate bowl, mix flour, baking powder, and salt.
Gradually add dry ingredients to creamed ingredients.
Divide dough in half and form each half into a round.
Cover with plastic wrap and place in fridge for 2 hours until chilled and easy to handle.
Roll the dough out on a lightly floured surface until ¼ inch thick.
Cut with floured cookie cutters.
Place 2 in. apart on an ungreased cookie sheet.
Bake in preheated 375 degree oven for 7-9 minutes or until set.
Cool on wire racks.
Decorate with frosting and sprinkles.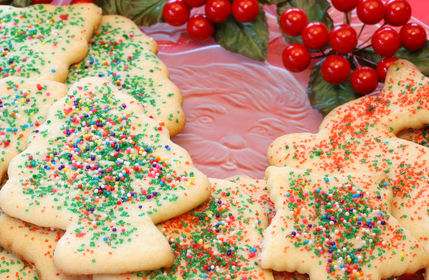 Chocolate Pinwheel Cookies