Rhubarb Recipes and How to Garden Rhubarb
It's time to dig out my rhubarb recipes. Spring is here. The snow is almost all gone with just a bit of the icy white stuff lingering around the edge of the fields. I spent yesterday cleaning out around the perennial plants and adding a new layer of compost to my rhubarb plants. They are looking great again this year and I will start harvesting them in a couple of weeks. I brought these plants with me when we moved here from New Hampshire over 20 years ago and they are still going strong. I divide them every 3 or 4 years to increase the patch. Usually I do this in the very early spring while the plants are still dormant. I dig up the crown by putting a shovel in the ground about 6 inches in depth near the base of the plant and lift the entire crown out of the ground. I then divide the crown with my hands to fist sized pieces and replant them. Then I let the "new" plants mature for a couple of years before I harvest them so the rhubarb can get a good firm hold.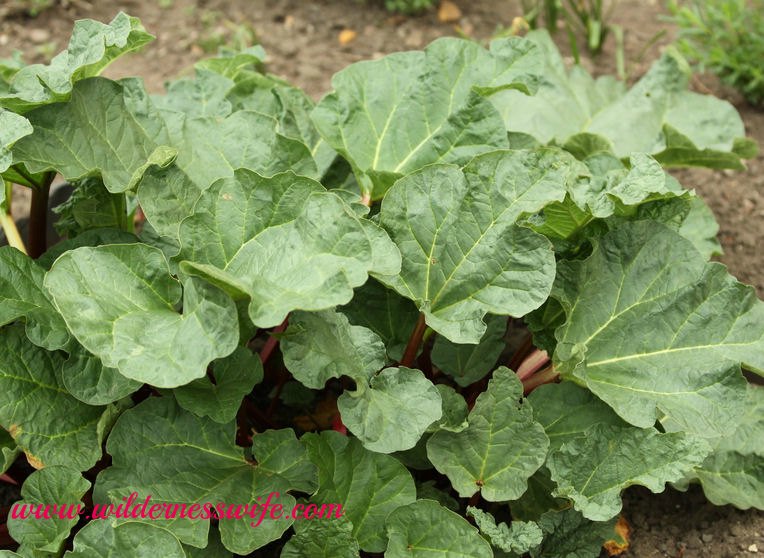 When we lived in New Hampshire, the rhubarb peaked just about the time that the strawberries did so it was fun to make strawberry rhubarb pie. But here in northern Maine the rhubarb peaks in May long before the strawberries are ripe (in the late June/early July) so I freeze some rhubarb to use later in my favorite rhubarb recipes. To freeze rhubarb, I wash the rhubarb stems in warm running water and then I trim them and cut them into 1 inch lengths. To retain the color and flavor, I blanch the cut-up rhubarb for 1 minute in boiling water and then immerse it in ice water to stop the cooking process. After that you can either syrup pack or dry pack it for freezing. Sugar helps preserve the quality of the frozen fruit, so if I am storing it for a long time I will sugar pack it. If I will be using it in a month or two I will dry pack it.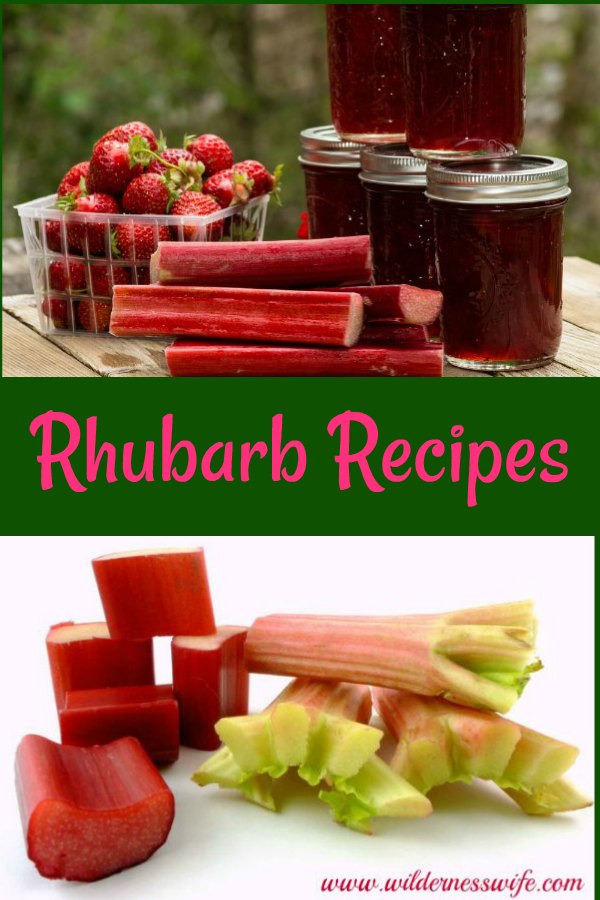 To sugar pack the rhubarb pieces, sprinkle sugar over them and toss gently. Let the rhubarb stand for 10-15 minutes to draw out the juice, which dissolves the sugar, and then pack the rhubarb and juice into containers or freezer bags. To dry pack the rhubarb, I pack it tightly into containers or bags without any sugar, seal it, and then freeze it. I like this method because I like to bake my desserts with sugar substitute as Bill has to watch his sugar intake. So with this preparation I have a nice little supply of rhubarb that I can use all summer and into fall in my favorite rhubarb recipes as the different fruits ripen in our garden and orchard.
Along with the frozen rhubarb, I also make some jars of rhubarb jam, rhubarb bread and rhubarb muffins. Rhubarb is one of the first things that I can each year. I use the water bath method to can rhubarb jam. Here is one of my favorite rhubarb recipes.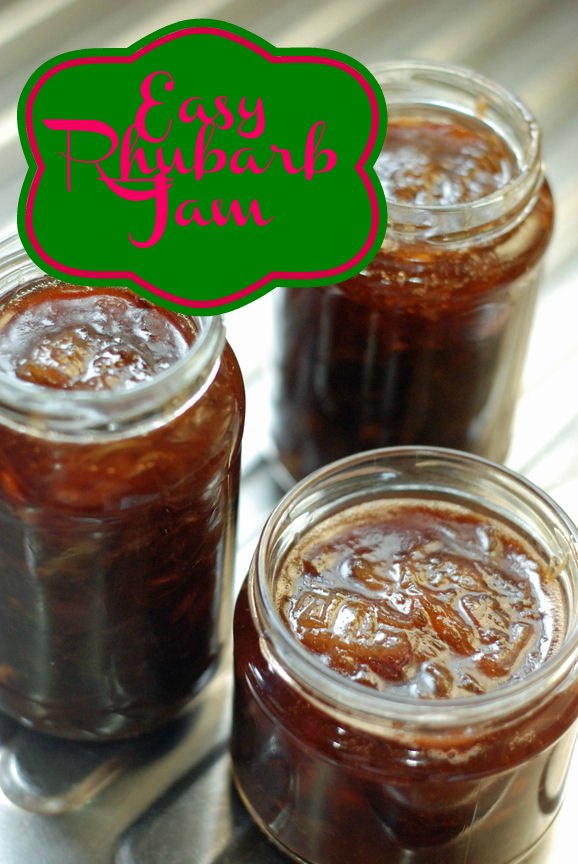 Print
Rhubarb Jam
This recipe is adapted from a rhubarb jam recipe in the book, "Good Maine Food" by Marjorie Mosser, published in 1940. It's a great source of authentic Maine recipes. I found it on Ebay.
Author:
Yield:

5 pints

1

x
Category:

Jam

Cuisine:

American
4

lbs. of rhubarb cut in 1" pieces

4

c. sugar

1 ½

c. water

3

large lemons
Instructions
Slice the lemons very thin. Reserve seeds whole.
Put lemon and rhubarb in large bowl.
Put seeds in a cheesecloth bag and add to mix.
Cover fruit with sugar.
Let stand for 24 hours.
Cook in a large pot over medium-high heat for 15 minutes, stirring as little as possible.
Skim the foam of the top of the cooking mixture.
After the 15 minutes, reduce the heat to medium and cook for 30 minutes longer, watching to be sure the jam does not scorch.
Remove seed bag and throw away.
Pour into sterile pint jars.
Place in water bath canner and process for 10 minutes (dependent on your altitude).
More Rhubarb Recipes here on The Wilderness Wife Blog -