Use the best Ingredients
Italian Salad Dressing is one of the most commonly used dressings but making your own Italian dressing instead of using bottled commercial dressing is a tastier and healthier event. By making your own, you can improve flavor; tailor the ingredients to any dietary needs you have; and get that feeling of pride when you serve "my Italian Dressing".
Look at the ingredients listed below. This was copied from the Olive Garden website for their house dressing that they bottle and sell to the public. Their dressing is tasty but healthy - not so much.
From the Olive Garden Website:
Olive Garden salad dressing ingredients: Water, Soybean Oil, Distilled Vinegar, High Fructose Corn Syrup, Salt, Egg, Romano Cheese (Milk, Salt, Cultures, Enzymes), Dehydrated Garlic, Sugar, Spices, Xanthan Gum, Dextrose, Calcium Disodium EDTA added to protect flavor, Annatto Color, Natural Flavors.
Now in your own dressing you will use the list below (no chemicals, no preservatives):
Onion powder
Garlic powder
Dried oregano
Dried basil
Sugar or honey
Salt
Extra virgin olive oil
Red wine vinegar
Dijon mustard
Lemon juice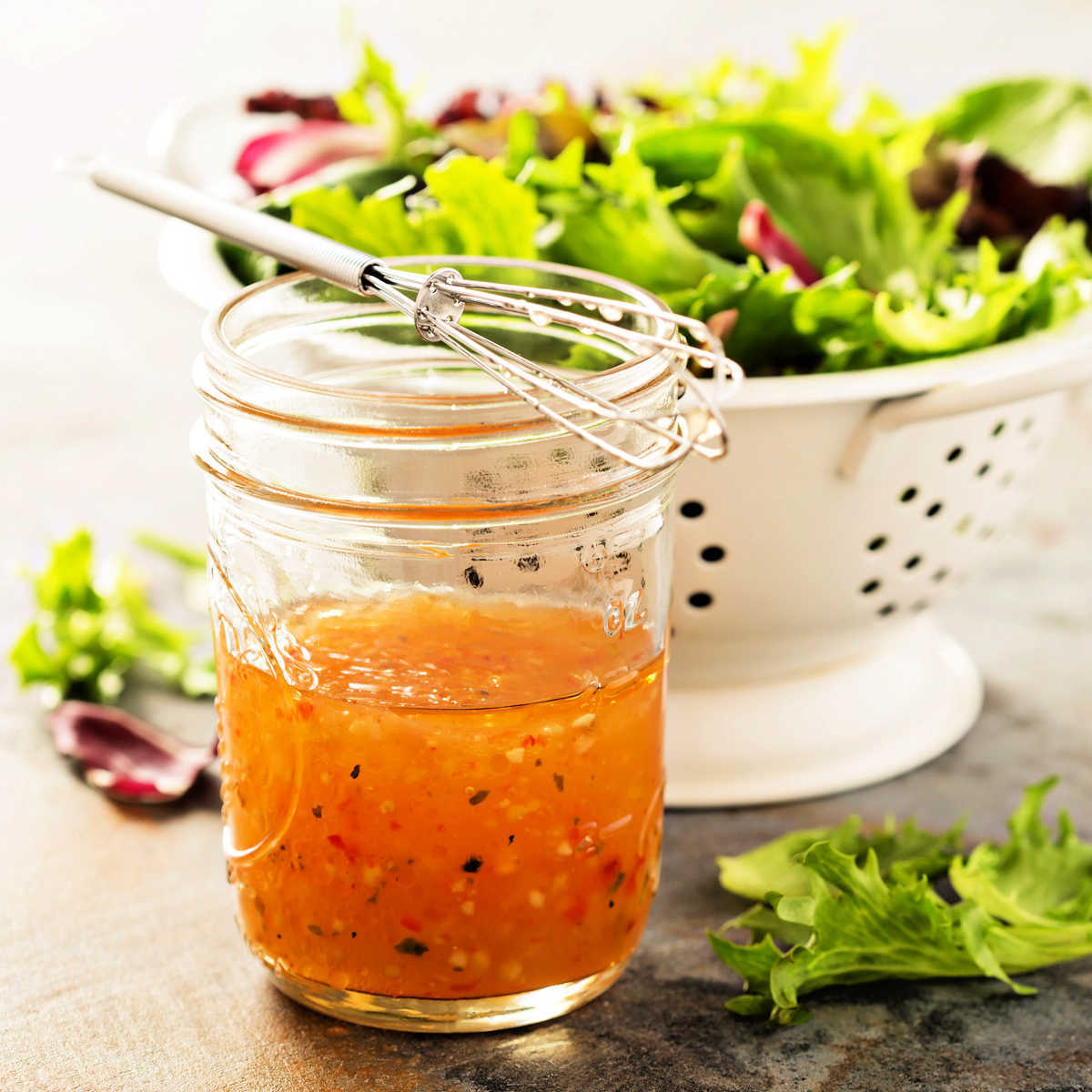 Which Vinegar To Use
Your choice of vinegar will make a huge difference in the flavor of your homemade salad dressing. For Italian Salad dressing it is best to use a wine vinegar. You will have to choose between red wine vinegar and white wine vinegar. Wine vinegars are made from wine that has gone through acetic fermentation. The red wine vinegar has a much stronger flavor than white wine vinegar. Red wine vinegar has a fruity and robust where as white wine vinegar is a bit milder with a lighter, sweeter note. And of course there is the difference in the color with red wine vinegar having a bolder red color and the white wine vinegar is lighter, almost clear in color.
How to make Italian Dressing
You can start in a bowl with a whisk or in a jar that has a tightly fitting lid. I add extra virgin olive oil first. EVO tastes the best and it is superior in nutrition to many of the vegetable oils. Add the wine vinegar. I whisk the vinegar and EVO to get them to emulsify. This can take some pretty vigorous whisking but adding the Dijon mustard as an emulsifier will help pull the two liquids together. Then add your sweetener and and finally add the herbs and spices. Allow the flavors to peak and combine by preparing your dressing at least 2 hours before using but overnight is the best.
Homemade Italian Dressing Serving Suggestions
A favorite trick of Ina Garten, the Barefoot Contessa, is to make her dressing in the bowl she will be serving her salad in, letting it settle in the bottom and then place the rest of the ingredients on top of the dressing, greens last. Put back in the fridge and don't toss the salad until you are ready to serve it. One bowl, no soggy salad, definitely a win, win! Freshly grated parmesan or Romano cheese sprinkled over the top of the salad is a nice addition. This salad dressing also works well on a Italian grinder sandwich.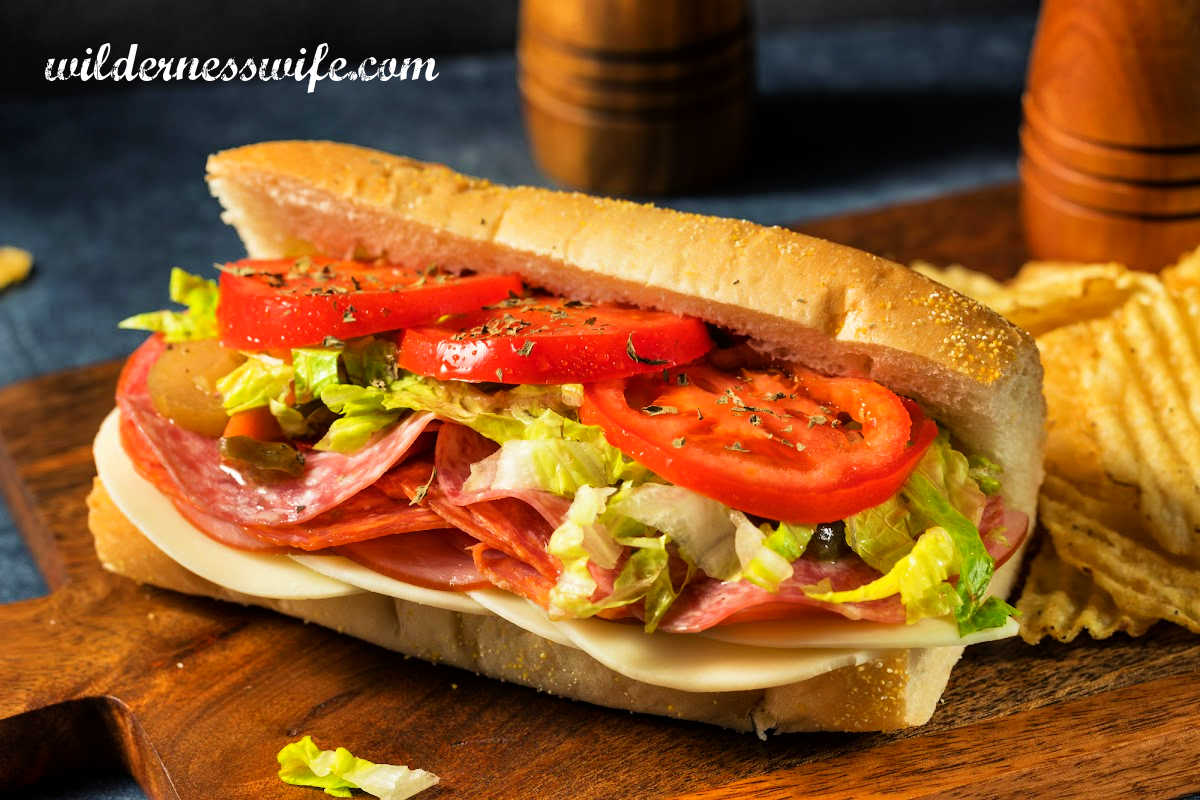 How to Store your Leftover Salad Dressing
This salad dressing will keep well in the refrigerator in a jar with a tight lid for 2-3 weeks. Be sure to shake it well before using to blend all the ingredients thoroughly. The shelf life exception is if you use fresh garlic or fresh herbs instead of dried and powders. Then the shelf life is only 3 days.
For more Wilderness Wife Salad Dressing Recipes, try these:
Print
Basic Italian Salad Dressing Recipe
A basic homemade Italian Salad Dressing Recipe that can be enhanced by the additions of freshly grated cheeses. Perfect for a crisp summer garden salad or as a dressing for an Italian sandwich.
½ cup red wine vinegar (white wine vinegar will give a lighter, less robust flavor to the dressing)
1 ½ cups extra virgin oil
2 tbsp. fresh lemon juice
1 tsp. Dijon Mustard
2 tbsp. sugar or 1 tbsp. of honey (honey is much sweeter than sugar)
½ tsp. kosher salt
½ tsp. freshly ground black pepper
1 tsp. garlic powder
1 tsp. onion powder
1 tsp. dried oregano
1 tsp. dried basil
Instructions
If preparing in a bowl, whisk together vinegar, olive oil, lemon juice, Dijon mustard, and sweetener. Whisk vigorously to emulsify.
Add dry seasonings and whisk again.
If preparing in a jar, add all ingredients, place lid on jar, and shake vigorously.
Notes
Adding a pinch of red pepper flakes will make a "zesty" Italian dressing. 
Adding an Italian cheese such as Romano or Parmesan is an option.
For creamy Italian dressing add 1 cup of quality mayonnaise.