Quick, Easy and Healthy Cucumber Salad
A good recipe doesn't have to be complicated or difficult. This quick and easy cucumber salad definitely isn't complicated - just simple ingredients with simple preparation! And that is perfect fare for a hot summer day. When its hot and muggy all I want is cool, quick and simple so I can stay "cool as a cucumber".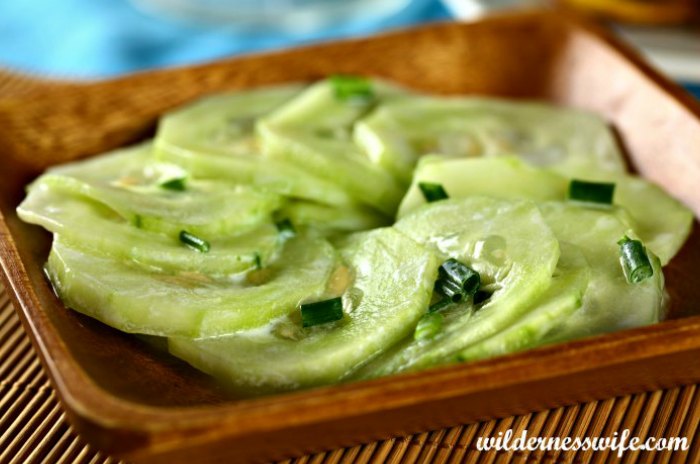 Best Cucumbers for Salads
Not all cucumbers are the same. In fact, the number of varieties available is amazing. Favorites for salads are the "burpless" strains and also the "slicer" varieties. I grow a lot of "pickling" cucumbers in my garden because I enjoy making my own pickles and I actually like them for salads also. "Burpless" cucumbers, come in both American and Asian types. They contain low or no cucurbitacin, a compound that causes bitterness and causes the burping one often experiences after eating cucumbers. The "burpless" cucumbers are by far the sweetest and least bitter. The sweetest cucumber flavor you'll find will be a burpless English cucumber. Two popular varieties for the home gardener are Muncher and Straight Eight.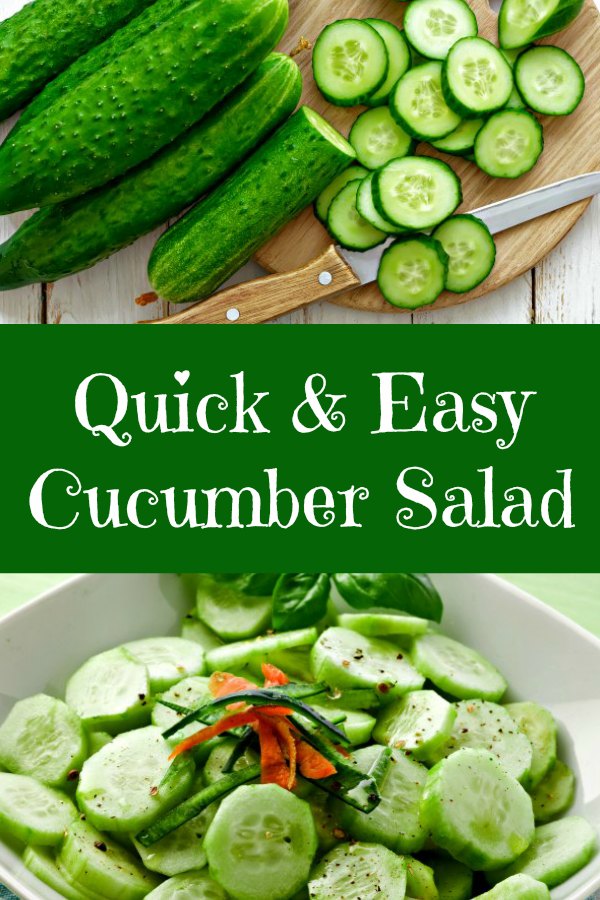 Easy Preparation for Salad Cucumbers
The preparation of the cucumber for a salad couldn't be easier. First, as with all vegetables that will be eaten raw, thoroughly wash your cucumbers. Unless they are from your own garden, you have no idea what is on them from pesticides to sprayed fertilizers. Cucumbers should be stored at room temperature and not in the refrigerator because cucumbers are very sensitive to temperatures below 50°F. They will last longer if stored at room temperature. Slice your washed cucumbers into slices ⅛ to ¼ inches thick.
My salad ingredients are very simple!
When making a cucumber salad you don't need a lot of complicated ingredients. Add some sliced onion and commercial salad dressing and you can be done if you are in a rush. If you prefer making your salad from scratch (I do ), then your ingredients list could contain a number of things such as salt, pepper, olive oil, sour cream, yogurt, onions or shallots, vinegar, sugar, and a variety of herbs like dill or basil.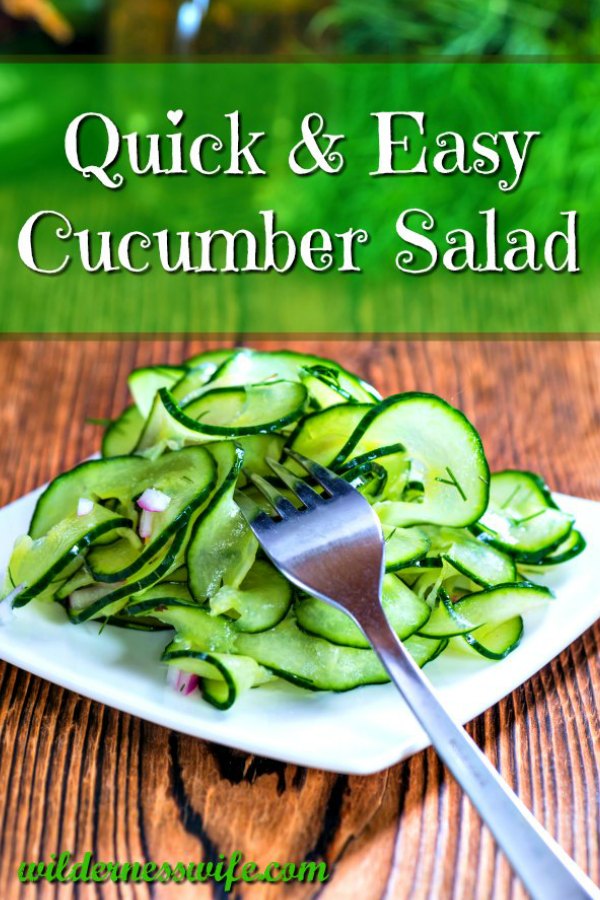 Print
Quick Easy Cucumber Salad
On a hot summer night I want to put a meal together quick and yet maintain a healthy balance of protein and vegetables. A quick, easy, tasty and refreshing cucumber salad will balance the juicy steak or burgers you have as a main course.
Author:
Prep Time:

10 minutes

Cook Time:

0 mins.

Total Time:

10 mins
2

English cucumbers

thinly sliced

1

teaspoon

salt

1

red onion

or

1 cup

of

thinly sliced

shallots 

1

cup

vinegar (white is good, cider vinegar adds a pleasant flavor)


½

cup

water

½

cup

granulated sugar

2

tbs chopped dill or basil
Instructions
Slice the cucumber in half and then in slices. Slice the onion/shallots in thin slices. Mix cucumber and onions in a large bowl. Season with salt and pepper.
Mix white vinegar, water, sugar in a small bowl. Pour over the cucumbers and onions, and stir well.
Sprinkle some fresh chopped dill or basil and stir. Chopped Chives can be a nice addition also.)
More Salad Recipes from The Wilderness Wife