Blueberry season in Maine means great Blueberry Recipes!
It's Blueberry season here in Maine.  In fact, down in Machias they are celebrating their annual Blueberry Festival August 16th – 18th, 2019. It is a great event with all sorts of things going on like crafts, entertainment, parades, and more. They hold it every year in mid-August so you may want to plan on joining in the fun. Click here to go to their website to check out all the events.  The Machias Blueberry Festival is truly worthy of a road trip on even a vacation. "Downeast" Maine, as this section of Maine is called, is where the Maine blueberry farming industry is centered so the folks in Machias know their Blueberries! Blueberries are very much a Maine thing and Washington County and town of Machias, in particular, are the epicenter of all things Blueberry for Maine. Go to the Machias Blueberry Festival and you will experience the tastiest of blueberry dishes and recipes that are to die for for the lover of these gorgeous indigo colored berries.

My Favorite Blueberry Recipe is for this moist, delicious Blueberry Sour Cream Pound Cake
Maine is famous for its blueberry barrens out on the northern coast, in the Machias area. And we Mainers have lots of Blueberry recipes in our repertoire.  This recipe is just one of many that my family loves. There is nothing like having blueberries fresh from the field to create, muffins, blueberry pie, blueberry cakes, and my favorite, Blueberry Sour Cream Pound Cake.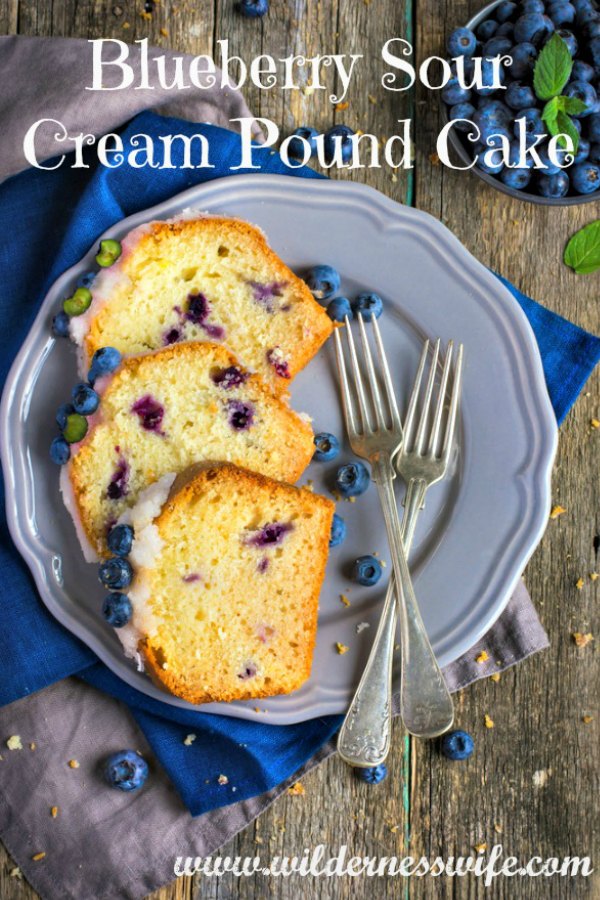 Here's a recipe that is a huge favorite here at the Thompson household. OK, I know what you are saying, "Why is half of the pound cake missing?". What you can't see is Bill's Bluberry stained lips and very satified facial expression. This is one of his favorite desserts, second only to Strawberry Shortcake. He likes this pound cake with some Maine blueberry syrup drizzled over it and a nice big dollop of fresh whipped cream….or just a piece cut off and in his hand as he heads out the door! That's what happened to my cake today before I could photograph it…….. an attack from the Blueberry Bandit!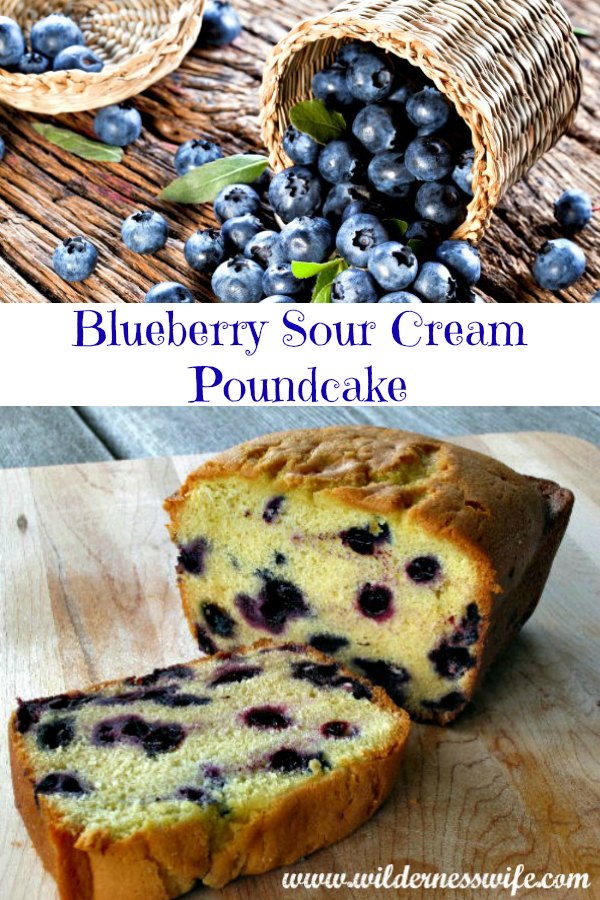 Print
Blueberry Sour Cream Pound Cake
Blueberry Sour Cream Pound Cake is absolutely moist and delicious. Try this very traditional Maine Blueberry recipe and get great results. Here in Maine we know our blueberries!!!
Author:
Prep Time:

20 mins

Cook Time:

80 mins

Total Time:

1 hour 40 mins

Yield:

8

servings

1

x
Category:

dessert

Cuisine:

American- Maine
•1 stick butter – room temperature
•1 cup sugar

1 teaspoon

vanilla

3

eggs – room temperature

1 ½ cups

flour

¼ teaspoon

baking powder

¼ teaspoon

baking soda

¼ teaspoon

salt

½ cup

sour cream – room temperature

1 1/2 cups

fresh blueberries
Instructions
Combine flour (except 1 tablespoon), salt, baking powder, baking soda in a separate bowl.
Beat the butter in the bowl of an electric mixer on medium speed for 1 minute. Gradually add the sugar ¼ cup at a time, and then beat at high speed for about 8-10 minutes until very light and fluffy.
Add vanilla.
Add one egg at a time, beating for about 1 minute between each egg. Be sure to scrape the sides of the bowl between the addition of each each egg.
Add the sour cream and the flour mixture alternately ¼ at a time while beating on low speed. Again, be sure to scrape down the sides of the bowl through each addition.
Dust the blueberries with the 1 tablespoon of flour (this helps suspend them in the batter so that they don't sink to the bottom of the pan during baking).
Fold the floured blueberries into the batter very gently, distributing them evenly.
Pour mixture into a greased and floured loaf pan. Bake for 70 – 80 minutes in a 325 degree oven.
Test for doneness with a toothpick making sure it comes out clean. Cool on rack for 20 minutes then remove from pan and allow to cool more.
Serve with whip cream and blueberry syrup.
More Blueberry Recipes from The Wilderness Wife