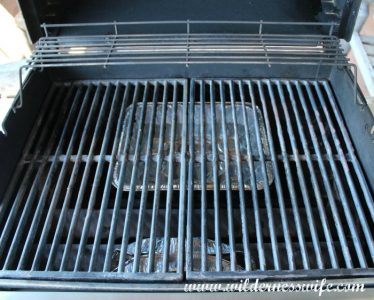 How to cook Pork Back Ribs on a Gas Grill
This is a tutorial on how to cook delicious Barbecue Pork Back Ribs on your Gas Grill. Summer is grilling season for the Thompson family and we make the best of the short northern Maine summer season by spending as much time around the pool and the gas grill as we can. On the weekends we are entertaining cooking out by the pool and that means grilling.. We've perfected grilling delicious pork back ribs on our gas grill to an art form. You don't need a fancy custom smoker like the professional Pitmasters use in their competitions (although I sure would love one). Using a gas grill to cook your pork back ribs is easy and fun and I will show you step by step just how we do it.
For grilling "ribs" I prefer the cut referred to a Baby Back Ribs. These are a shorter portion of the back ribs and are meatier and more tender than spare ribs. When choosing ribs, you want ribs that are pink in color and have some marbling. Remember fat equals flavor when grilling! Avoid choosing ribs that are pale in color or have dark spots on the fat. A full slab of baby back ribs will feed 2 people
Choosing the best ribs for grilling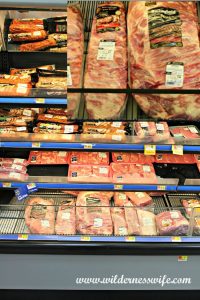 Let's make our Dry Rub for our Pork Back Barbecue Ribs!
Time to prep our pork back ribs for the grill. We are going to be doing a dry rub so we want to get the ribs coated and then let them rest in the fridge for at least a couple of hours. I make my own rub using a number of spices and herbs along with brown sugar. Quantities are listed in the recipe at the end of this article.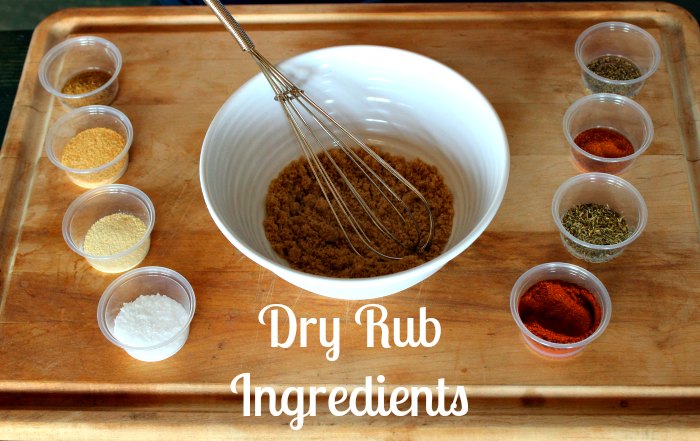 Time to Prepare our Barbecue Ribs for the Gas Grill......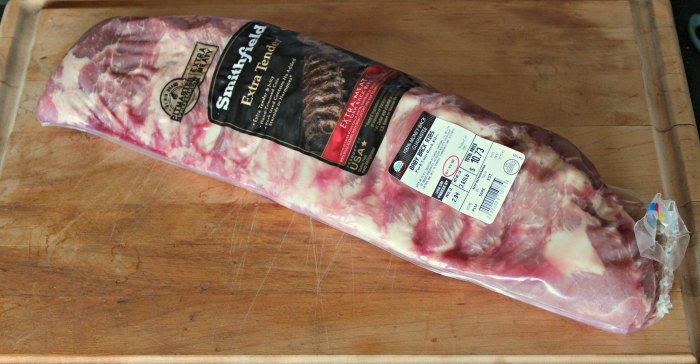 First I slather mustard all over the ribs. I am using the your basic yellow mustard here but I do often experiment trying different mustards including Dijon and coarse ground mustard. That's the fun of barbecue! Once you get the hang of the basic idea you can try different variations to make it your own.
Next sprinkle the dry rub onto the ribs. You will develop your own preference as to how thick you want it but try to get as uniform coverage as possible. Make sure the ribs are thoroughly covered. After the ribs are coated with the dry rub, I cover them loosely with waxed paper and let them rest in the fridge while we get the gas grill ready. I usually allow at least 2 hours for the spices and mustard to blend with the meat in the fridge but you can go up to 4 hours.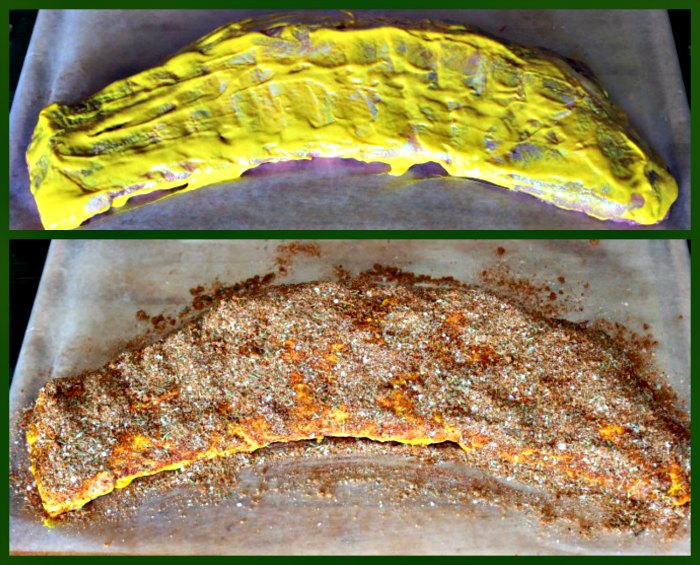 It's time to get our "Heat Source", the gas grill, ready for our Barbecue Ribs!
Grilling Pork Back Ribs is easy on the gas grill. There's no need for fancy equipment, just a little ingenuity. Step one is get the wood ready. That's right .... wood! Even though we're cooking on a gas grill, we're going to need some wood to impart that delicious smoky flavor. There are a number of woods that you can use - hickory, maple, oak, apple, cherry, among many. Stay away from the wood from conifers like pine, spruce, fir as the smoke from a conifer will tend to be bitter and more chemical. My personal preference when it is available is apple because the smoke is sweet and so aromatic. And for me apple wood is readily available! I am lucky that we have lots of apple trees here on our property and they always need pruning.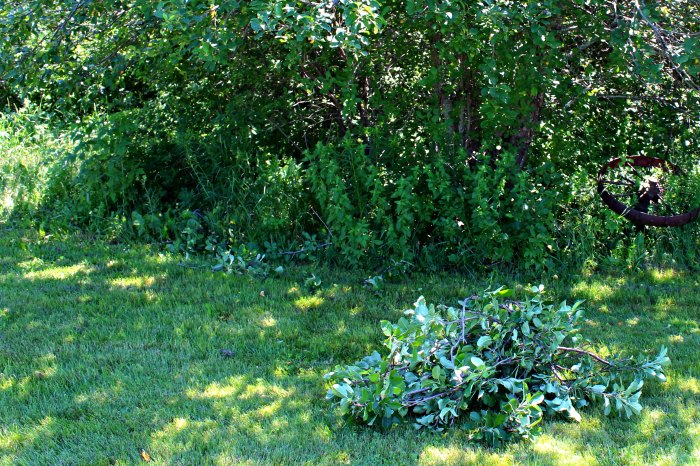 I trim the leaves off the branches and cut the wood to length. The wood is freshly cut ("green" as they say in the world of fire wood) so it contains lots of moisture. That's perfect for our application as dry wood wouldn't smolder as much and might even ignite (don't want flame!). If you have to use "seasoned" wood (wood that is dried out) whether whole or chips, be sure to presoak the wood in water for at least 2-3 hours before you use it.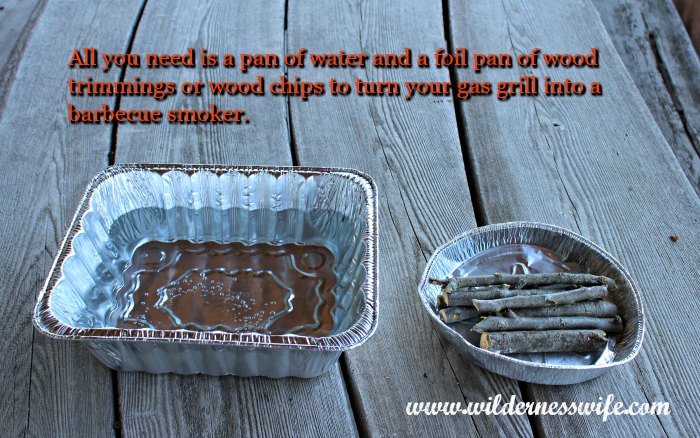 I'll be cooking by an indirect heat method, nice and slow and low! Our grill has 3 burner zones so we will be putting the ribs to the back of the grill and only lighting the front burner. The goal is to maintain the heat at the 225F. Setting a pan of water on the back burners helps maintain the heat at a constant temperature by providing a thermal mass. The water isn't necessary to provide moisture to cook the meat, only to help control temperature. The pieces of apple wood are put into an aluminum pan that is folded up and tucked in the front of the grill.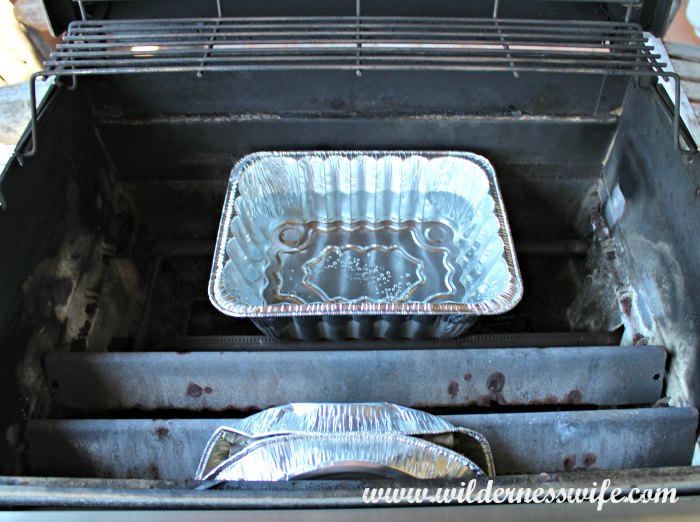 The heat from the front burner will release all the aromatic properties of the wood as the ribs cook. Don't expect to see a lot of smoke because if things are going right the smoke will be almost invisible. Lots of black smoke means the wood is scorching or even igniting. Black smoke contains lots of tars and other chemicals that are not what you want to flavor your meat. I use a digital temperature probe in the grill as it is important to keep a steady, consistent temperature. Turn on the front burner on its lowest setting.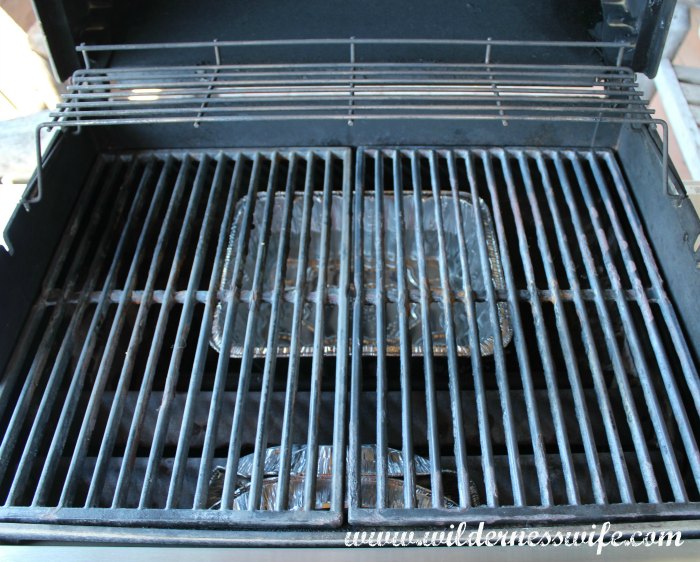 When the grill is up to heat we carefully lay the ribs to the back where they will only receive the low indirect heat and flavorful smoke. Direct heat would cook them too quickly and make for a tough final product. Slow cooking allows all the fat and connective tissue to break down providing the meat with juicy moisture and making for a melt in your mouth tenderness that is just heavenly.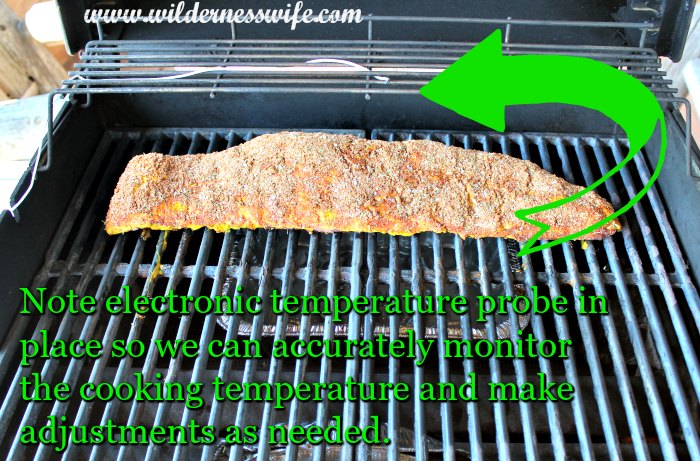 This is not a quick process so start it early in the day. The ribs will be slowly grilling for 4-5 hours. Resist the urge to open the grill. You can monitor what is going on inside by checking your temperature probe. If the heat rises above 225 you can make adjustments by briefly opening the grill and adding more water, or tightening down on the valve on the gas bottle to restrict the fuel flow to the flame even more.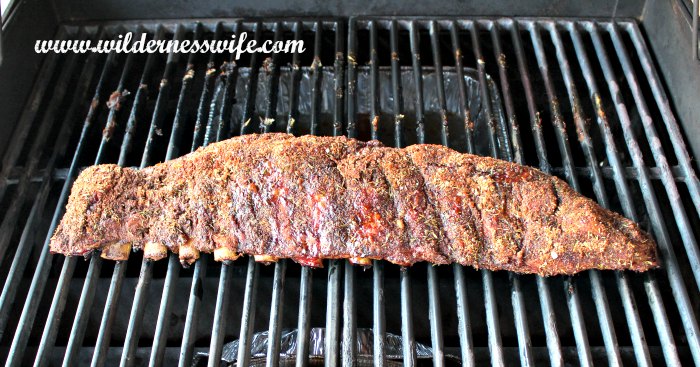 How to test your grilled pork back ribs for doneness
So now the ribs have been cooking with the smoldering apple wood for 4 long hours and its time to test for doneness. There are 3 ways to test for doneness.
Appearance - The rack of ribs will have noticeably shrunk lengthwise. And some of the meat will have pulled back from the bone. The color will be a nice mahogany brown as the spices and brown sugar will have caramelized.
Flexibility - If you grasp the rack of ribs at each end with tongs, it will easily bend in the middle and the caramelized surface will crack.
Internal Temperature - You can use a meat thermometer to check the ribs for a doneness temp of 180 - 190F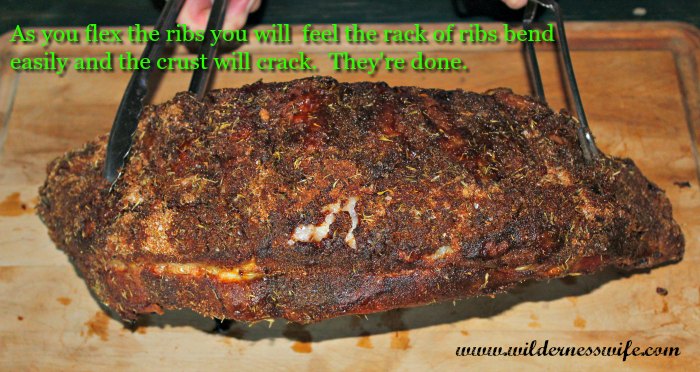 Now tent them with foil and let them rest while you get all the sides on the table. Coleslaw is always a good choice to go with any type of barbecue and with this set of ribs we are having some microwave herbed potatoes.
Enjoy the day just like I did after cooking these great ribs. Low and very, very slow is the key to cooking great barbecue ribs!! Remember patience is a virtue and you will be rewarded with lots of compliments on what a great Pitmaster you are when your Pork Back Ribs are sampled.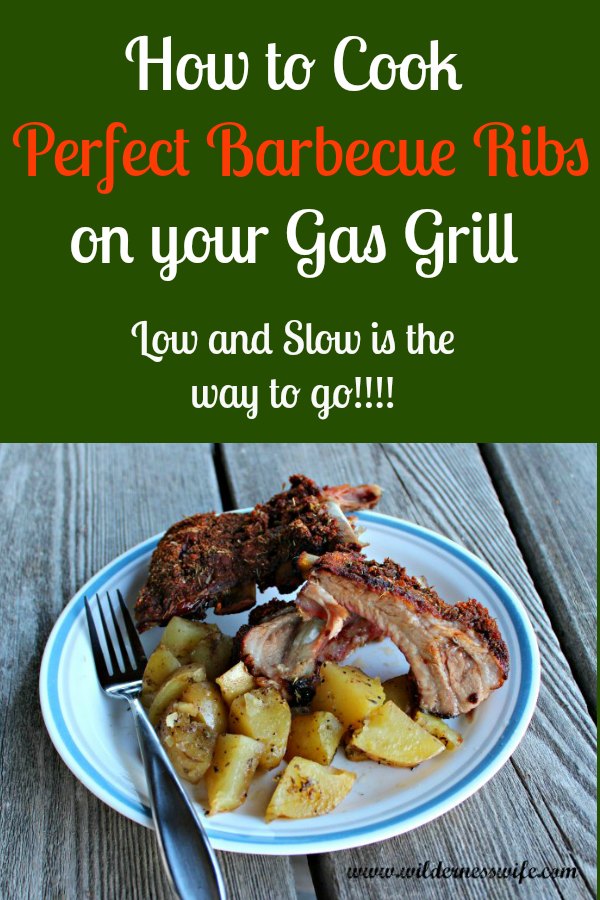 Print
How To Cook Pork Back Ribs on Gas Grill
Ready to be a Barbecue Pitmaster. With this recipe you will make the best Barbecue Pork Back Ribs you ever tasted!
Author:
Prep Time:

10 mins

Cook Time:

5 hours

Total Time:

5 hours 10 mins

Yield:

1

rack back ribs

1

x
Category:

Meat Entree

Cuisine:

American
4 tbsp

.. brown sugar

½ tsp

. black pepper

1 tbsp

. chili powder

1 tbsp

. dried oregano

2 tbsp

. paprika

½ tbsp

. onion powder

1 tbsp

. kosher salt

1 tbsp

. garlic powder

¾ tsp

. ground cumin
prepared yellow mustard
Instructions
Prepare gas grill according to tutorial above. Preheat to 225°F.
Thoroughly combine brown sugar, spices and herbs in bowl with whisk.
Coat meat with yellow mustard.
Sprinkle on dry rub spice mix. Coat evenly.
Place ribs on grill and close grill cover.
Cook for 4 - 5 hours. Keep grill closed and only open if necessary.
Remove ribs from grill when done and tent with foil for 10 minutes.
Other Grill Recipes from The Wilderness Wife