Beer Can Burgers - A hamburger you can stuff!
Summer is hamburger time! Hamburgers and hot dogs are the mainstay at any backyard cookout.  Fire up the barbecue grill and throw on the dogs and the patties.  Want to make your hamburgers different and far more interesting - make some Beer Can Burgers.  They are shaped with a deep depression in the center so that you can add all kinds of condiments and toppings.  The possibilities for filling them up are endless.  We set up a "Burger Bar" so everyone can have the fun of dressing up their burger with numerous toppings.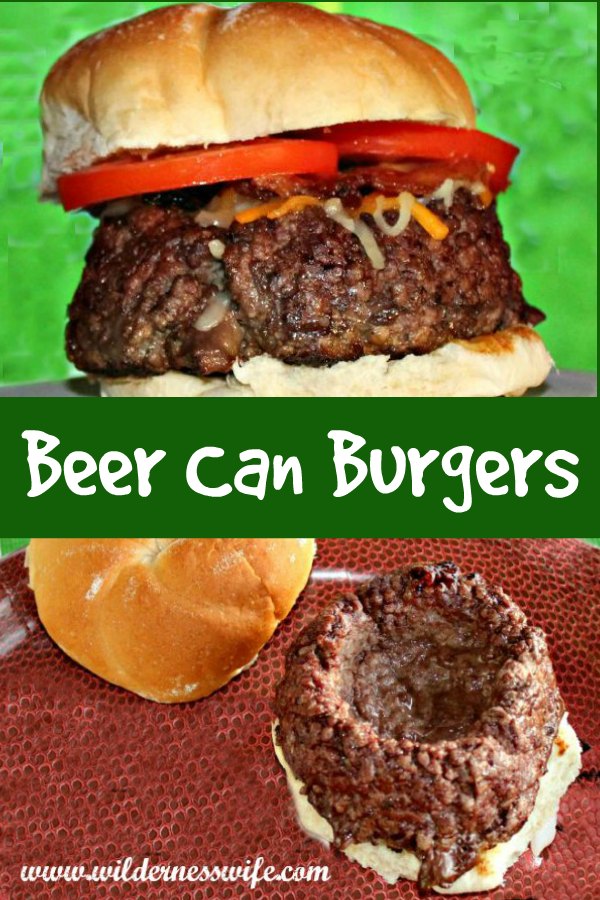 The "Beer Can Burgers" are fun to make and everyone can "personalize" their burger by stuffing them with their favorite fillings.  You can lay out a "burger bar" with all sorts of fixings like caramelized onions, roasted garlic, roasted green peppers, salsa, sliced tomatoes, pesto, pickles, relish, a variety of shredded and crumbled cheeses (Blue Cheese is my personal favorite) , and assorted condiments. Then you just grab a bun and start building your burger.
Hamburger Heaven - How To Make  a Beer Can Burger Step by Step
The only ingredient for Beer Can Burgers is ground beef, also known as hamburg or hamburger.  Ground beef comes in different "categories".  Any cut of beef can be ground up to make ground beef, but the most popular choice is chuck steak which has a rich flavor and decent fat to meat ratio. Often round steak is also used and makes a decent hamburg.  Hamburg/ground beef is usually categorized by the percentage of fat. I use Chuck because the higher fat content (78-84% lean) adds a lot of flavor. From a dietary standpoint, I don't worry too much as the fat drains off in the cooking on the barbecue grill.
I use about ⅓ lb. of hamburg for each burger.  First I shape the hamburg into a round ball, mixing in a little salt and pepper as I do it.  I get them prepared ahead of time and pack them in a foil pan. Chill them in the fridge till I'm ready to start cooking them.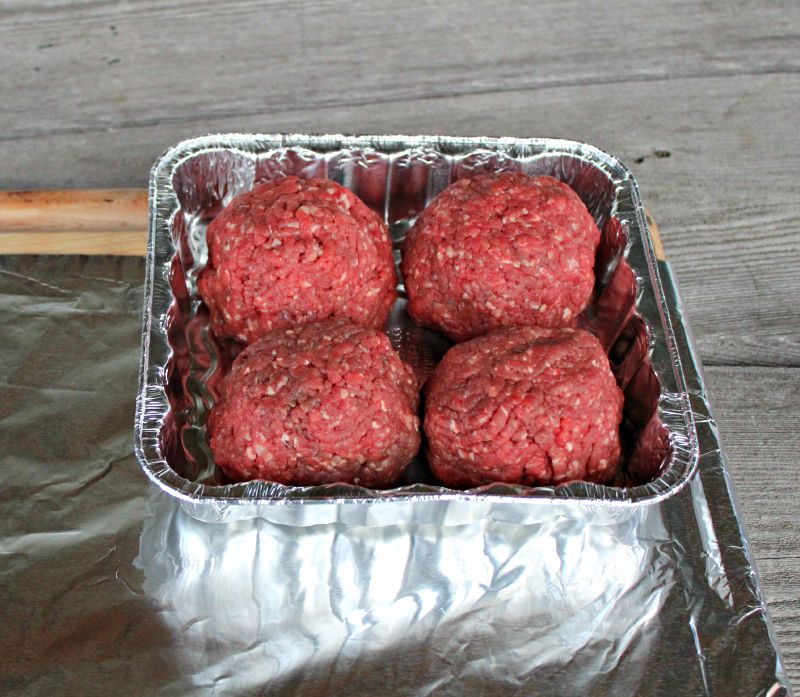 When I am ready to cook the burgers, I wrap foil tightly around a beer can and place it on top of a burger ball. Then I firmly push down  to make a "well" in the center of the burger.  I shape the meat around the can so that it is evenly distributed.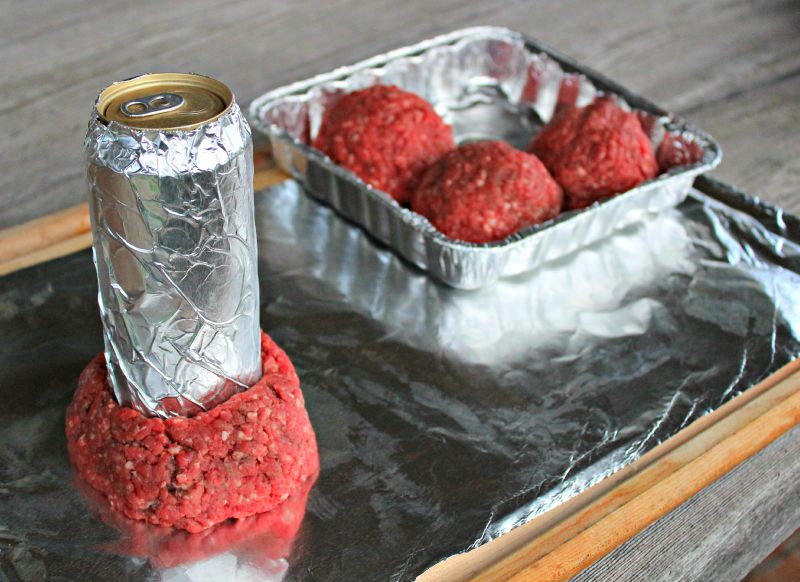 Gently remove the can and it leaves a depression that can be filled with all kinds of good stuff when the burger is done cooking. The burgers are cooked using the indirect heat method.  If you are using a gas grill, be sure to preheat the grill using all the burners. Then turn off all the burners except one, set that lit burner on high.  Place the burgers on the opposite side of the grill from the coals or lit burner and close the lid.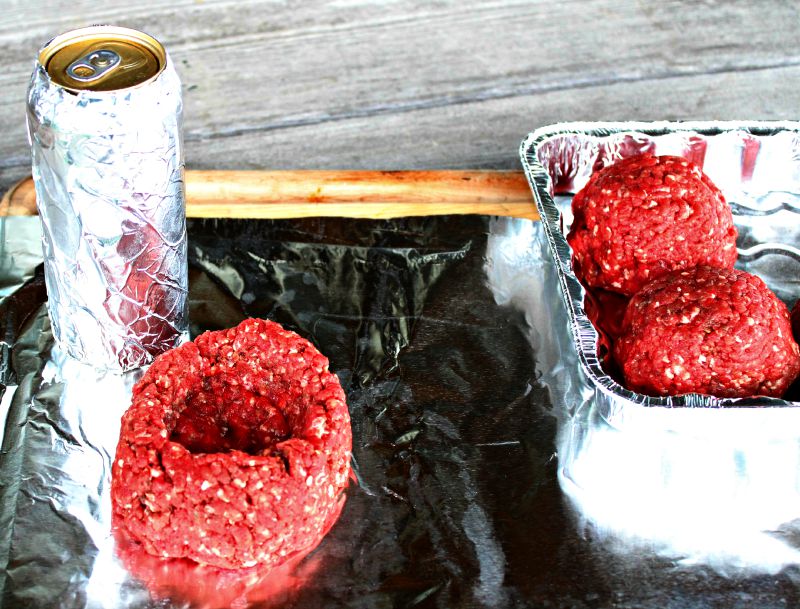 The burgers will cook slowly and evenly for about 15-25 minutes.  Check after 15 minutes.  When done, carefully slide a spatula under the burger and holding with a fork in the other hand, tip it on its side to drain any fat from the "well". Place it on a bun and fill it with the stuffings of your choice.  I did mine with caramelized onions, roasted garlic, crumbled bacon, crumbled blue cheese, mayo, and tomato.  We're talking Hamburger Heaven here. It was absolutely delicious.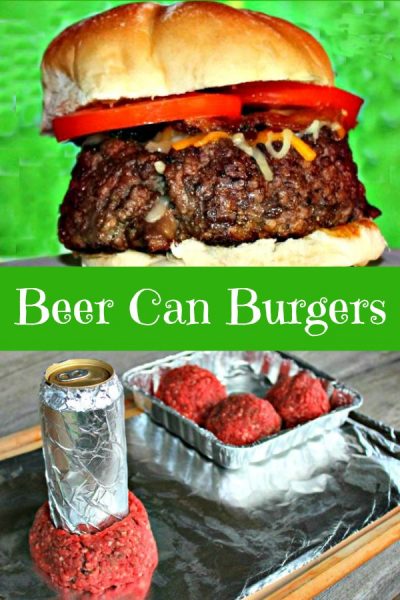 Summertime is the prime time to be grilling so checkout some of  the other Wilderness Wife barbecue grill recipes -