Apple Spinach Salad is Quick and Easy and oh so nutritious!
Whether its summer or winter, this Apple Spinach Salad  recipe is one of my favorites, and it's very quick to make but I especially love it in the summer. Actually I love any salad in the summer whether its a tossed salad, potato salad or a pasta salad.  It's all about being cool, crispy, and not heating up the kitchen.  When I plan a meal, I like to include a salad side dish to add texture and freshness to the menu, especially if it the main dish is rich or fried.  A crisp, cool salad helps clean the palette.  And frankly, the same old standard tossed salad gets boring so I try to mix things up by trying new salad combos.  The spinach is, of course, on the tart side so the apples used in the salad should be a crisp but also sweet eating apple. Lastly, I have to say that this is a "pretty" salad with great visual contrasts that make it very pleasing to the eye.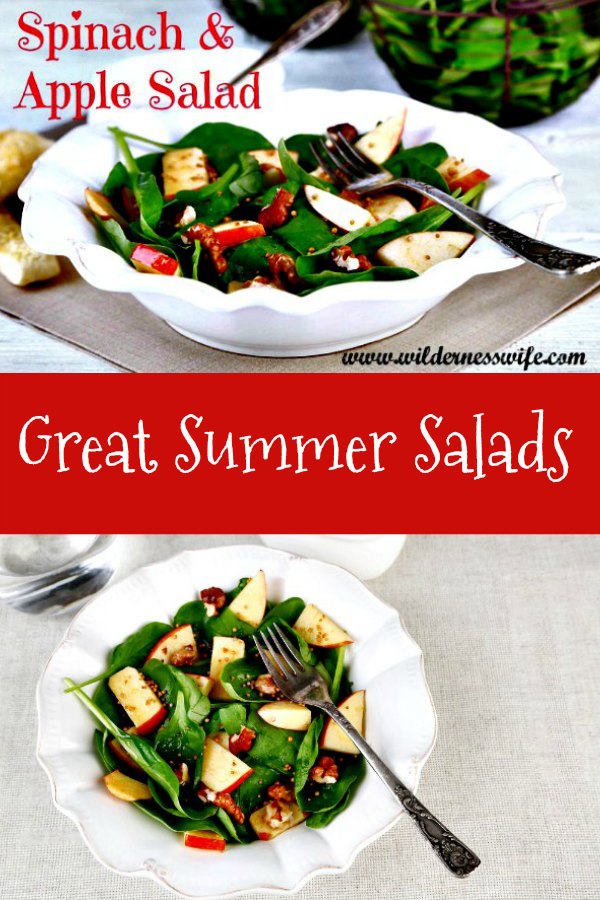 Which Apples to use for your Apple Spinach Salas?
For this Apple Spinach Salad, my apple of choice is the good old standard Macintosh, but I also use Fujis, Pink Ladies, Empires, and Crispin apples depending on what is available and looks the best at the grocery store. If you are interested in more information on apple varieties go to the US Apple Association website.  They have lots of information about the different apple varieties and their best uses.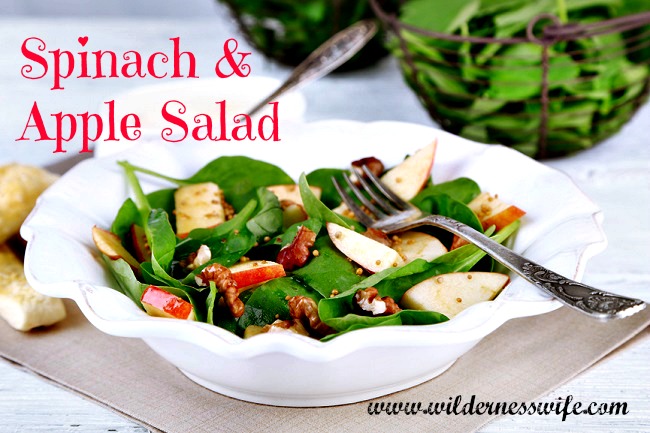 How to keep the apples from turning brown
Apple flesh turns brown very quickly when exposed to the air but if you use lemon juice from the ingredient list to coat the apple slices they will stay white and more visually appealing.  Not only does food have to taste good, but it is important to make sure that it has great eye appeal also.  This combination of colors in the Apple Spinach Salad makes a very pretty side dish with the dark green of the spinach, the reds of the apple skin, and the brown of the toasted nuts.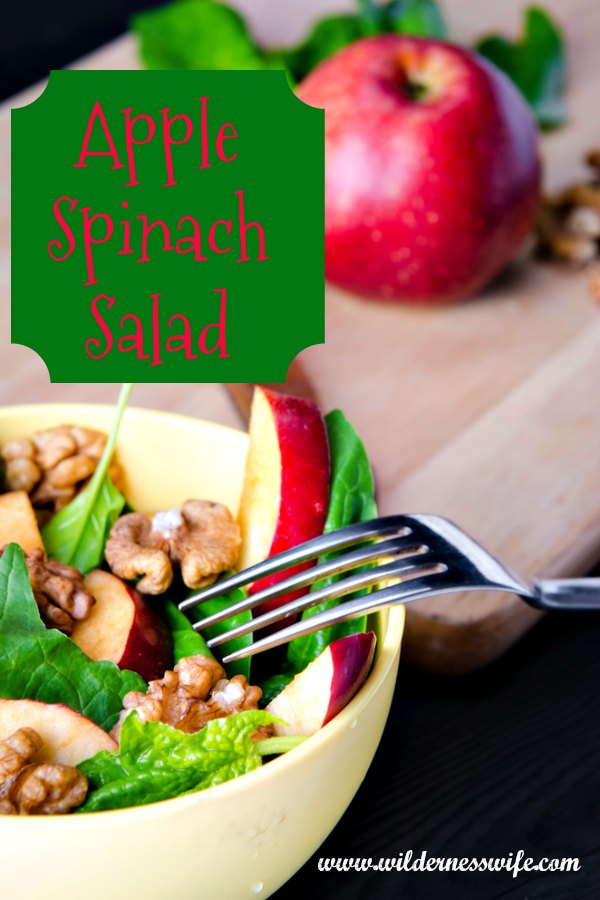 How to Roast Nuts for Your Apple Spinach Salad
Be sure to toast your walnuts.  The toasting process doesn't take long and really improves the flavor of any nut you use. Many nuts and particularly walnuts contain a lot of tannin which make them taste bitter when eaten raw.  Toasting minimizes the bitterness. There are two ways to roast (or toast) nuts - on the stove top or in the oven.  First, don't chop the walnut halves before toasting them.  Use a large, heavy skillet (no oil) and place it over medium heat.  Heat the walnuts for 1-2 minutes or until they turn golden brown. Be sure to stir constantly for even toasting as it is very easy for them to burn if not constantly attended to. To roast them in the oven, again do not chop them.  Leave the halves intact. Use a baking sheet covered with parchment paper. Preheat the oven to 350°.  Evenly distribute the nuts on the baking sheet in a single layer. Do not crowd the nuts together.  Roast in two batches if you have to.  It is important to allow enough air to circulate around them so they roast evenly. You want to roast them until they turn golden brown which takes about 5-10 minutes. Start checking them frequently at 5 minutes as they can go from nicely toasted to burnt in a minute! Other nuts that benefit from toasting/roasting are pistachios, pecans, and macadamias.  In fact this salad is really yummy if you substitute pistachios for the walnuts.
As I mentioned it is fun to change up the salad by adding a different nut like pistachios.  Another tasty addition to the salad is cheddar cheese. The combination of the tangy sharp cheddar with the sweetness of the apple is a perfect pairing.  I use my vegetable peeler to cut "ribbons" of cheddar cheese from a block of cheddar rather than using packaged pre-grated cheese. Try it! Using fresh cheese makes all the difference!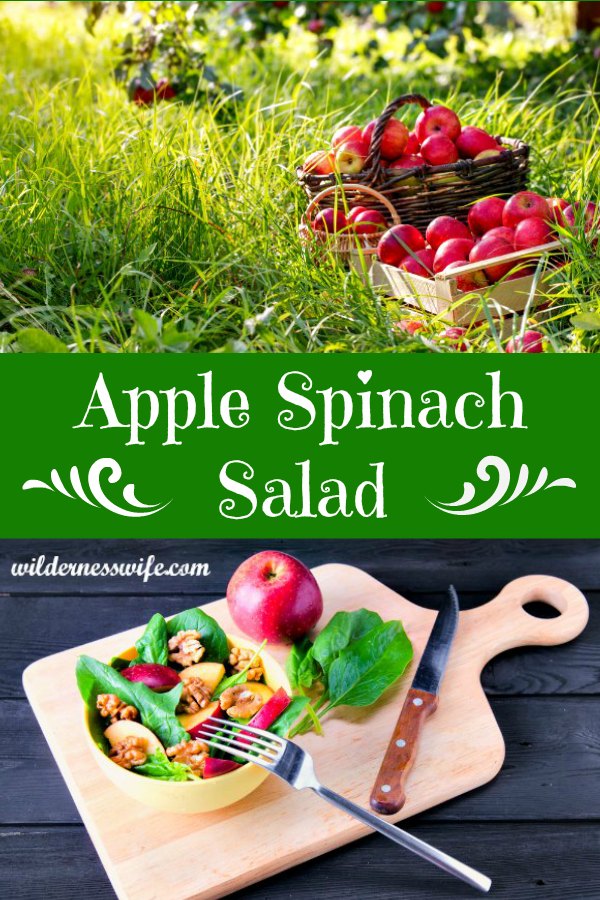 This is a great salad to go with a pork entrée, but it also pairs well with poultry and beef.   We enjoy it anytime of the year but it is a great addition to a summer evening meal providing great flavor, texture, and a pretty side dish for the meal. For a holiday meal like Christmas or Thanksgiving, it adds great taste and visual appeal to the holiday dinner table.
Print
Apple Spinach Salad
This bright and tasty salad is a great tasting
Author:
Prep Time:

15 mins

Total Time:

15 mins

Yield:

2

servings

1

x
Category:

Salad

Cuisine:

American
1

medium Macintosh Apple, cored, halved and sliced thin but skin left on

2

tbs. lemon juice

2

tbs, apple cider vinegar

3

tbs. olive oil

1 tbsp

sugar

1 tbsp

prepared mustard (I prefer Dijon)

¼ tsp

ground black pepper (fresh)

½ tsp

salt

3

c. baby spinach, washed and spun dry

3

tbs. chopped & toasted walnuts or pecans
Instructions
Core, halve and slice apples thin but leave skins on. Toss the apples in the lemon juice to prevent them from browning.
Combine vinegar, olive oil, sugar, dijon mustard, pepper and salt in small bowl and whisk together.
Put spinach, sliced apples, and toasted nuts in salad serving bowl and lightly toss to mix.
Drizzle with salad dressing and toss again lightly.
Its ready to serve.
More Salad Recipes from The Wilderness Wife -
Other Wilderness Wife Recipes to try -