Coleslaw - what can be said about it?
Numerous clichés lend themselves to describing coleslaw - "always a bridesmaid, never the bride" or "best supporting actor in a cast of thousands". It is always cast in a supporting role but coleslaw fills a need in so many meal plans. Coleslaw is there to cleanse and awake the palate in a meal heavily laden with greasy fried foods. Can you imagine a seafood platter without it? As a condiment in a pulled pork sandwich, it lends the perfect acidic note to compliment the spicy, tangy barbecue sauce. And it so incredibly easy to make, it can be the perfect easy and quick dish to take to a potluck supper. No cooking involved in tasty cabbage coleslaw, just some cutting and stirring and your set to go!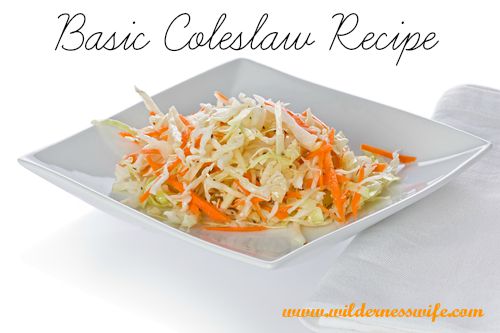 Basic Traditional Coleslaw
No summer picnic is complete without coleslaw. So that's why I have a collection of recipes for it so I can change it up for the family rather than the same old, same old. But for this recipe we are talking about a very basic traditional coleslaw recipe.
First Coleslaw Ingredient - Cabbage
First of all the basic ingredient is cabbage. So which cabbage is the best for coleslaw? The most commonly used is the very common, very Plain-Jane green cabbage. Green cabbage is always there in the supermarket and its the first one you think of for coleslaw, stuffed cabbage, and corned beef and cabbage. It's basic, compact, solid and very long lasting in the vegetable keeper in your fridge. You can use it in salads and slaws, stir fry, or simmer and boil it. When you purchase it, you want to pick a head that feels heavy and solid for it size, with fresh, tightly packed leaves. Green cabbage is the most common used cabbage for slaws because it can hold up to the creamiest, oiliest, or spiciest dressing put on it.
Second Ingredient - Carrots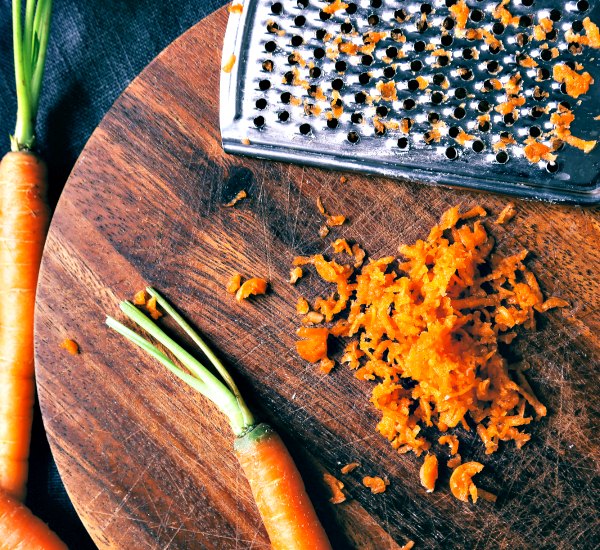 Your next ingredient is shredded carrots. You want them to be a little thinner than a "julienne" cut but no as thin as peelings. I peel the outer skin from the carrots and cut them into pieces that are the length I want for my carrot shreds. Then I grate them by hand (I know, time consuming) but you could use your food processor if hand grating is not your thing or time is of the essence. I often enjoy mindless tasks like grating vegetables or cheese that give me the opportunity to contemplate the solution to the world's problems or to just listen to music. I actually find it relaxing.
Third Ingredient - The Dressing
Next you make a mix of wet ingredients and seasonings. This mixture is folded into the shredded veggies and then the coleslaw is refrigerated so the flavors can blend together. The very basic ingredients for the dressing for your coleslaw are mayonnaise, vinegar, salt, pepper, sugar and vegetable oil. You can change it up with additions and substitutions like buttermilk in place of the vegetable oil for a nice tang, or adding some finely chopped raw onion for additional flavor note or a little shredded red cabbage for some color. There are lots of recipes out there but the one below was the one my Nana always made so its comfort food for me.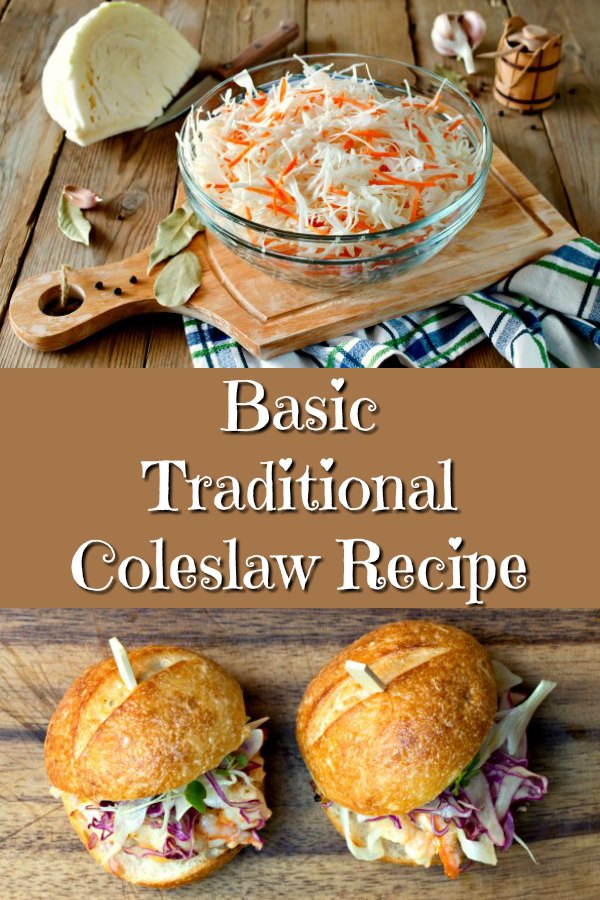 Coleslaw is very healthy eats!
Cabbage is packed with nutrients such as Vitamins C, K, and B6 along woith Folate, manganese, and potassium. Carrots are high in both vitamin A, beta-carotene, antioxidants and potassium making them very healthy. They are also very low in calories as 10 baby carrots only contain about 30 calories. As both are eaten raw in a coleslaw salad, they lose no nutrients through a cooking process. You can lower calories in the dressing by substituting fat free and low-carb alternatives.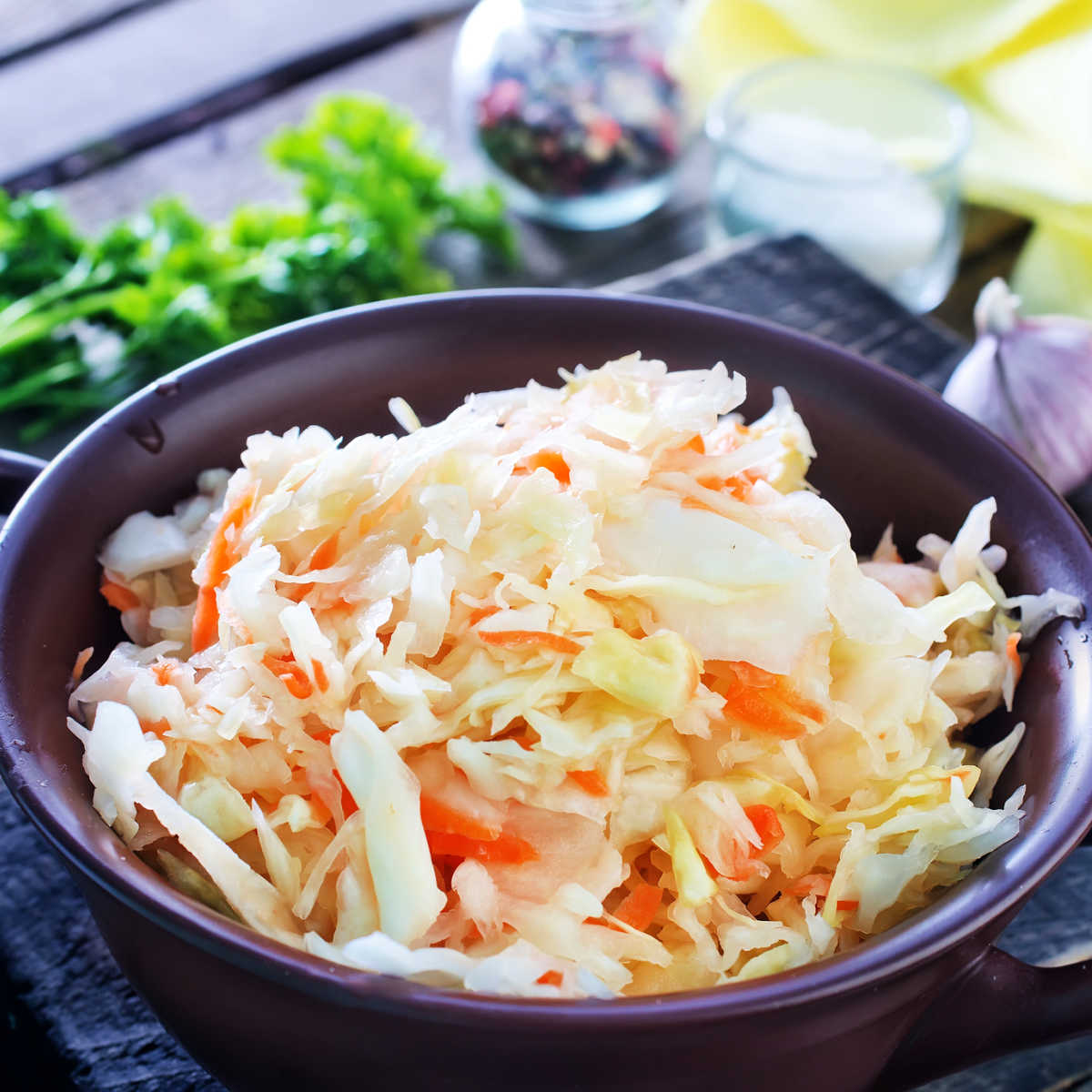 Try some of other salad recipe -
Print
Basic Coleslaw Recipe
This is a very basic coleslaw recipe that my Nana used to make. Nothing fancy but it it is a basic traditional coleslaw recipe.
Author:
Prep Time:

15 mins

Total Time:

15 mins

Yield:

6

servings

1

x
Category:

Vegetable Side Dish

Cuisine:

American
6

c. shredded cabbage

1

carrot, grated

⅔

c. mayonnaise

2

tbs. vinegar (cider or white)

2

tbs. vegetable oil (I use canola)

2 ½

tbs. sugar, or to taste

½ tsp

. celery salt

¼ tsp

. salt, or to taste
Instructions
This couldn't be easier!
Toss the cabbage and carrots together in a large bowl mixing them so they are distributed evenly.
In a small bowl whisk together the mayo, vinegar, oil, sugar, celery salt, and salt.
Gently mix the wet ingredients in to the carrot/cabbage combo.
Cover and refrigerate for at least 2 hours before serving to blend flavors.
More Salad Recipes from The Wilderness Wife