This Microwave Herbed Potato Recipe is perfect for those nights that it's a marathon race to get dinner on the table, or actually its more like a sprint! In my repertoire of quick sides this is a quick and easy favorite. I have to admit that I don't cook a lot with microwave but in the warm summer months using it is a great way to not heat up your kitchen.  I use the microwave to make popcorn, I reheat things in it, and I do cook potatoes in it when I am in a rush.  Hubby doesn't consider it a meal unless it has meat, potatoes, and at least one vegetable.  Any supper that doesn't include all those three is a cop-out in his opinion. This family favorite recipe helps me meet his expectations and meet my often hectic schedule. I also use the same microwave potato method to cook potatoes to use in potato salad, another quick and cool kitchen hack to save the day when I'm in a rush and trying to beat the heat.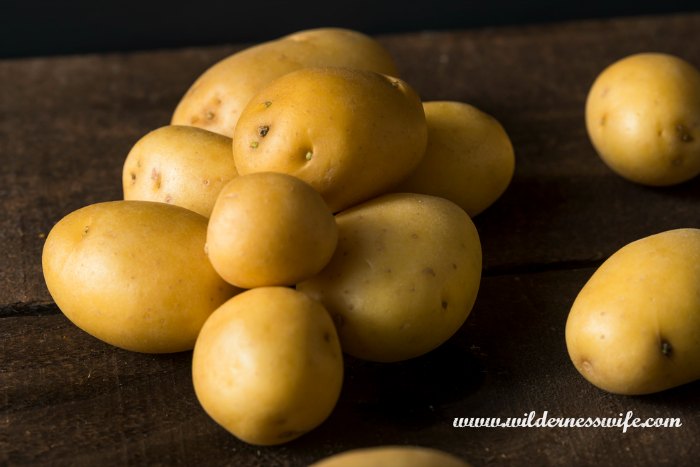 What are the best type of potatoes to use for Easy Microwave Herbed Potatoes?
My favorite potato variety for this dish is Yukon Gold.  You can use most any type of potato but the Yukon Gold has a buttery richness about it and it holds its shape well so the potatoes don't get mushy and fall apart. You can peel then or leave the skins on as the Yukon Gold has a very thin skin. I don't use russet potatoes for this dish as they will fall apart much easier than the Yukon Golds.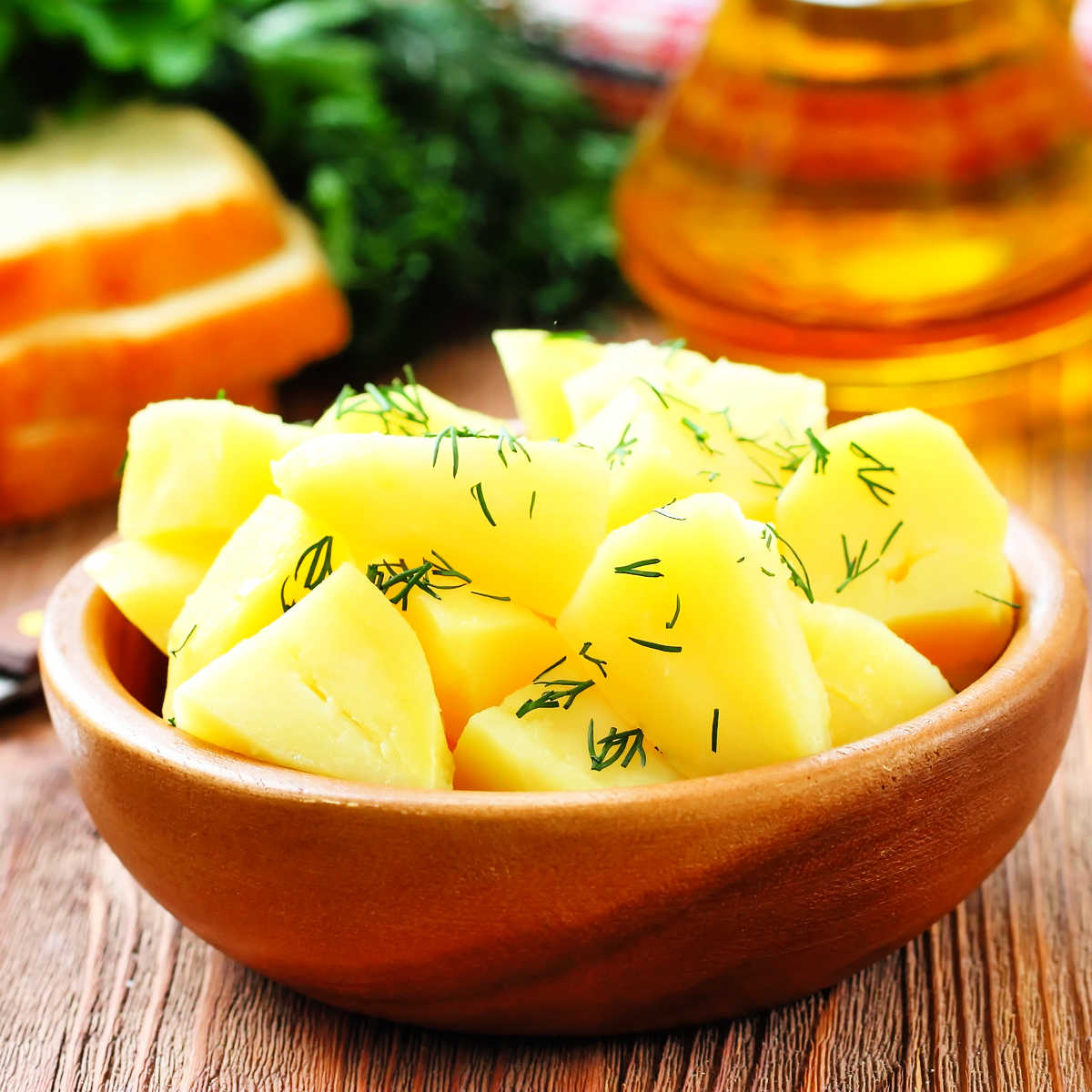 What herbs should be used with the Microwave Herbed Potatoes?
You can change the flavor profile by using different herb combinations to change it up.  Basil, oregano, and garlic powder give an Italian flair to the dish.   Thyme, sage, and onion powder are great if you are serving the potatoes with poultry as the main dish.  I have even used curry powder (my family loves curry) and onion powder.  So experiment and have fun, no matter how you flavor it, the cooking method and the time involved remain the same.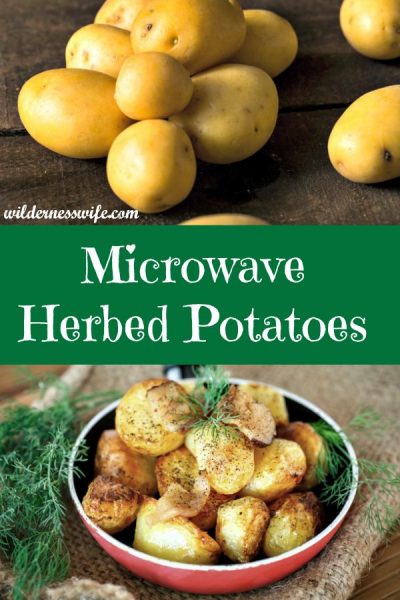 Print
Easy Microwave Herbed Potatoes
Quick, easy, tasty, and healthy works for me. Cooking the potatoes in the microwave retains the nutrients that would leach out if boiled in water and is quicker than roasting in the oven.
Author:
Prep Time:

10 mins

Cook Time:

10 mins

Total Time:

20 mins

Yield:

6

servings

1

x
Category:

Vegetable

Cuisine:

American
2

lbs. of potatoes, cut in 1'inch bite size pieces. Yukon Gold is my favorite but any "tater" will work.

2

tbs. extra virgin olive oil

1

tbs. melted butter

½ tsp

. garlic powder

½ tsp

. thyme

½ tsp

. oregano

½ tsp

. sage
Instructions
When you prepare your potatoes, you can leave the skins on if you are using a thin skinned variety, but peel if you use a coarser skinned potato like a russet.
Rinse cut potato pieces in cold water, drain thoroughly and place in microwaveable covered dish.
Add butter and olive oil and gently toss to cover all potato pieces.
Mix garlic powder and herbs together in small bowl.
Pour garlic/herb mixture over potatoes and toss to evenly coat.
Cook on medium high setting for 9 -10 minutes
Note: Sometimes I toss the cooked potatoes in a skillet with a 1 tbs. olive oil and just lightly brown the edges for a prettier look!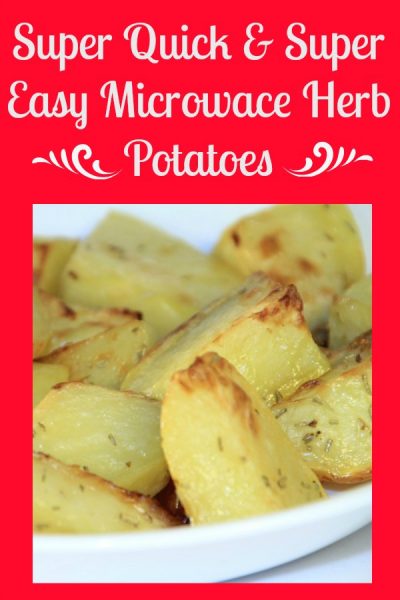 May you win all your cooking marathons! Some days being a mom is quite a race to the finish!
More Potato Recipes from The Wilderness Wife Blog -