Mashed Potatoes - as my son says, the perfect delivery system for Gravy
Mashed potatoes are the favorite potato dish at the Thompson household, particularly if the main dish has any form of gravy as a side dish. And being from Aroostook County, Maine, I know my potatoes. Here in our region we have huge commercial potato farms and have a wide range of locally grown potatoes available. My favorite variety for Mashed Potatoes is the Russet. It's a starchy potato that breaks down well when cooked so its perfect for smooth creamy potatoes. Stay away from the waxy varieties such as red potatoes, new potatoes and fingerling potatoes. They hold together well when cooked and are better for dishes like potato salad. Another good choice for mashed potatoes is the Yukon Gold. They are considered all purpose as they have enough starch to make a decent baked or mashed potato but will hold together in dishes like soups and stews.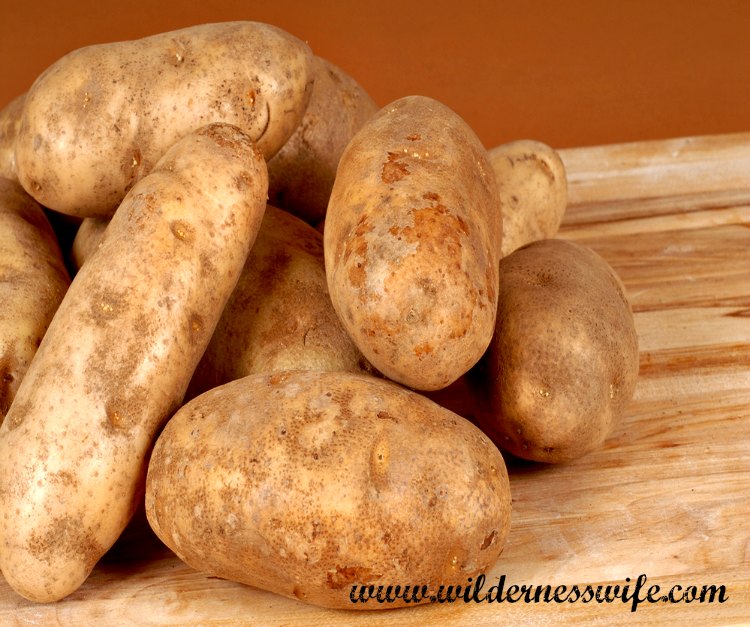 How to choose the best potato
Be careful when choosing your potatoes. Avoid potatoes with wrinkled skins, cuts or blemishes. The potato should be firm to the touch when you squeeze it. Be sure to smell the potatoes. They should have an earthy smell but there is nothing more horrid then the smell of a potato that has gone bad. You'll know it when you sniff it! Trust me! Don't buy potatoes with areas of green skin, dark spots or bruises. If you buy a sprouting potato that is otherwise fine, be sure to use it right away.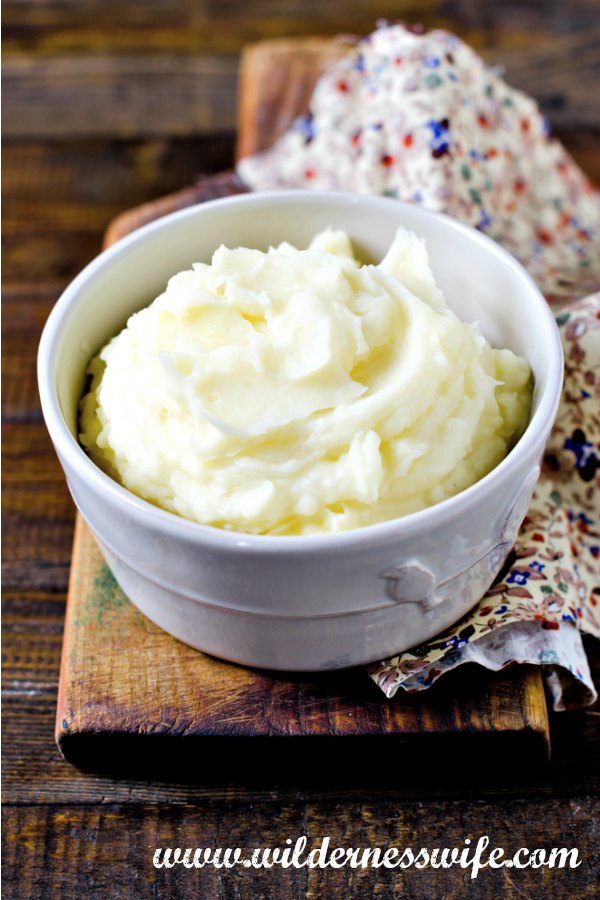 Peeling Potatoes - KP duty (military slang for Kitchen Police)
My husband was in the Navy and said that peeling potatoes was often a punishment for less than stellar performance of one's duties. Peeling potatoes is not that bad, and I actually enjoy mindless tasks like peeling vegetables while listening to the kitchen radio. It only takes a few minutes and the end result is so much better than the instant mashed potatoes from a box. When making mashed potatoes you want to peel and quarter the potatoes into chunks and rinse them thoroughly. Place the potatoes in a pot of cold water and let them come to a boil. Large chunks, like the quartered potatoes, will take 20-25 minutes. They are done when they will break apart when a fork is stuck in them. When done, you drain them and then add melted butter and warmed milk to them. I also like to add a little sour cream as it adds a nice rich tangy flavor to them.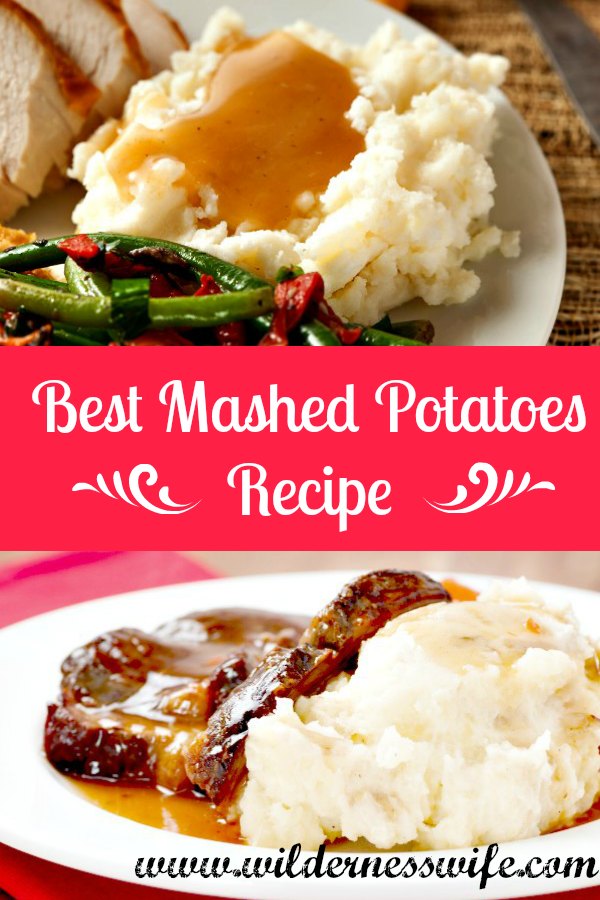 Some great additions to your mashed potatoes for variations on a theme
Adding roasted garlic makes a delicious twist. Adding a pinch of dill, thyme, or sage will take the dish to a whole new level. I add the herbs to the milk when I am "pre-warming" it in the microwave. I also add goat cheese or any grated cheese, for that matter, which gives a cheesy richness to your potatoes. Add the grated cheese into the potatoes and give them a good thorough stir. Place them in an oven proof dish and sprinkle some grated cheese on top as a garnish. Heat them in the oven at 400F for 15 minutes to give the cheese a chance to melt into creamy smoothness.
For more Wilderness Wife Potato Recipes, checkout these links -
Print
Best Mashed Potatoes Recipe
As my son Doug says, "The Perfect Delivery System for Gravy
Author:
Prep Time:

20 mins

Cook Time:

25 mins

Total Time:

45 mins

Yield:

6

servings

1

x
Category:

Vegetable Side Dish

Cuisine:

American
3

-

4

lbs. Russet Potatoes, peeled and quartered, cut smaller for quicker cooking

½ cup

of warmed milk

¼ cup

of melted butter
pepper and salt to taste
Optional - ½ cup of sour cream
Instructions
Peel potatoes and cut into quarters. Be sure to rinse thoroughly. Place potatoes in a large pot and cover with water. Bring potatoes to a boil. Boil for about 20-25 minutes. If rushed for time cut the potatoes into smaller cubes and the cooking time will shorten. Potatoes are done when they fall apart when poked with a fork.
Place milk and butter in a microwavable bowl. Heat in the microwave for about 30-45 seconds or until butter is melted. This step makes the liquid easier to add and mix more thoroughly.
Drain potatoes in a colander. To mash, you can use a potato masher or you can use a stand mixer with whisk attachment. I always warm the mixer bowl and whisk with hot water so they don't cool the potatoes off. I whisk them at low to medium speed.
Pour in the milk/butter mixture slowly so you can control the consistency to what you want.
Salt and pepper (and sour cream if you choose) can be added in. Mash or mix to combine.
The mashed potatoes can be served immediately or kept warm in the oven in an oven-proof dish