A Tale of Two Beets - A Pickled Beet Alternative
This pickled beet recipe is a little different than the usual. Traditional pickled beet recipes usually are all about cinnamon, cloves, and sugar but this one has a more savory twist.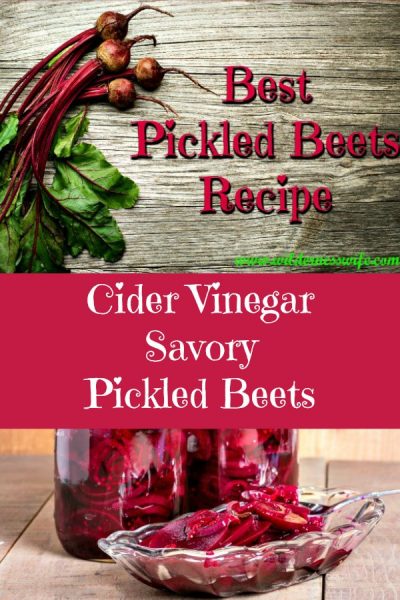 Safety first when canning your Pickles Beets
As with all water bath canning recipes, cleanliness and detail to directions is important. Sterilize your jars and lids and any tools you use. Always check for tight seals on your lids 24 hours later which will be indicated by a depressed button on your canning jar lid. When you retrieve you any canned goods from your pantry, make sure that the button is still depressed. If it is raised, the contents are not safe to eat.
Print
Cider Vinegar Pickled Beets
Different from the usual pickled beets canning recipe, this is a yummy  relish side for a meat entree.
Author:
Prep Time:

15 minutes

Cook Time:

40 minutes

Total Time:

55 minutes

Yield:

3 pints

1

x
Category:

canning

Cuisine:

American
4 lbs. of beets, peeled, halved and sliced (¼ in. thick)
3 cups sliced yellow onions
2 ½ cups cider vinegar
1 ½ cups water
¼ cup of sugar
1 tbsp. mustard seed
2 whole cloves
2 bay leaves
3 cloves of garlic, quartered
1 ½ tsp. black peppercorns
2 teaspoons dried thyme
1 teaspoons dried oregano
Instructions
Combine vinegar, water, onion, sugar, and other herbs and spices in pan.
Bring to a boil, and continue to boil gently for 5 minutes.
Add prepared beets to jars and then pour hot brine with onions and spices over them. Try to divide onions and spices/herbs as evenly as possible, leaving ½ inch of head space in each jar.
Release any trapped air by running knife around interior of jar.
Cap with sterilized lids and bands.
Process in a water bath canner for 30 minutes and let set in canner for another 5 minutes.
Remove jars.  Let set for 24 hours.  Check jars for seal.  Will store for 1 year.
Try our more traditional Pickled Beet Recipe