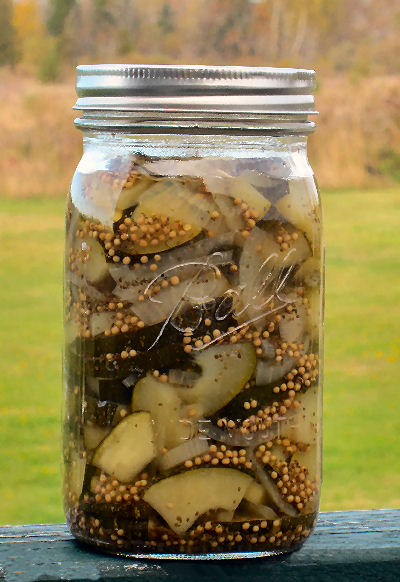 This weekend we had our first snow of the season. During the night Saturday, it started snowing and although it melted during the day Sunday, it was a "wake up call" Sunday morning, with all the snow covered trees, that winter isn't that far off here in the North Maine Woods. Thank goodness I finished cleaning out the garden beds and essentially putting the garden to "bed" for the year on Friday. I also finished up my produce canning for the year Saturday afternoon. There were 2 large zucchini left and I decided to make them into bread & butter pickles. In preparation, I cut them in half lengthwise and scooped out all the seeds and membrane from the center. I took the halves and cut them in half lengthwise again (each was now a ¼ lengthwise piece of zucchini). These I cut into ¼ inch thick slices. I was ready to make Bread & Butter Zucchini Pickles.
BREAD AND BUTTER ZUCCHINI PICKLES
16 c. sliced fresh zucchini
4 c. thinly sliced onions
½ c. pickling salt (not iodized)
4 c. white vinegar (5% acidity)
2 c. sugar
4 tbsp. mustard seed
2 tbsp. celery seed
2 tsp. ground turmeric
Cover zucchini and onion slices with 1 inch of water and salt. Let stand 2 hours and drain thoroughly. Combine vinegar, sugar and spices. Bring to a boil. Add zucchini and onions. Simmer 5 minutes and fill sterilized canning jars with mixture and pickling solution leaving ½ inch space at the top. Wipe jar rims clean and cover with sterilized lids. Screw on bands and hand tighten. Process in a boiling water bath 15 minutes. Remove from canner and let cool.  Check lids for proper sealing. Let pickles set for at least 6 weeks before eating for maximum flavor.
If you enjoyed this post. please, please show your support – "like" The Wilderness Wife on Facebook or "follow" The Wilderness Wife on Twitter ( I promise that I am not a "twitter pest" and only tweet when there is a new post on the Blog). Thank you for your support!