Home Made Maine Blueberry Jam is the best
Blueberry Jam is on my mind. Its August and blueberries are in abundance here in Maine. I love preserving whatever produce is in season and abundant whether it is from my garden or the farmers market. The more news reports I hear about food recalls like the lettuce scare pf last year, the more I like to grow my own food or buy from local farmers. Here in northern Maine we have a couple of good sized Amish communities so finding good locally grown farm produce is very easy but growing your own blueberries is very easy. For more info check out this article on growing blueberries in a container .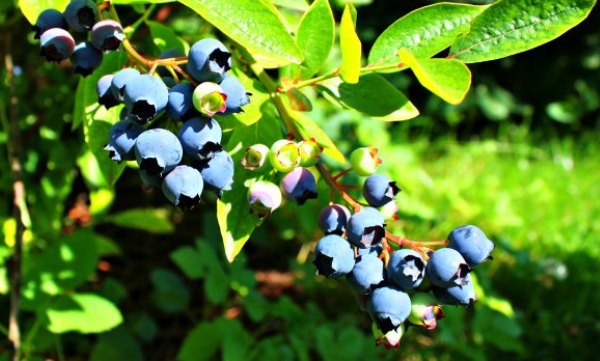 Always use fresh fruit for the best Blueberry Jam!
For the best blueberry jam, I recommend using the freshest fruit you can find but if you don't have fresh blueberries you can use frozen blueberries. If using fresh ones, use those that are just ripened as they will have the best flavor and acidity to make the best jam. Include a few that are almost ripe as they help add pectin to the batch for a better texture. The skins of overripe blueberries can become very leathery and don't make a product of a nice consistency.
Preparing the Blueberries for Blueberry Jam
Of all the berries you can make into jam, I have to say that I have found blueberries are the easiest. Although sometimes homemade blueberry jam can be a little looser than other varieties of berries. No hulling is required like strawberries. Just pick through the blueberries to discard overripe mushy ones and remove stems that might still be attached. Then I place them in a colander and rinse them with cold water to remove any dirt or pesticides. Be sure to follow recipe instructions carefully. The measuring and order that ingredients are added is very important in getting the right consistency as an end product of your Jam. The beauty of this recipe is there are only 4 ingredients - blueberries, lemon juice, fruit pectin, and sugar. It can't get easier than that. If you are not familiar with the water bath canning process check out my canning tutorial here - Dilly Beans Canning Tutorial.
Storing your Canned Blueberry Jam
Store your blueberry jam in a dark, cool place. It should last about a year stored in those conditions. Homemade Jams make a great Christmas gift. I love to make up baskets of homemade goodies for close friends at Christmas and jams and pickles are always big favorites among my recipients.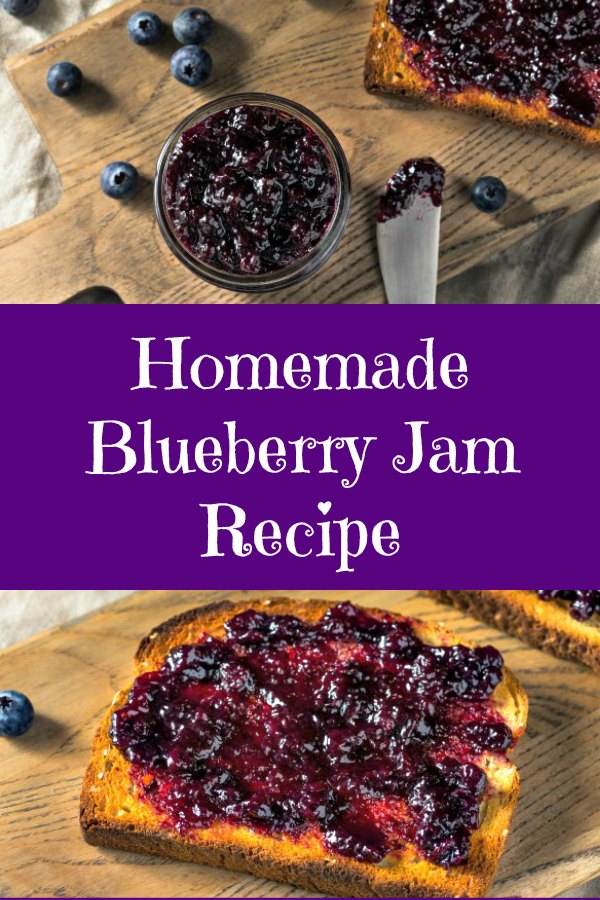 Print
Best Blueberry Jam Recipe
A delicious jam that I enjoy making every year.
Author:
Prep Time:

15 min

Cook Time:

20 mins

Total Time:

35 minutes

Yield:

9

half pint jars

1

x
Category:

Jam

Method:

Water Bath Canning

Cuisine:

American
8 cups of fresh blueberries
7 cups of sugar
2 pouches of liquid pectin (3 oz. each)
2 tbs. lemon juice
Instructions
Place blueberries in a stockpot.
Stir in the sugar and lemon juice Bring to a full rolling boil over high heat, stirring constantly.
Stir in pectin. Boil for 10 minutes, stirring constantly.
Remove from the heat; skim off foam.
Ladle hot mixture into hot sterilized half-pint jars, leaving ¼-in. headspace.
Remove air bubbles; wipe rims and adjust lids.
Process for 10 minutes in a boiling-water canner.
Notes
Processing time is for altitudes of 1,000 feet or less. Add 1 minute to the processing time for each 1,000 feet of additional altitude.
Keywords: Easy Blueberry Jam
More Blueberry Recipes on The Wilderness Wife Blog