Fiddlehead casserole - a Northwoods delicacy!
It's spring (finally!) here in the Maine Northwoods and time for Fiddlehead Casserole. For awhile in April it really looked like it would never come but now the earth is warming and the fiddleheads are poking through the ground. Fiddlehead Season is a short season and the fiddlehead-shaped sprouts of the ostrich fern are best consumed fresh which makes for a gluttonous spring feeding frenzy.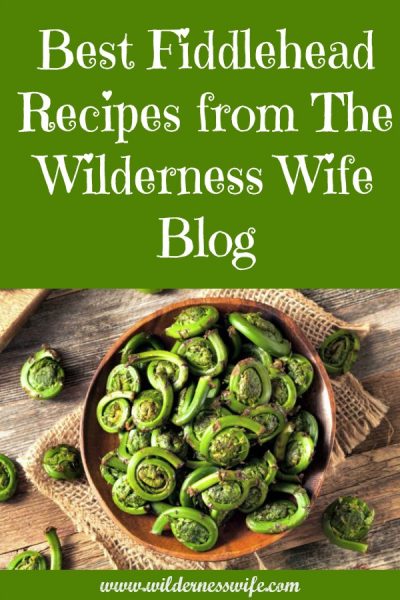 Fiddleheads are only with us for a short time before they turn into inedible ferns so as they say you must "make hay while the sun shines". This time of year I like to share a few of my favorite fiddlehead recipes as they are more available now that many supermarkets carry them across the country. Today I'm sharing Fiddlehead Casserole.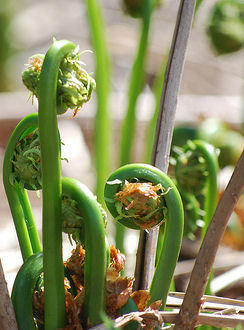 Fiddlehead Casserole
Here is another Fiddlehead Recipe from my trove of fiddlehead fern recipes - Fiddlehead Casserole. Some of my recipes are classic, some are originals from my friends, and some are my own creation. Most recipes and flavor profiles that work for broccoli or asparagus will work for the fiddlehead-shaped sprout of the ostrich fern.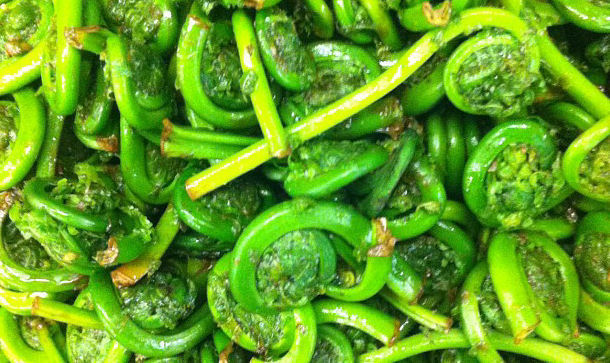 Fiddlehead Casserole - a variation on a holiday favorite!
This Fiddlehead Casserole recipe is just a variation of the old holiday favorite, "Green Bean Casserole" The most important thing is to thoroughly clean and precook the fiddleheads. First you will need to remove any of the brown papery "skin" that may be left on them and then rinse them thoroughly under cold running water in colander. Then boil the fiddleheads in salted water for 10 minutes. Change out the water and boil in the fresh salted water for another 10 minutes. Now they are ready to be incorporated in the casserole. Mix the cooked fiddleheads with Cream of Mushroom Soup, milk, soy sauce, ⅓ cup of the French Fried Onions and pepper. Bake for 25 minutes at 350 degrees till the mixture is hot and bubbly. Stir it and add the remaining onions by sprinkling them on top. Put back in the oven for another 5-10 minutes. The recipe appears on the back of cans of Campbell's Cream of Mushroom Soup for Green Bean Casserole, a holiday favorite. You can also find the recipe instructions at the Campbell's Kitchen Web site.
For more fiddlehead recipes and information be sure to check these posts -
Print
Fiddlehead Casserole
The fiddlehead fern is a Northwoods delicacy enjoyed fresh for a short time each spring. There are many ways to prepare them and this quick and easy fiddlehead casserole is always tasty.
Author:
Prep Time:

15 mins

Cook Time:

35 mins

Total Time:

50 mins

Yield:

6

- 8

1

x
Category:

Vegetable Casserole

Cuisine:

American Northwoods
1

can Campbell's cream of mushroom soup

½ cup

milk

1 teaspoon

soy sauce

4 cups

cooked fiddleheads
Fresh coarse ground pepper

1

-

⅓

cups French's French Fried Onions
Instructions
Preheat oven to 350F
Thoroughly rinse fiddleheads in cold water in a colander. Be sure to remove any brown papery skins.
Boil for 10 minutes.
Change out the water and boil in the fresh salted water for another 15 minutes. Drain and set aside.
Mix together Mushroom Soup, ½ cup of milk, 1 tsp. soy sauce and fresh ground pepper to taste.
Spray casserole dish with non stick spray.
Put fiddleheads and ⅓ cup of onion rings in casserole and toss to mix.
Pour soup mixture over the fiddleheads and onions.
Bake for 25 minutes.
Remove from oven and stir to mix.
Sprinkle remaining onion rings on top and bake for 10 more minutes.