Sauteed Fiddleheads - a quick and healthy vegetable side dish
Sauteed fiddleheads are a very healthy dish as fiddleheads contain Vitamin A, Vitamin C, potassium, iron, antioxidants, omega-3 fatty acids but you must use care in preparing them. Important - Because of where they grow, in wet marsh areas frequented by animals such as beaver and muskrats, there is the potential that fiddleheads can harbor bacteria and the parasite giardia. For that reason you should never eat fiddleheads raw and you should boil them for 10 minutes before using them in dishes such as this sauteed fiddlehead recipe or a stir fry.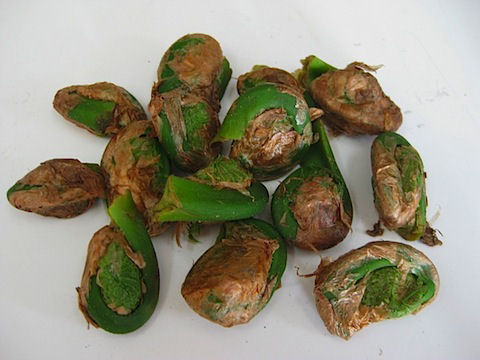 How to Sauté Fiddleheads
Sauteing fiddleheads is a quick, easy method to get these delicious wilderness veggies on the table. To prepare your sauteed fiddleheads follow these instructions. Make sure you have thoroughly rinsed your fiddleheads and have removed the brown papery skins that cover the outside. This is easily done by just gently rubbing them while you are rinsing the fiddleheads under running water. The first step is to pre-cook the fiddleheads in salted boiling water for 10 minutes. Drain them and let them rest in the colander while you prepare the sauté pan. Add 1 tbsp. of olive oil and 2 tbsp. of butter to a sauté pan. Melt the butter and olive oil over medium heat until the milk solids in the butter turn a light golden brown. You can vary the flavor of your sautéed fiddle heads by adding some onions or shallots to the fiddleheads as they sauté. You can also add minced garlic but be sure to not cook the garlic for very long. Add the garlic when the onions are translucent. If you cook the onions and garlic for the same length of time the garlic will overcook. Add the pre-cooked fiddleheads to the skillet. Sauté the fiddleheads for 3 to 4 minutes to blend the flavors and then serve.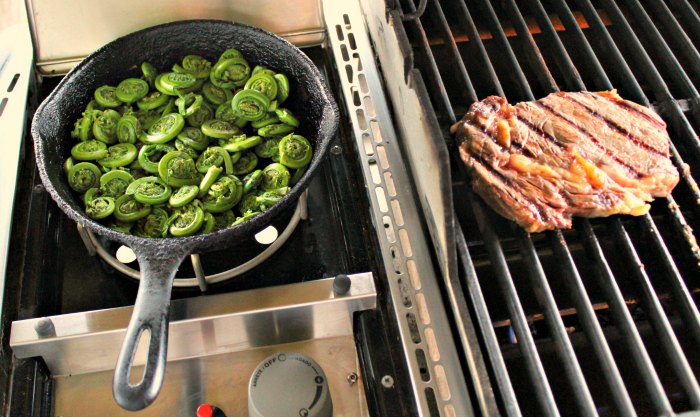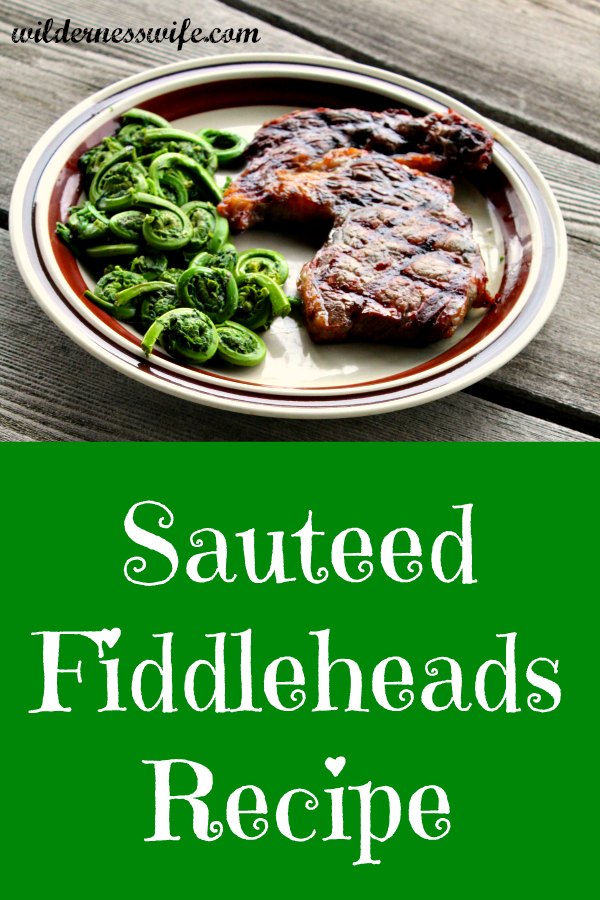 For more Wilderness Wife Fiddlehead Recipes visit these pages -
Print
Sauteed Fiddleheads
Sautéing is one of the easiest ways to prepare fiddleheads it is a very quick easy vegetable side for your spring meal.
1 ½ pounds fiddleheads
2 tablespoons butter
1 tablespoon olive oil
optional - ½ cup of chopped onion and/or two clothes of minced garlic
Instructions
Boyle cleaned fiddleheads in water for 10 minutes.
Melt butter and olive oil in sauté pan.
If using onions add them at this point.
If using garlic add when the onions are translucent and cook for three minutes.
Drain fiddleheads thoroughly.
Add fiddleheads to sauté pan and sauté for 3 to 4 minutes to let the flavors mingle.
Can be served with lemon wedges to be added by diner.