Fiddlehead Pickles are delicious and easy to make!
Bread & Butter Fiddlehead pickles are yummy and worth the effort to make them. You process fiddlehead pickles using the water bath canning method. Water bath canning is not difficult and is a great way to preserve food when it is in season and abundant. For me, the canning season starts in the spring and carries on throughout the summer right into fall when I preserve the last of the produce from our garden.
When water bath canning fiddlehead pickles, attention to detail is important.
Cleanliness is the most important thing in the canning process! You want to do all your prep work for making these fiddlehead bread & butter pickles on clean surfaces in your kitchen. Make sure that your produce is clean and well rinsed with water. Your canning jars and canning equipment needs to be sterilized with boiling water. In canning cleanliness is definitely next to godliness. If this is your first time canning, I suggest you first go to my in depth step-by-step photo tutorial for making canned dilly beans. It will give you the basics of canning if you've never done it before.
Preparing the Fiddleheads for canning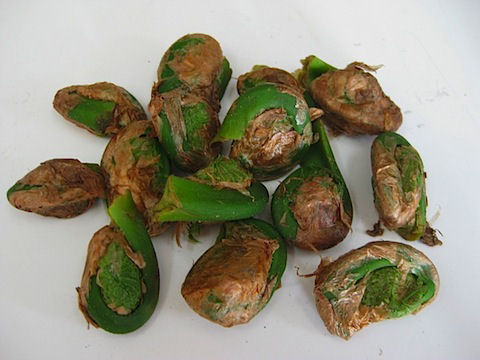 Preparing fiddleheads for canning is easy!
The first step is to thoroughly rinse the fiddleheads under running water. This is also the time to remove the brown papery "skins" from them. It can easily be done by just gently rubbing them as the running water washes the skins away. Trim the stems to a length of about 2 inches. This makes the fiddleheads easier to pack in the canning jars. Use only fiddleheads with tightly coiled heads for making bread & butter fiddlehead pickles.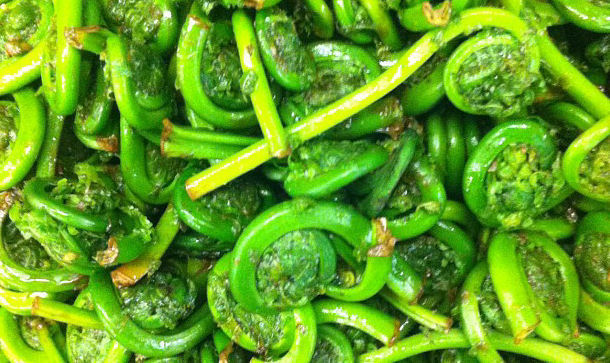 Fiddleheads should be canned using the water bath method!
Be sure to sterilize your jars and lids in boiling water. Attention to detail is very important when canning any product. Canning fiddleheads with the water bath method as bread & butter pickles, is the only safe canning method for them. A safe pressure canning time has not yet been established for pressuring canning them. Properly canned bread and butter pickled fiddleheads have the same shelf life as any other canned pickle product, at least 6 months to a year (although they never last that long at our house)! 😉
More Fiddlehead Recipes from the Wilderness Wife
Print
Bread & Butter Fiddlehead Pickles
Being a Mainer, I have lots of Fiddlehead Recipes and this one making them into Bread & Butter Pickles is a family favorite.
Author:
Prep Time:

25 minutes

Cook Time:

15 minutes

Total Time:

40 minutes

Yield:

6 pints

1

x
Category:

Vegetable

Method:

Canning

Cuisine:

Northwoods
4 lbs. of clean fiddlehead with stem trimmed to 2 "
Cold Water
Ice Cubes
4 cups of thinly sliced onions
½ cup of pickling/canning salt (do not use iodized salt)
5 cups of white or cider vinegar (5% acidity)
2 cups of white granulated sugar
3 tbs. whole mustard seed
2 tbs. celery seed
2 tsp. ground turmeric  
Instructions
Thoroughly clean and wash the fiddlehead and trim the stems to length.
In a clean 8 quart pan (enamel or stainless steel), mix fiddleheads, onions, salt and enough cold water to cover the fiddleheads and onions until the salt dissolves.
Add enough ice to cover the fiddleheads and onions.  Cover the container and place in the refrigerator for 2 hours.
Place the fiddleheads and onions in a colander and rinse well with cold water. Drain them thoroughly.
In an 8 quart saucepan, combine vinegar, sugar, mustard seed, celery seed and turmeric. Bring the mixture to a boil over high heat.
Add the fiddleheads and onions to the brine mixture and bring back to a boil.
Let them boil for 3 minutes, then spoon the fiddleheads and onions into clean sterilized canning jars, leaving ½ inch of headspace in the jar. Immediately spoon the hot brine over the fiddleheads.
Take a clean table knife and run it around the inside of the jar to remove any air bubbles.
With a clean cloth, wipe the rim of the jar and then put the 2 piece lids on the jars and tighten to fingertip tight.  Do not over tighten.
Place the jars in a water bath canner making sure that there is at least 1 inch of water over the canning jars. Heat to boiling.  Once the canner comes to a rolling boil, time it for 15 minutes.
Remove the jars from the canner and let them cool.  You will here a "pop" as the jars cool down. The lids should be slightly depressed once they are cool if the lids are seated properly.      
Keywords: Fiddleheads, fiddlehead fern, pickle recipe