Fiddleheads hunting…in search of the elusive but delicious fern!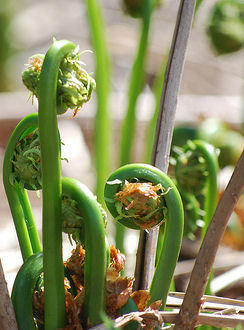 Fiddleheads are one of the joys of spring here in the North Maine Woods. There is a short window of time in the spring when you can find fiddleheads that are prime for eating.  If they get to large, they are bitter and definitely not fine dining.
  If you would like to know more about finding and harvesting fiddleheads, just click here and read our post from last year's fiddlehead "harvest".
And if you would like more traditional Maine Fiddlehead recipes, click here.
That post contains some premium fiddlehead recipes with info on freezing, canning, and cooking fiddleheads. I'll be adding some new fiddlehead recipes to the blog this year.  One is a absolutely delightful soup we discovered on one our weekend trips to Nova Scotia. Discovering the restaurant of Canadian Chef Craig Flinn was like finding the culinary pot of gold at the end of the rainbow!
Chef Craig Flinn's Fiddlehead Soup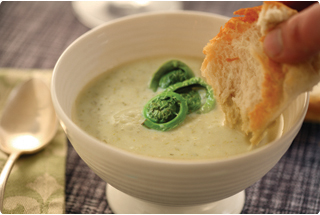 I discovered this incredibly delicious dish at Chives Canadian Bistro in Halifax, Nova Scotia.  Bill and I love going to Nova Scotia for getaway weekends.  Exploring the island is so much fun.  It is breathtakingly beautiful and charmingly quaint.  One of our best culinary finds was Chef Flinn's delightful little bistro. His cooking philosophy is fresh, local, in-season ingredients and it can't be more fresh or local than fiddleheads in the spring.  This recipe is in the Chef Craig Flinn's cookbook – Fresh & Local: Straight form Canadian farms to your table, which you can purchase by clicking here.  The cookbook is well worth the money with great recipes.  I love the one for Pickled Asparagus.  Asparagus, like fiddleheads, is another fleeting springtime delight  and it's great when you can find recipes to use to preserve that great flavor for later in the season.
Print
Chef Craig Flinn's Fiddlehead Soup tradition!
Warming, comforting, and delicious, this soup is made of fresh, local ingredients. If you don't have fiddleheads available in your area, head to Nova Scotia and visit "Chives"!
Author:
Category:

Soup

Cuisine:

Canadian
1 cup

chopped onion

1/2 cup

chopped celery

3

cloves garlic

3

stalks fresh thyme

1 tsp

salt

1 tsp

ground black pepper

2 tbsp

olive oil

2 tbsp

butter

1/2 cup

white wine

5 cups

fiddleheads (washed in cold water)

6 cups

vegetable stock

1 cup

heavy cream
Instructions
Sauté onion, celery, garlic, thyme, salt, and pepper in olive oil and butter over medium heat for 5 minutes.
Deglaze the pan with white wine and bring to a boil. Add fiddleheads and stock and simmer for 20 minutes.
Carefully puree in blender. Strain the soup into a clean saucepan and add cream and lemon juice. tsp lemon juice