My Grandmother's Basic Pancake Recipe
Your basic pancake, flapjack, griddle cake….whatever you choose to call them, are an American breakfast favorite. Everyone has their favorite childhood memory of those luscious little cakey disks smothered in maple syrup. Such a popular breakfast food and yet most Americans make them from premixed ingredients in a cardboard box. Trust me on this- no matter how domestic the little lady on the box looks her mix is no match for my basic pancake recipe handed down to me by my Nana. This pancake recipe might not be quite as quick but its flavor is unrivaled. These are the fluffiest, tenderest pancakes you will ever sink your teeth into.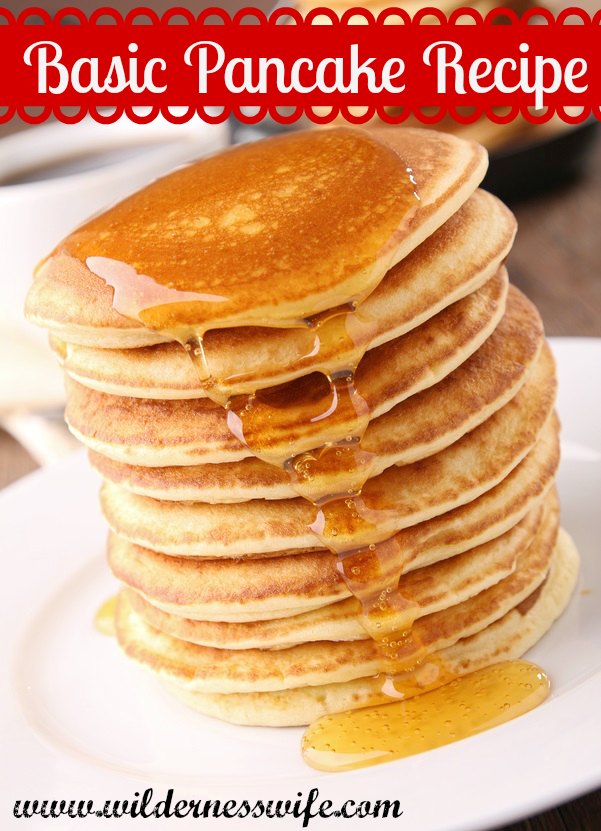 Variations on the Basic Fluffy Pancake Theme
This is a basic recipe and the addition of any number of "extras" can change it up. Kids love it when you add chocolate chips, pieces of banana, blueberries, raisins,…… the possibilities are endless. Retirement and make it fun! This is a great recipe to make with your kids help. Cooking breakfast together is a great family activity!
Print
Basic Pancake Recipe – Fluffy and Delicious
Basic Pancakes the way my Grandmother used to make them. Never mind the pre-mix in the box, take a few extra minutes to give your family the kind of breakfast that makes memories.
Author:
Prep Time:

20 mins

Total Time:

20 mins

Yield:

Approx. 1 dozen medium pancakes

Category:

Breakfast quick bread

Cuisine:

American
1 cup

milk

2 tbsp

. white vinegar

1 1/2 cups

all-purpose flour

2 tbsp

. sugar

1 1/2 tsp

. Baking Powder (I use Aluminum-free)

1/2 tsp

. baking soda

1/2 tsp

. salt

1

large egg, separated

2 tbsp

. melted butter

1 tsp

. vanilla
non-stick cooking spray
Instructions
Preheat oven to 200 degrees.
Put an oven-safe platter or cooking sheet in the oven to keep pancakes warm until the entire batch is ready to serve.
Combine milk and white vinegar, and set aside for at least 5 minutes. Or you can substitute an equal amount of buttermilk.
Mix the dry ingredients together – flour, sugar, baking powder, baking soda and salt.
With a wire whisk or electric mixer beat the egg white until soft peaks form.
Gently add beaten egg yolk and combine to egg-white without losing the airiness of egg-white.
Gently add butter and vanilla to this mix and then fold into milk.
Make a well in the middle of the dry ingredients.
Pour wet ingredients into dry ingredients and gently combine. Don't over-mix.
Like the batter for any quick bread, small lumps are okay. Over-mixing will make for a tough final product.
Set batter aside for 15 minutes.
Pour 1/4 cup of batter onto medium hot skillet or griddle that has been sprayed with non stick cooking spray.
When bubbles appear on the surface of the pancake and a few of the bubbles have actually burst, flip the pancake over.
It will be done when you can gently press the corner of the spatula on the center of the pancake and the depression rises back up.
As you cook the batch, keep finished pancakes in the oven on the warm platter.
Serve with butter and your syrup.