My Grandmother's Basic Pancake Recipe
Your basic pancake, flapjack, griddle cake....whatever you choose to call them, are an American breakfast favorite.  Yes, I know that the mix comes in a box, along with a list of preservatives and other chemicals. Making your own from my basic pancake recipe will add about 15 minutes on to your busy day. But they are going yo be healthier and they will superior in quality. Everyone has their favorite childhood memory of those luscious little cakey disks smothered in maple syrup.  Such a popular breakfast food and yet most Americans make them from premixed ingredients in a cardboard box.  Trust me on this- no matter how domestic the little lady on the box looks her mix is no match for this basic pancake recipe handed down to me by my Nana. 
The Pancake Recipe Ingredients - first the dry
Everything you need for this pancake recipe is in your pantry. Let's start with the dry ingredients. Nothing fancy here. Just your basic all-purpose flour, kosher salt, sugar. baking soda, and baking powder. The baking powder should be aluminum free. Aluminum in baking powder leaves a metallic after taste and is included in some baking powders to give an "extra rise". I just add a pinch more of my aluminum-free and avoid the after-taste. I mix all the dry ingredients together in a bowl large enough to accommodate the eventual addition of the wet ingredients. I always sift my dry ingredients so I don't end up with any lumps in my batter and mix them thoroughly so that the dry components are evenly distributed.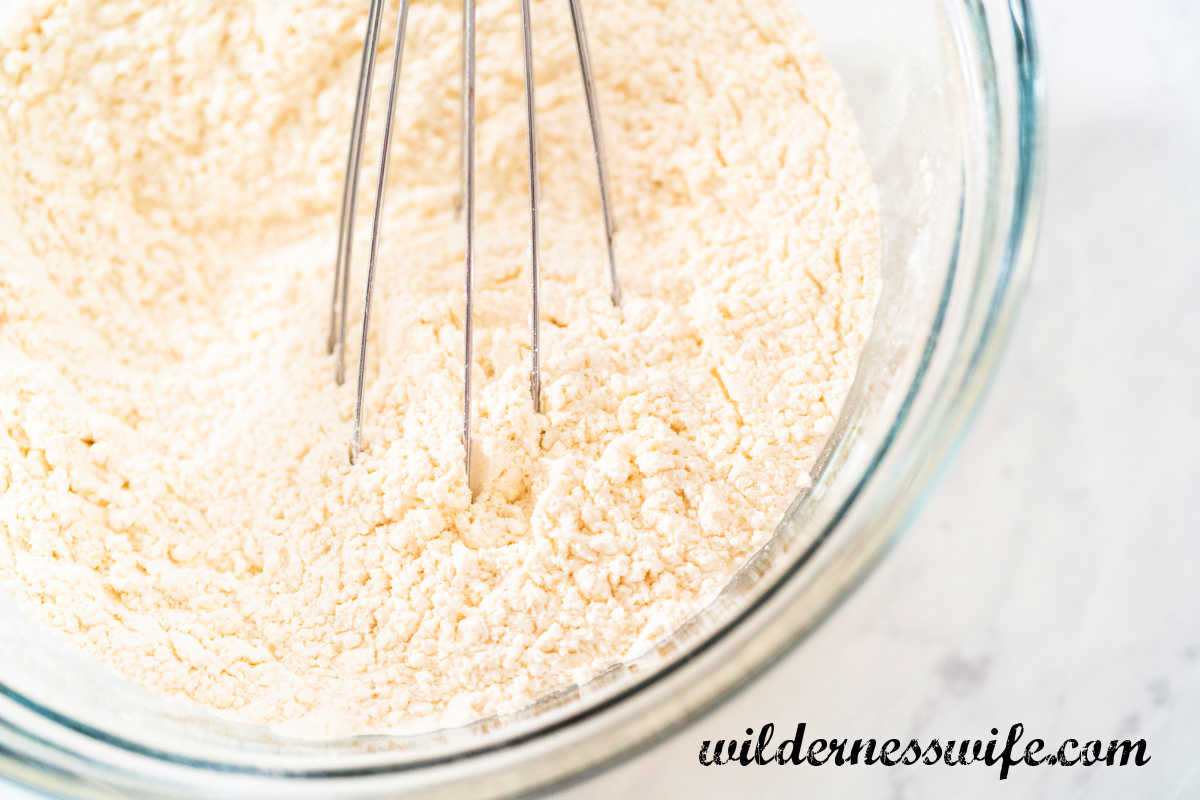 This is a buttermilk pancake recipe but we have a substitution....
The wet ingredients are combined together first for this buttermilk pancake recipe. If you don't have any buttermilk, you can use milk and white vinegar mixed together (1 cup milk and 2 tablespoons of white vinegar as a substitute). I use white vinegar because it is very neutral without an obvious flavor like apple cider vinegar or wine vinegars. Be sure to let the vinegar and milk stand for at least 5 minutes before using. Melt the butter in the microwave and then let it cool some as you do not want it so warm that it will "cook" the egg while you combine them.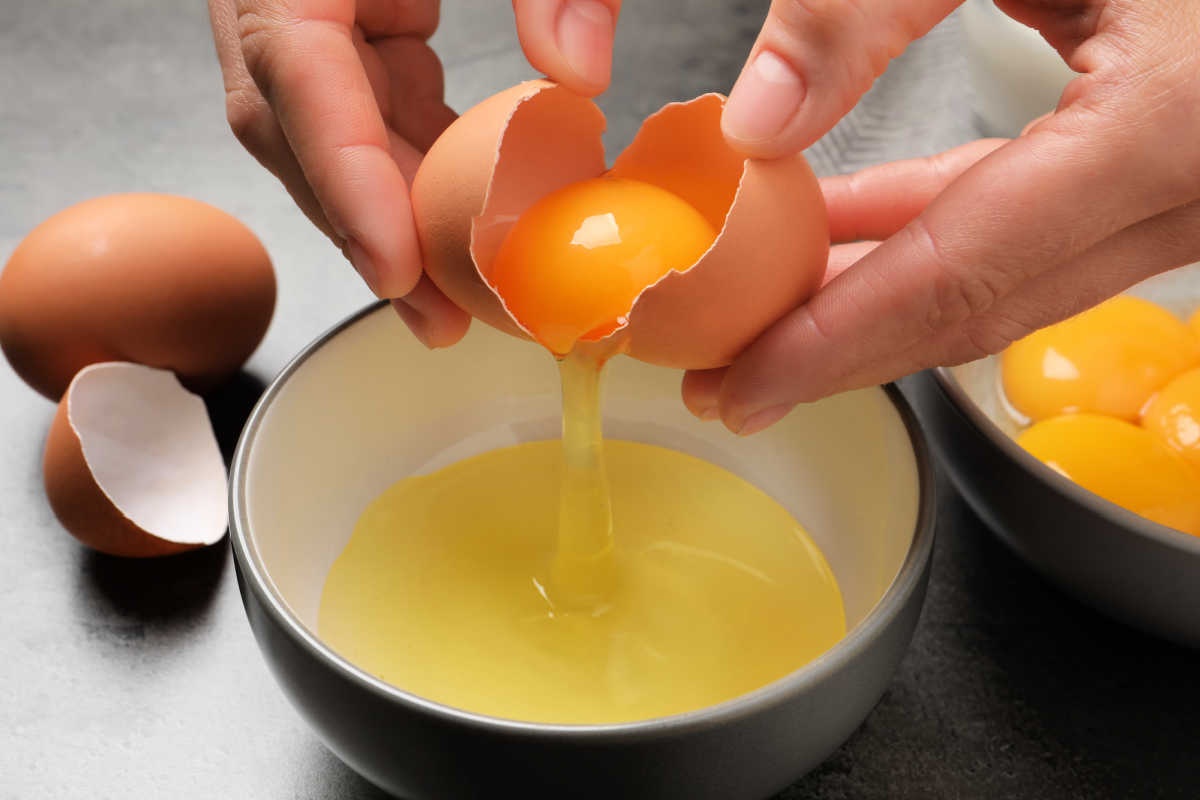 How to separate an egg
You now need to separate the egg. Eggs separate the best when they are cold. You can do it by hand, passing the yolk from half-shell to half-shell, letting the white fall into a bowl. Or you can use this really neat tool I got on Amazon. I love this thing and it makes separating eggs a breeze.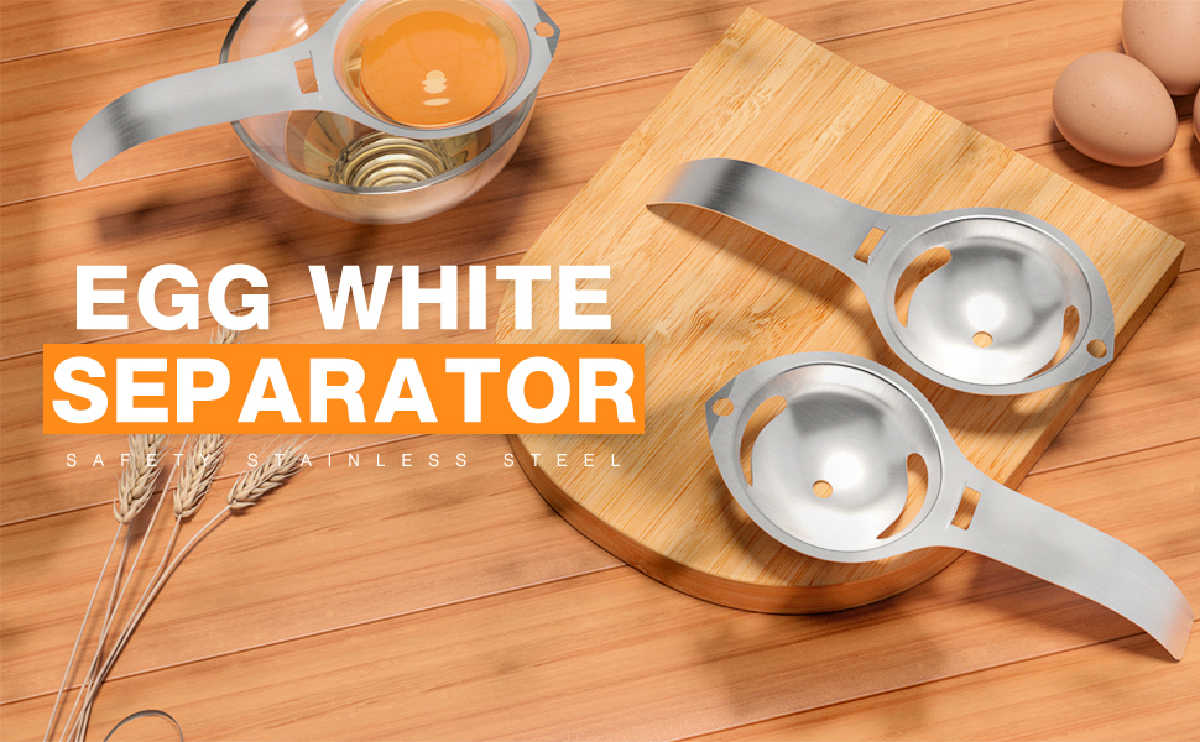 Beat the egg white
Take the egg white and whisk it to soft peaks. Easier said than done if you are doing it by hand as opposed to using a stand mixer. This is just another reason why I love my KitchenAid stand mixer. At the time I got it, it was a major family investment (my son gave it to me for Christmas) but 36 years later, it was worth every penny. I am amazed that it still is working but it is. Now that is a quality product. So I whip my egg white to soft peaks easily with my KitchenAid. Makes this pancake recipe a lot easier.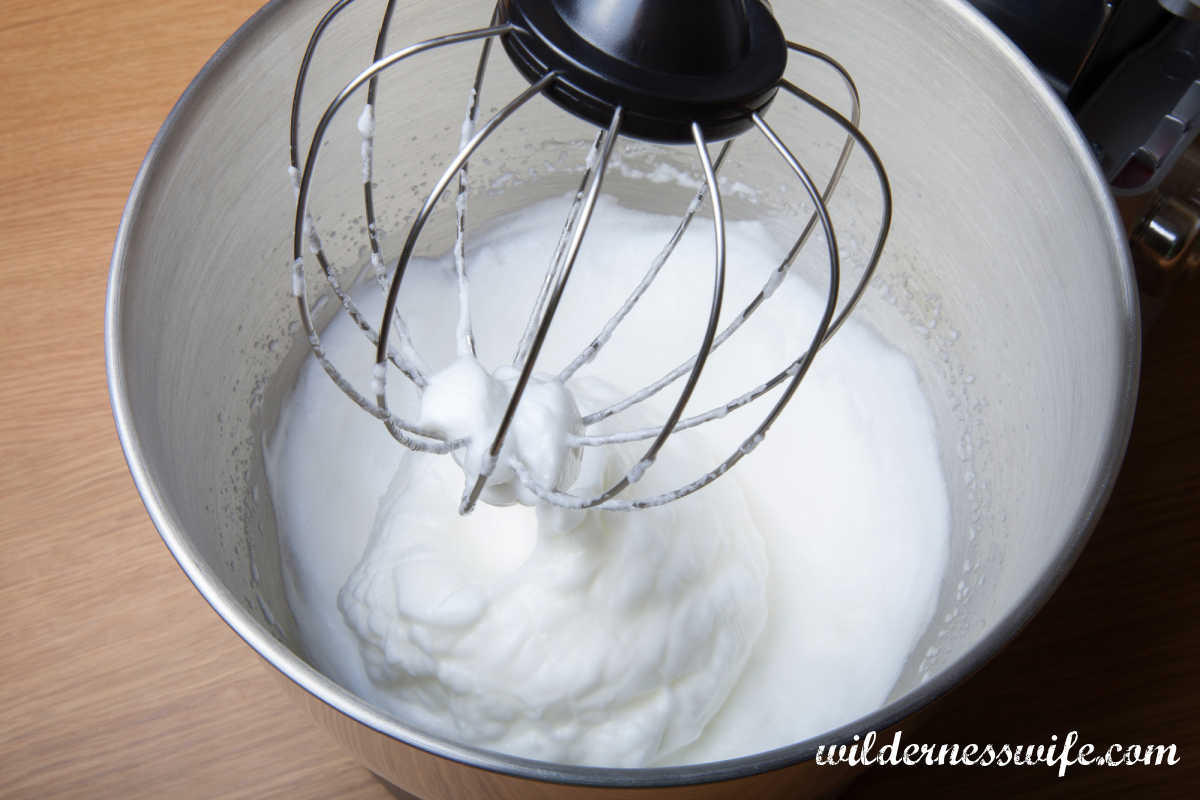 Combine all the ingredients
Now you need to combine all the pancake ingredients. First, gently fold the beaten egg yolk into the soft peak egg whites. Gently is the key word when working with beaten egg whites as you need to treat them carefully to maintain their airy texture. Those egg whites help make this pancake recipe fluffy. Once the egg mixture is combined, add the vanilla and the butter to the buttermilk. Now combine all the wet pancake ingredients together mixing very gently to maintain the egg white structure. Next make a well in the middle of the dry ingredients and pour in the wet ingredients. Combine mixing gently. Small lumps in the batter are OK. Do not over mix as it will make for a tough end product. Let the batter rest for 15 minutes.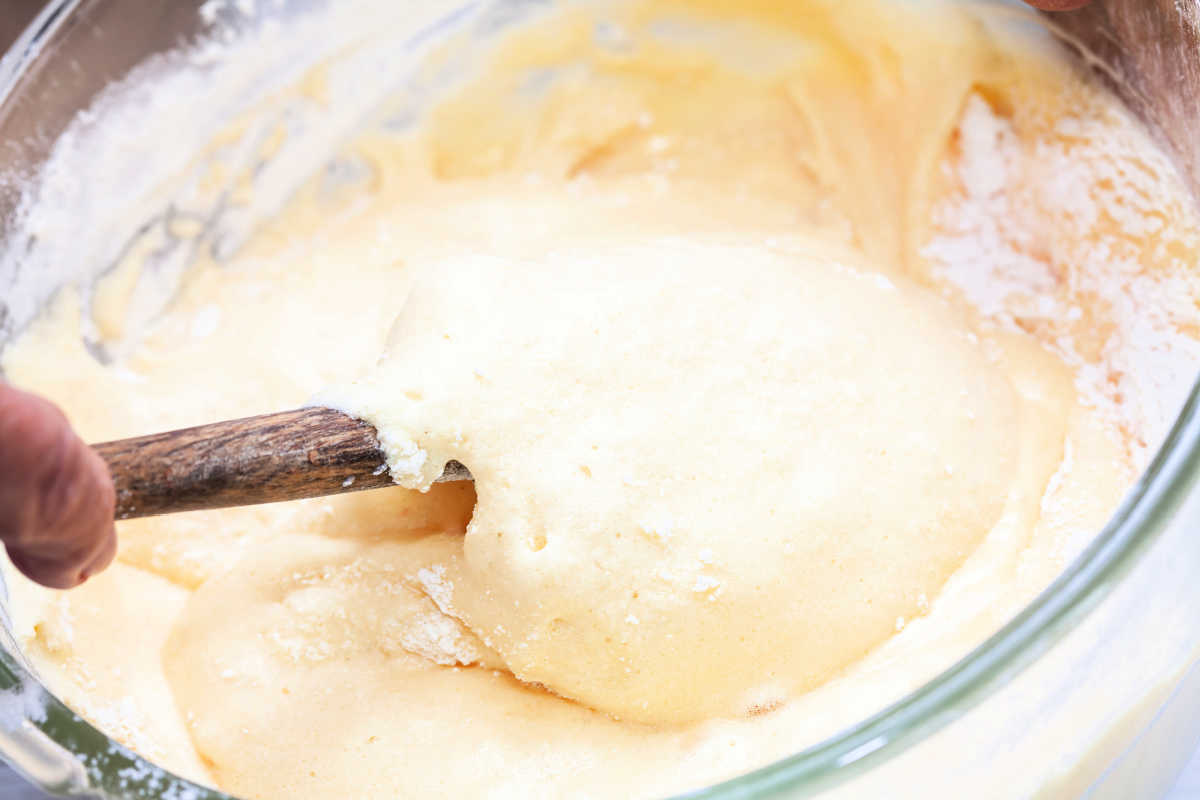 Next we heat the cooking surface
Heat your cooking surface that has been sprayed with no-stick cooking spray to medium hot. Pour the batter onto the cooking surface in ¼ cup increments. Bubbles will form on the pancake surface. Flip the pancakes when a few of those bubbles burst. The pancake is done when you press the center of the pancake with your spatula and the depression rises right back up.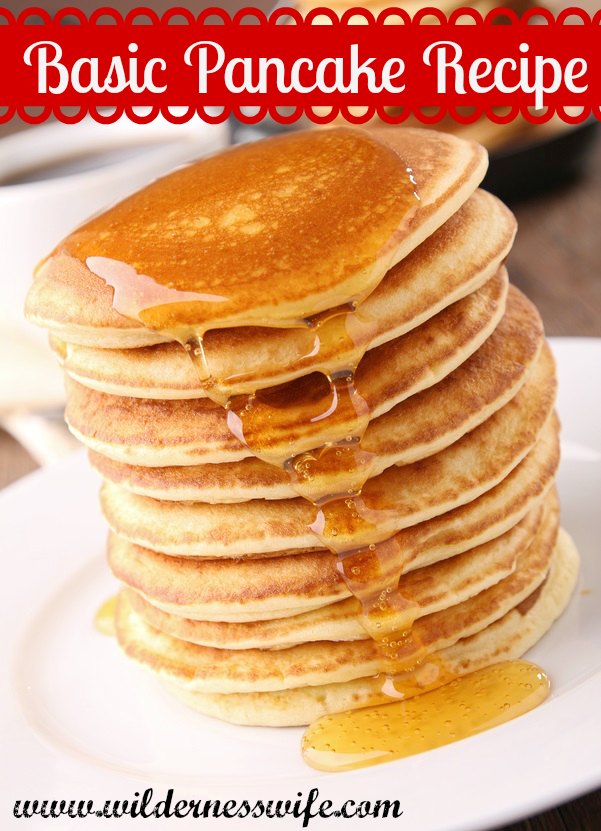 Variations on the Basic Fluffy Pancake Theme
This is a basic recipe and the addition of any number of "extras" can change it up.  Kids love it when you add chocolate chips, pieces of banana, blueberries, raisins,...... the possibilities are endless.  Make it fun! This is a great recipe to make with your kids help.  Cooking breakfast together is a great family activity!
For more Wilderness Wife "Quick Bread" Recipes -
Print
Basic Pancake Recipe - Fluffy and Delicious
Basic Pancakes the way my Grandmother used to make them. Never mind the pre-mix in the box, take a few extra minutes to give your family the kind of breakfast that makes memories.
Author:
Prep Time:

20 mins

Total Time:

20 mins

Yield:

Approx. 1 dozen medium pancakes

Category:

Breakfast quick bread

Cuisine:

American
1

cup

milk

2 tbsp

. white vinegar

1 ½

cups

all-purpose flour

2 tbsp

. sugar

1 ½ tsp

. Baking Powder (I use Aluminum-free)

½ tsp

. baking soda

½ tsp

. salt

1

large egg

2 tbsp

. melted butter

1 tsp

. vanilla
non-stick cooking spray
Instructions
Preheat your oven to 200 degrees.
Put an oven-safe platter or cooking sheet in the oven to keep pancakes warm until the entire batch is ready to serve.
Combine milk and white vinegar, and set aside for at least 5 minutes. Or you can substitute an equal amount of buttermilk.
Mix the dry ingredients together - flour, sugar, baking powder, baking soda and salt.
Separate the egg yolk and the egg white.
With a wire whisk, beat the gg yolk.
In a separate bowl with a wire whisk or electric stand mixer with wire whisk attachment, beat the egg white until soft peaks form.
Gently add beaten egg yolk to egg white and gently fold without losing the airiness of egg-white.
Add butter and vanilla to into buttermilk and mix thoroughly.
Now add the buttermilk mixture to the egg folding gently.
Make a well in the middle of the dry ingredients.
Pour wet ingredients into dry ingredients and gently combine. Don't over-mix.
Like the batter for any quick bread, small lumps are okay. Over-mixing will cause you to lose the egg white structure and make for a tough final product.
Set batter aside for 15 minutes.
Pour ¼ cup of batter onto medium hot skillet or griddle that has been sprayed with non stick cooking spray.
When bubbles appear on the surface of the pancake and a few of the bubbles have actually burst, flip the pancake over.
It will be done when you can gently press the corner of the spatula on the center of the pancake and the depression rises back up.
As you cook the batch, keep finished pancakes in the oven on the warm platter.
Serve with butter and your syrup.