Homemade Basil Pesto is easy to make!
Today I have been contemplating Basil. I love Basil. I love the color of it. I love the shape of its leaves. I really love the aroma of it. And most of all, I love the taste of it. Of all herbs and spices, to me Basil brings more to the table (literally) than any other. Take pesto, whose primary ingredient is Basil. You can spread that on anything (well almost anything) and pesto doesn't just make it palatable but makes it exquisite. And home made basil pesto is fun because you can play with the recipe to change it up for your own liking. I prefer walnuts to pine nuts and sometimes I put baby spinach leaves in with the basil leaves to change things up.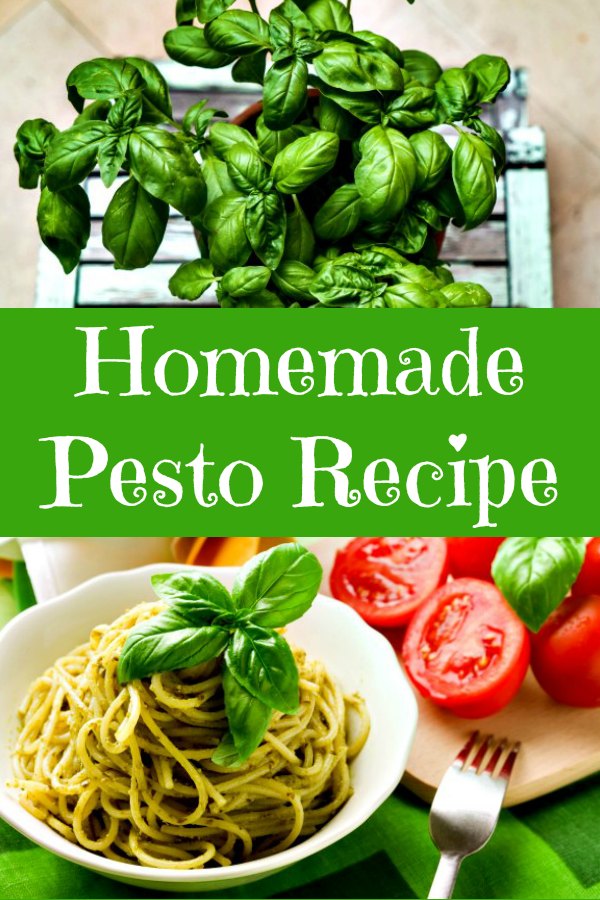 How to grow your own Basil in a container garden for your Homemade Pesto
I grow basil in a window box on my front porch. I plant it in clay pots that are the right size to sit in the window box so that I can bring the plants in the house in the fall and enjoy them for an extended season. Because of the remoteness of where we live, fresh herbs are near impossible to get unless you grow them yourself. If they do have fresh herbs at the market in Patten, the herbs are in little plastic containers and are usually wilted and limp. I buy starter basil plants at Walmart in the spring as soon as they get them in.Basil is fairly easy to grow. It's a member of the mint family (that mint family has to be the royal family of herbs – spearmint, catnip, basil! It's got my vote.) The basil plants get sun most of the day and they love the sun. Basil doesn't take long to take hold. The Basil plants will be a decent size in 10 weeks. And Basil doesn't mind living indoors so at the end of the summer I can bring them in and put them on a shelf in front of the den patio door where my fragrant little Basil plants will get the winter sun all day. And I will have fresh Basil every day. For more info on growing Basil plants in your actual garden, go to The Old Farmer's Almanac site. They have an informative article that covers it all from soil prep to harvesting.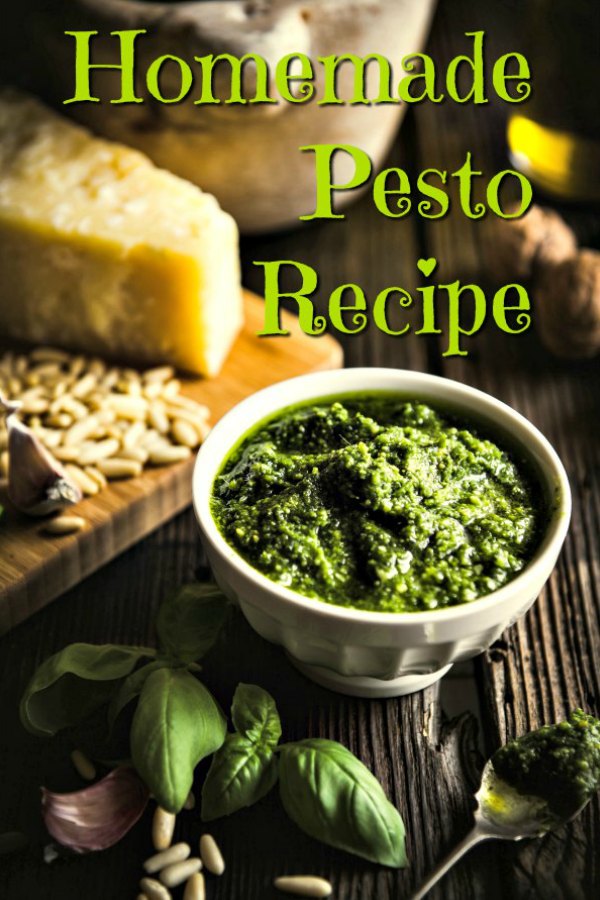 Basic Ingredients for Basil Pesto
The basic homemade pesto recipe is very easy as it is made from a mixture of fresh basil, garlic, cheese, nuts, and olive oil. Remember quality ingredients make a quality dish.
Basil - like all things in cooking, fresh is best. Because I grow my own I concentrate my pesto making in the summer and early fall. During this time you can also find fresh basil at farmer's markets. Many grocery stores have fresh basil in their produce sections year round, just be sure to look it over carefully and get the freshest possible.
Garlic - once again fresh is best so I buy whole garlic bulbs at the store. Don't use the minced garlic in jars. Its just too mushy and will have a detrimental effect on your pesto consistency.
Cheese - Parmesan, and not the stuff that comes in the jar. Buy a small block of it and grate it yourself. The flavor is better and the consistency is better, The stuff in the green jar just doesn't have the flavor needed for good fresh pesto. Parmigiano-Reggiano is the ultimate cheese to use but is a bit expensive. Other hard cheeses that will work in pesto are Gruyere, Pecorino, Asiago, Romano and Cotija. All of these should be freshly grated for maximum flavor.
Nuts - You can have a little fun with this ingredient and change things up. The traditional nut for pesto is pine nuts or pignoli. The downside to them is that they are expensive because of the amount of labor involved in harvesting them. As more reasonable priced alternatives, you can use walnuts, almonds, hazelnuts, pistachios (very yummy), macadamia, and sunflower seeds. My favorite celebrity chef, Ina Garten (The Barefoot Contessa) uses equal amounts of Pignoli and walnuts in her recipe. Although you don't have to toast the nuts, I recommend it as it really enhances their flavor.
Olive Oil - I recommend a good brand of extra virgin olive oil.
How Do You Store Pesto?
Your homemade pesto will keep in the refrigerator for up to a week. You can freeze pesto for up to 6 months. If you are going to freeze it, do not add the Parmesan cheese when freezing. After you thaw it out, add freshly grated Parmesan. Parmesan does not freeze well in this recipe.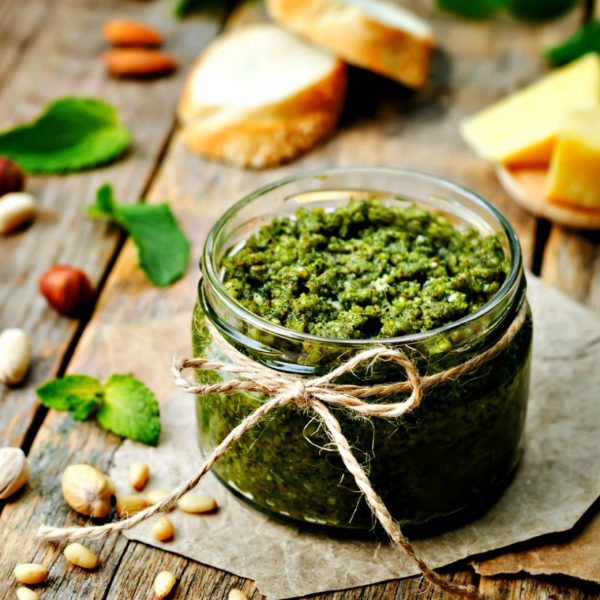 Print
Easy Homemade Basil Pesto Recipe
Making pesto is very quick to do.  In fact this recipe shouldn't take you longer than 15 minutes.  The recipe makes about 1 cup so just multiply it for a larger batch.
Author:
Prep Time:

15 min

Total Time:

15 minutes

Yield:

1 cup

1

x
Category:

Condiment

Cuisine:

Italian
2 cups fresh basil leaves, packed
½ cup freshly grated Parmesan-Reggiano cheese
½ cup extra virgin olive oil
⅓ cup walnuts (you can also use pine nuts, same amount – walnuts are mine and Bill's favorites)
3 medium sized garlic cloves, minced
Salt & pepper to taste
Instructions
Chop your walnuts in your blender or food processor for about 3 or 4 pulses. Add the basil in with the nuts, and pulse a few times.  Add the garlic cloves, and pulse a few more  times.
Now slowly pour in the olive oil in a constant stream while the food processor/blender  is on. Stop and scrape the sides of the food processor with a rubber spatula. Add the cheese and pulse again until blended. Add salt and freshly ground black pepper to taste.
Pesto can be served in so many ways. Tossed with pasta, and it's yummy on baked potatoes with some sour cream.  Mix it with some sour cream for a delicious and addicting dip. I put as a topping on a multi topping pizza –the best pizza you'll ever eat. I spread it on buttered baguette slices and then sprinkle with grated mozzarella cheese and place under the broiler till toast and brown.
Keywords: Basil Pesto, Homemade, Garllic , Pesto
Other Wilderness Wife Recipes that use Basil -