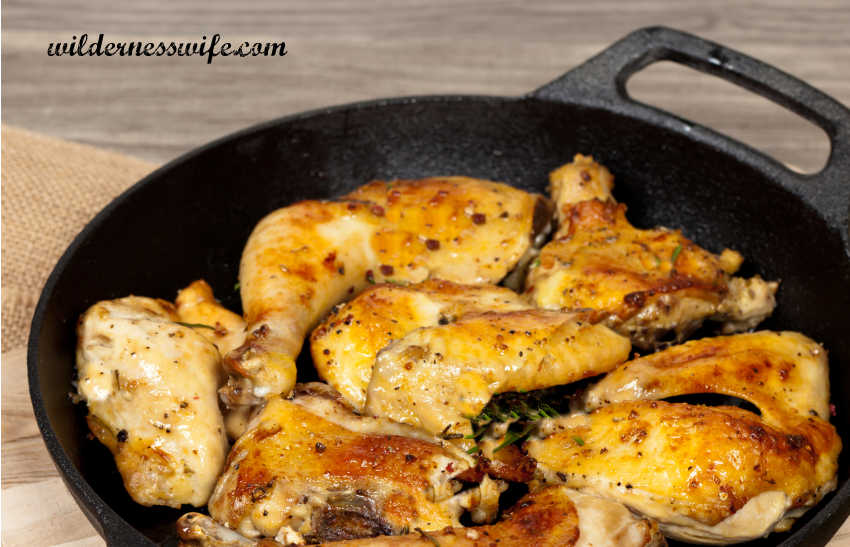 Ina Garten's Chicken Thighs with Creamy Mustard Sauce
This chicken thigh recipe is one of my favorite Ina Garten Barefoot Contessa Recipes. Of course, as always, I end up adjusting it and putting my own touches on the recipe to fit my style. But it is a tasty, economical and easy way to include chicken in your meal line-up.
Why use chicken thighs?
Chicken thighs can be used in all the ways that chicken breasts can. The lightest of the dark meat of a chicken are the chicken thighs. Thighs are fattier meaning they're going to be more flavorful than breasts. Chicken thighs contain higher amounts of vitamin B12. They are also sold with the skin on unlike a boneless chicken breast. Chicken thighs are also more economical than breasts or tenders.
Why is your chicken rubbery?
You want to thoroughly cook chicken, but overcooking makes it rubbery. The longer the chicken cooks, the more moisture it loses and without moisture the protein fibers become rubbery. Properly cooked chicken thighs have a supple tender texture.
Is it better to chicken thighs with the bone in?
For the juiciest thighs, choose bone-in and skin-on . Skin can be crisped up nicely, and the bone imparts lots of flavor while keeping the meat moister than than boneless thighs.
Try these other Wilderness Wife Chicken Recipes -
Print
Chicken Thighs with Creamy Mustard Sauce
For an easy, economical and tasty chicken recipe, try this Barefoot Contessa Recipe
8 medium bone-in, skin-on chicken thighs (2 ¼ pounds)
Kosher Salt
Freshly Ground Black Pepper
Good Quality Olive Oil
2 cups halved and thinly sliced yellow onions (2 medium onions)
2 tablespoons dry white wine
6 ounces crème fraiche (I substitute Sour Cream as Crème Fraiche is not available in my local markets)
1 tablespoon good Dijon mustard
1 teaspoon whole-grain mustard
1 tablespoon chopped parsley
Instructions
Place chicken thighs on a plate, skin side up, and pat dry with paper towels.
Sprinkle chicken with 1 ½ teaspoons of kosher salt and ¾ teaspoon of freshly ground black pepper. Turn over, pat underside dry and sprinkle with 1 additional  teaspoon of kosher salt.
In a large (11-12 inch)cast-ir0n skillet over medium heat, heat 1 tablespoon of olive oil.
When oil is hot, place the chicken skin side down in one layer in the skillet. Cook over medium heat for 15 minutes without moving until the skin is golden brown. If the skin starts to get too dark, turn heat to medium low.
Turn the chicken thighs over using tongs. Add the onions to the pan, placing some under the chicken. Cook for an additional 15 minutes over medium heat  occasionally stirring the onions. Use a meat thermometer to check the internal temp of the chicken thighs placing it in the thickest part of the thigh. You want a reading of 155F to 160F. The onions should be golden brown.
Transfer the chicken thighs to a plate and allow to rest uncovered while you make sauce.  If the onions aren't browned cook them for another minute.
To create the sauce, add the wine, crème fraiche, Dijon mustard, whole grain mustard, and 1 teaspoon of salt to the skillet and stir over medium heat for 2 minutes making sure to loosen the brown bits from the bottom of the pan as they contain lots of flavor. If yo do not have crème fraiche, see notes below.
Return the chicken to the pan, skin side up, and any juices that have accumulated on the plate to the skillet.
Sprinkle with the parsley, and serve hot. 
Notes
If you do not have crème fraiche, you can make a substitution. Sour cream can be used and can be substituted 1:1. You can also use Greek yoghurt but Greek yoghurt is not as rich and creamy as sour cream or crème fraiche.