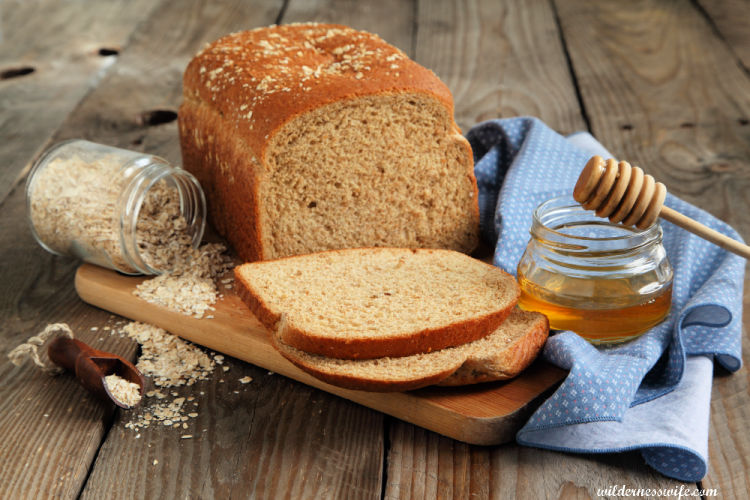 Making Homemade Bread with your KitchenAid Mixer is Easy
This KitchenAid Honey Oatmeal Bread Recipe is easy and delicious. Traditionally making homemade bread was a pretty laborious job. Kneading the bread was a real physical workout. And then KitchenAid added the "dough hook" to their stand mixer and making bread became a far more reasonable endeavor. The dough hook attachment is part of the standard mixer package and I use mine all the time as everybody in the Thompson family is a huge fan of homemade bread, particularly honey oatmeal bread.. The aroma of a yeast bread baking in the oven gets the whole family salivating in anticipation. So if this is your first yeast bread, take a deep breath, and then follow this easy honey oat bead dough recipe for a golden brown loaf of deliciousness!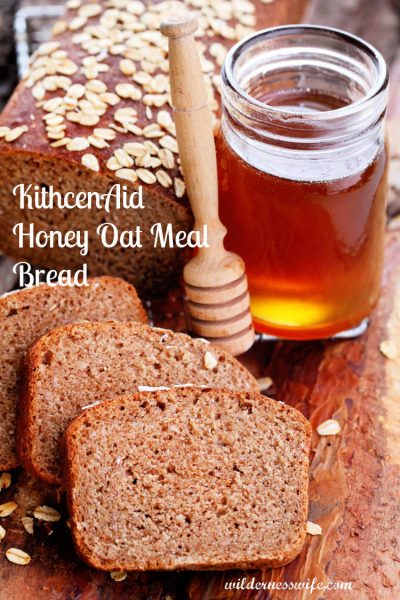 How to make Honey Oatmeal Bread with a KitchenAid Stand Mixer
Baking is a more exacting endeavor than regular cooking. Rather than a pinch of this or that, exact measurement and careful following of the recipe directions is critically important. For the best chance for success, always read your recipe thoroughly. Think the recipe through and gather all the ingredients and equipment you'll need together. You will need both the paddle attachment and the dough hook for your stand mixer. Measuring cups and a wooden spoon, bowls, loaf pans and plastic wrap or a clean kitchen towel are also required.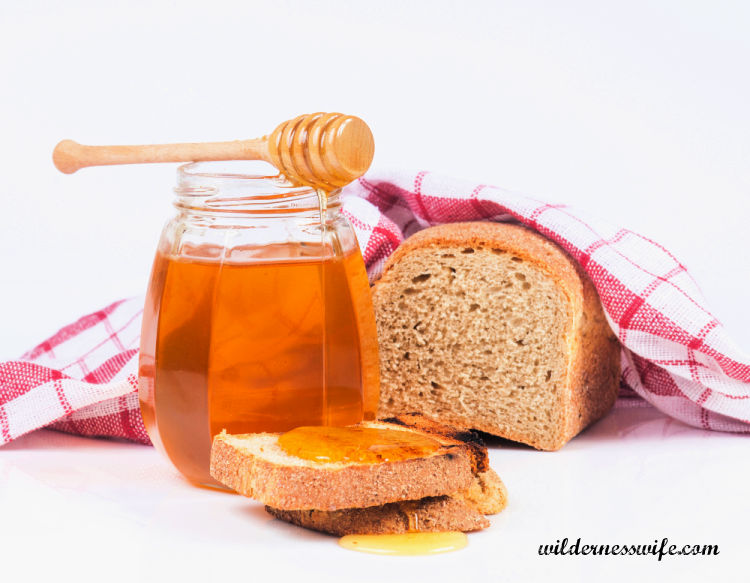 Bread flour or All-Purpose flour – which is the best for this KitchenAid Honey Oatmeal Bread recipe?
As the name implies, bread flour is specifically designed to make bread. It has the highest protein content and therefore produces the most gluten which causes the bread to rise up rather than out. All purpose flour has less protein, but still more protein than cake flour has. You can make very good bread with all-purpose flour. I use it all the time in my bread baking as it is the most readily available in my rural area.
Which yeast is the best for baking bread– fresh yeast or active dry yeast?
The major difference between fresh yeast and active dry yeast is time. Fresh yeast (also known as cake yeast or baker's yeast) is quicker to use. One can sum up the differences between the two yeasts as follows:
Consistency - Fresh compressed yeast is a moist, crumbly consistency like feta cheese. Active dry yeast feels like corn meal.
Shelf life - Active dry yeast has a longer shelf life remaining usable for months at room temperature whereas fresh yeast must be refrigerated and should be used within a week or two.
Activation - Active dry yeast requires "proofing" before it can be added to the dough. This requires it to be dissolved in warm water and waiting till bubbles appear. Fresh yeast does not require this step.
Rising Time - The rising time differs also. Active dry yeast rises quicker and has a "larger" rise. For convenience, ease and time, I prefer active dry yeast.
Which oats are better in the KitchenAid Honey Oatmeal Bread recipe - rolled oats or quick cooking oats?
For use in recipes, these oats are interchangeable. If you have rolled oats but the recipe calls for quick oats, just pulse the rolled oats in your blender a couple of times and they will be fine. And if its vice versa, don't fret. There might be a difference in final texture of your honey oatmeal bread but otherwise there will be no effect on this easy recipe.
Tips for successful bread baking
Proof your yeast. by mixing it with warm liquids and a sweetener. Mix the yeast, warm water, and sweetener together to dissolve the yeast. Make sure your water temperature is between 105F-115F. Water that is too hot will kill the yeast and water that is too cool will slow the blooming process. I even proof my yeast that is mixed with dry ingredients in recipe instructions by first taking a minimal amount (usually ½ teaspoonful) and mix with a ¼ cup of warm water (105F - 115F). Let it set for 5 minutes and you should see foaming and bubbling. This assures you that the yeast is alive and well. Discard the sample proofing and continue with your recipe.
Rise your bread at 70F. Your bread should rise in a warm place with no drafts. Cooler temperatures make for a more flavorful dough so in the heat of the summer try to keep your dough in an area that is around 70F consistently. After it has doubled in volume, punch dough down, divide the dough into 2 balls and shape into loaf pans, let rise a second time and bake in a preheated oven.
Bread is done when it reaches the internal temp of 185F to 200F. But the test I use is tapping on the loaf, and if it sounds hollow, it's done.
Calibrate your oven. If your recipes come out a little too dry, check your oven temp. Get a separate oven thermometer to make sure that you're baking at the right temperature.
Cool your bread on wire racks so the air can circulate around it.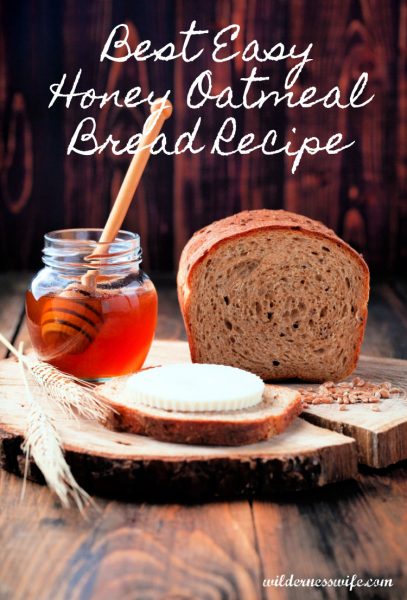 Its better with butter! Try brushing the tops of loaves with melted butter just before you put them in the oven to give the bread an even better homemade flavor. Don't over-knead the bread. No more than 6 minutes of low-speed kneading time with your stand mixer. Your bread dough should stretch about 2-4 inches if properly kneaded. It also should pull away from the mixer bowl sides.
Try these Wilderness Wife Bread Recipes:
Print
KitchenAid Honey Oatmeal Bread Recipe
There's nothing like the aroma of a yeast bread in the oven wafting through the house and this Honey Oatmeal bread recipe tastes as good as it smells. In the words of that little doughboy, "Nothin' says lovin' like somethin' from the oven!"
Author:
Prep Time:

25 minutes

Cook Time:

40 min

Total Time:

3 hours 5 minutes

Yield:

2

loaves

1

x
Category:

Bread

Method:

Bake

Cuisine:

American
6-6 cups all purpose flour
1 cup quick cooking oats
2 teaspoons salt
2 packages active dry yeast
1 ¾ cups water
½ cup honey
⅓ cup butter (or margarine, if you prefer)
2 eggs
1 tablespoon water
1 egg white
oatmeal
Instructions
Place 5 cups of flour, oats, salt, and yeast in bowl. Attach bowl and dough hook to mixer. Turn to Speed 2 and mix for 30 seconds.
Combine water, honey, and butter in saucepan; heat to 120F  to 130F. On Speed 2, slowly add warm liquids to flour mixture, about 1 minute. Add eggs and mix an additional minute.
Continuing on Speed 2, add remaining flour, ½ cup at a time, until the dough clings to the hook and cleans the sides of the bowl, about 3 minutes. Knead on Speed 2 for 7 to 10 minutes or until the dough is smooth and elastic. 
Place in a greased bowl, turning to grease the top. Cover, let rise in a warm place, free from draft, till doubled in bulk, about 1 hour.
Punch dough down. Divide dough in half. Shape each half into a loaf. Place each loaf in a greased 8 ½ x 4 ½ x 2 ½ inch loaf pan. Cover, let rise in a warm place, free from draft, till doubled in bulk, about 1 hour.
Combine water and egg white, Brush tops of the loaves with mixture. Sprinkle lightly with oatmeal. Bake at 375F for 40 minutes. Remove from pans immediately and cool on wire rack.
Keywords: Bread, Honey Oatmeal Bread, Honey Recipe, Oatmeal Recipe