Creamy Butternut Squash Soup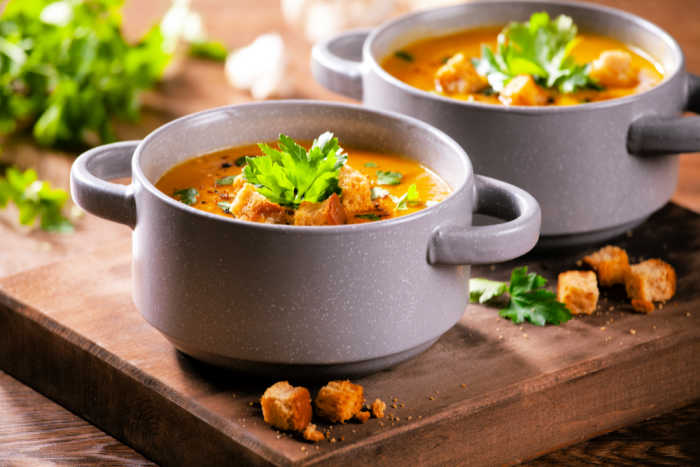 Try this Easy Creamy Butternut Squash Soup Recipe for a fall evening pleaser or a perfect course for Thanksgiving Dinner
This Creamy Butternut Squash Soup Recipe is a Thompson family favorite. I have to admit that I love all the members of the squash/pumpkin family and for that reason I have a great collection of squash and pumpkin recipes. They are satisfyingly filling and hence the perfect chilly weather foods. The bright color, the texture, everything about squash screams the warmth and comfort of autumn to me. When November rolls around with its miserable, grey, chilly, rainy days…..those days that just chill you right down to the bone...... a bowl of hot, creamy soup just hits the spot!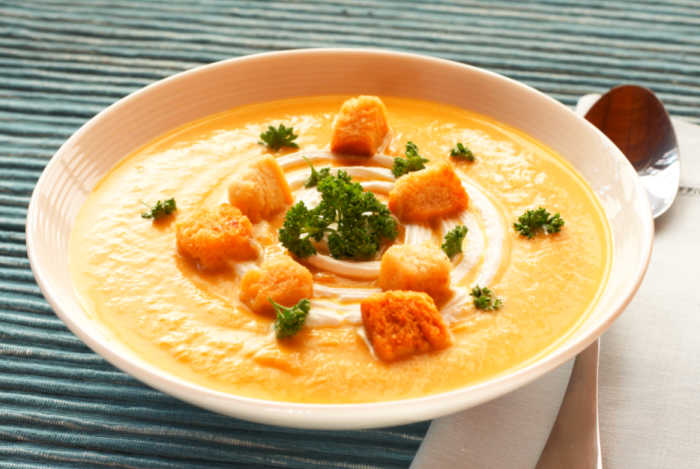 Butternut Squash is loaded with nutrition and lower in calories than Sweet Potatoes
Which is healthier: Butternut Squash or a Sweet Potato? Both are great sources of vitamins and minerals and both are loaded with antioxidants including beta-carotene. But the sweet potatoes are loaded with carbs, calories, and sugar, about twice the amount found in an equal serving of Butternut Squash. The squash also contains Vitamin C, Vitamin B6, Vitamin A, Potassium and Magnesium. Its also a great source of fiber.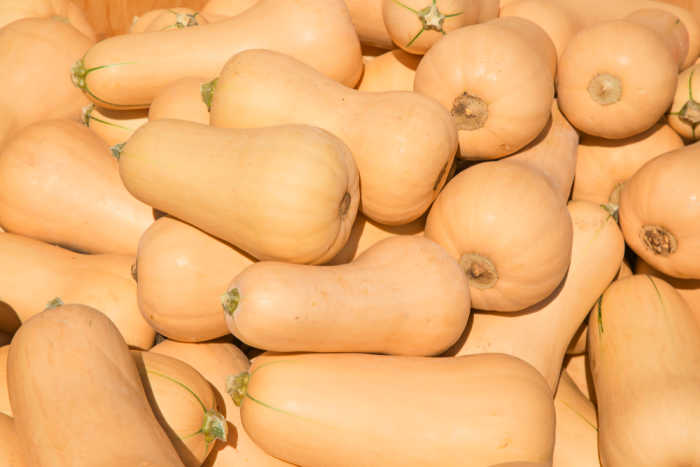 Its called a winter squash but its harvested in the fall!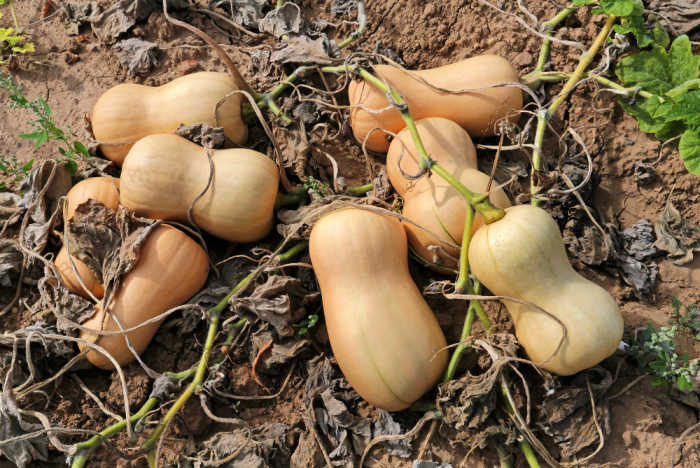 I love growing Butternut Squash in my garden because its easy to grow and as its vines trail thru the garden, the huge squash leaves help keep down the weeds. You harvest it in the fall but like pumpkins, they easily store for months. You can store your uncut squash in a cool dark place out of sunlight (which will hasten its ripening) and it should last for about 3-4 months. It takes about 110-120 days to grow from seed to harvestable squash so here in Maine I have to start my seeds indoors and then transfer my plants to the outside garden at the spring frosts aren't a threat.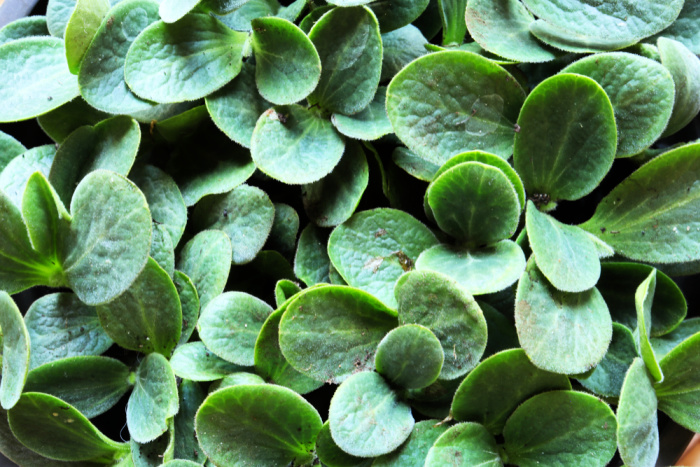 How to Pick a good Butternut Squash
When Butternut Squash are ripe, you shouldn't be able to break the skin with your fingernail. Choose squash that are blemish-free. The stem at the top of the squash should be about 1-2 inches long and the skin should be hard and dull beige colored. A squash with its stem intact will keep longer. It should feel heavy. Avoid any squash that have brown patches, mold or punctures.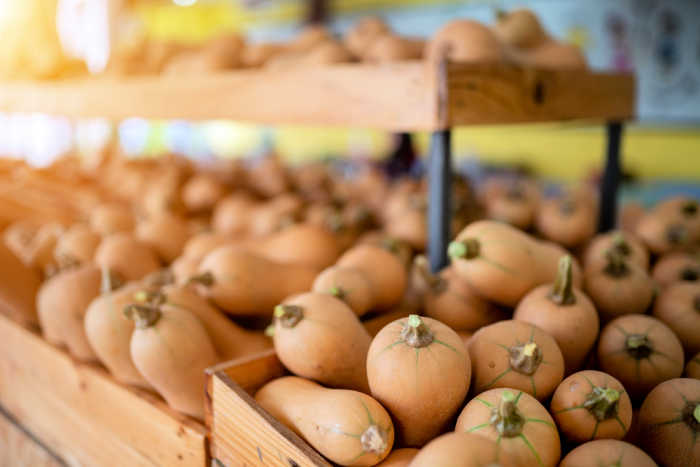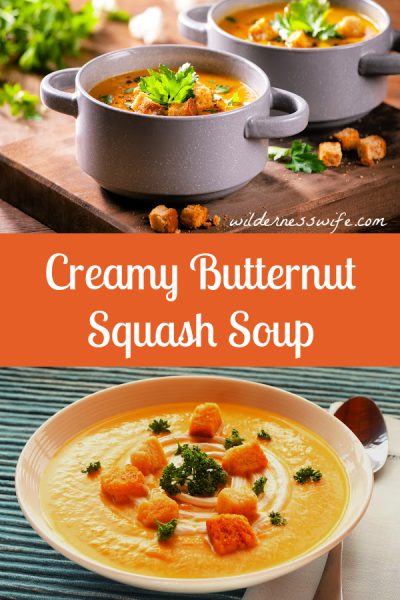 Print
Easy Creamy Butternut Squash Soup
Yummy and nutritious...butternut squash soup!
Author:
Prep Time:

15 min

Cook Time:

45 min

Total Time:

1 hour

Yield:

8

Category:

Soup

Method:

Simmer

Cuisine:

American
•1 large butternut squash
•2 tbsp. butter
•1 cup diced Vidalia onion
•6 c. chicken stock
•2 tsp. curry powder
•½ tsp. nutmeg
• 1 c. half and half (may use fat free)
•Salt and pepper
•Sour cream to garnish
•Croutons to garnish
•Parsley to garnish
Instructions
Peel 1 large butternut squash.
Cut squash in half and scoop out seeds and pulp.
Cut into 1-inch chunks.
Sauté diced Vidalia onion in 2 tablespoons butter until translucent.
Add cubed squash and simmer on low for 5 minutes.
Turn burner to medium and add 6 cups chicken stock, 2 tsp. curry powder, 1 tsp. nutmeg and simmer for 25 minutes.
Puree soup with an immersion blender until smooth.
Add salt and pepper, to taste.
Stir in 1 cup half and half or milk (more for a thinner soup).
Simmer on low heat for 5 minutes.
Garnish each bowl with a dollop of sour cream and some chopped parsley and crusty croutons.
Notes
This soup can be low calorie by making substitutions such as canola oil for butter and and skim milk for cream or whole milk, and leaving out the dollop of sour cream. Its great for diabetics.
Keywords: Butternut Squash Soup, Easy, Creamy
If you enjoyed this post. please, please show your support - "like" The Wilderness Wife on Facebook or "follow" The Wilderness Wife on Twitter post on the Blog). Thank you for your support!