Caramelized Onions - a tasty addition to any dish!
There are so many ways to use delicious caramelized onions.  Of course, the first thing that pops into mind is putting them on top of a perfectly grilled hamburger but topping a burger isn't the only use for these gently sautéed onions.  They go great in a number of egg dishes like frittatas, omelets, or on top of scrambled eggs. Burgers aren't the only sandwich that they can be used on.  They add great flavor to sandwiches like Philly cheese steak, patty melts, or in a grilled cheese.  The savory sweetness of caramelized onions can be used in a number of delicious dip recipes. I have finely chopped them and combined them with mayonnaise for a yummy sandwich spread (it is soooo good on a roast beef sandwich).  Add them to soup, toss them with a buttery garlic sauce and pasta, the possibilities are endless and only limited by your imagination and creativity. And there are  numerous health benefits to eating onions so including them in our diet is a good thing.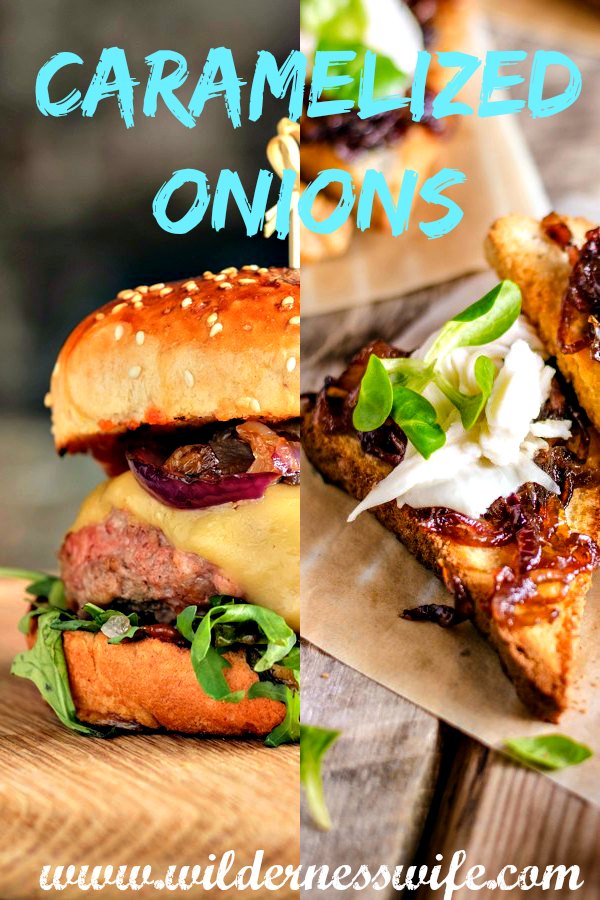 Which types of onions are best to make caramelized onions?
Of course, the most prevalent and available onion variety is the yellow onion and you can use the yellow onion to make caramelized onions, but there are better choices.  The caramelization process makes the onion sweeter and takes the bitter edge off so any sweet onion variety such as the Vidalia, the Walla Walla, Bermuda, Sweet Imperial, Texas Sweet, and Mayan Sweet makes a better final product. The best onions are sweet onion varieties because of their higher sugar content.  The sugar in the onions is what turns brown giving caramelized onions the color they are named for. That sugar content enhances the process and the reason we prefer to use sweet onions rather than the lower sugar content yellow onion.
The best way to cut onions for caramelized onions!
Cut a slice of the top of the onion.  Then cut a small slice off the bottom of the onion to remove the roots and allow the onion to sit level on the cutting board. With root end down, start at the top and cut down through the center of the onion, cutting into halves. On the root end of the onion, cut a wedge to remove the coarse root section.  Now lay the onion-half cut side down on the cutting board and starting at the top end slice down through the onion creating ¼ inch slices.  I find this size works the best for caramelized onions for sandwiches, omelets, frittatas and such.  Dicing the onions into  ⅛" slices works well if you are creating caramelized onions to be added to soups, dips, or a condiment spread for sandwiches.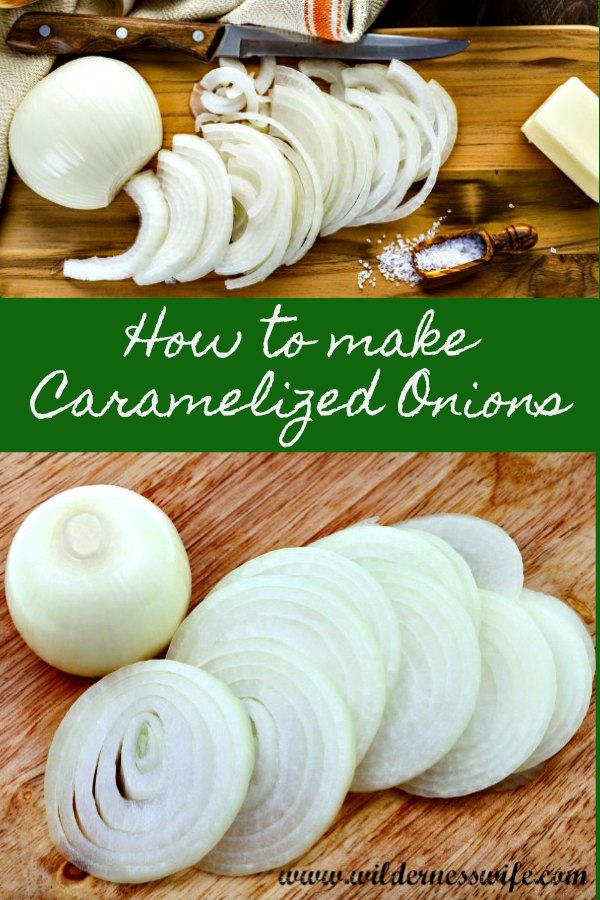 What temperature is needed to caramelize onions?
When you caramelize onions, the process causes a chemical change to take place that makes the sugars in the onion turn brown in the cooking process.  For this change to take place the onions must cook at a temperature of 310°F or slightly higher. You can use vegetable oil, olive oil, or coconut oil.  You can add butter as the combination of oil and butter works well together for a delicious outcome.  Clarified butter, which has had the milk solids removed, works better because it does not burn as easily as regular butter.  Keeping the temperature at a range of 310°F-320°F will allow the onions to cook slowly and not burn.  But you must keep an eye on them and be constantly stirring them so they don't  turn into a charred, burnt mess  Golden brown is delicious and beautiful. Dark brown to black is not what you are looking for! If the cooking onions start to get dry, you can add a bit of wine or water.  This will also "deglaze" the pan allowing you to scrape the bottom of the pan as you stir adding delicious bits of brown yumminess to the mix. I use a white wine like Sauvignon Blanc to do this.  Don't worry about alcohol content in the final dish as the alcohol will cook off leaving just the flavor.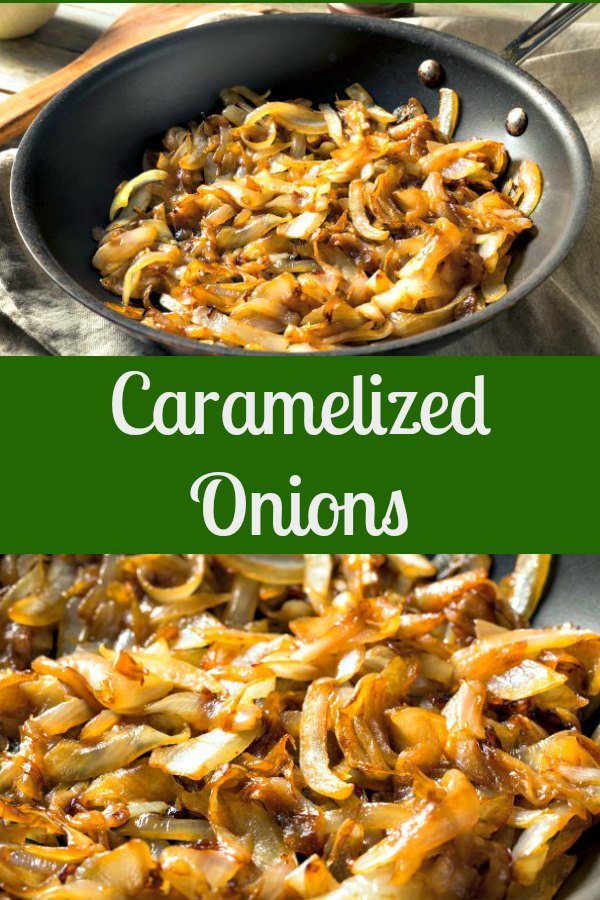 More Onion Recipes on the Wilderness Wife Blog-
Quick & Easy Caramelized Onions
Print
Caramelized Onions - Quick & Easy
Caramelizing your onions makes them the perfect addition to a savory meat dish, omelet, frittata, or a sandwich. It softens and sweetens the flavor taking away the bitterness of a raw onion. They're the perfect topping for juicy hamburg!
Author:
Prep Time:

5 mins

Cook Time:

20 mins

Total Time:

25 mins

Yield:

4

servings

1

x
Category:

Vegetable Side Dish

Cuisine:

American
2

large peeled onions - about 1 pound (your choice but I suggest sweet ones like Vidalia or Walla Wallas)

2

tbs. olive oil

1

tbs. butter
Kosher Salt
chicken broth, water or white wine
Instructions
Slice onions to desired thickness.
Put oil and butter in a sauté pan over low heat melting butter.
Increase heat to medium and add onions to the pan.
Cook onions till translucent stirring occasionally to keep them from burning.
Reduce heat to medium. Stir every few minutes to keep onions from sticking to pan. You want even golden coloration. It will take about 15-20 minutes. If pan starts to get dry, add one of the above mentioned liquids. The liquid will "deglaze" the pan allowing you to stir up any crust bits to add flavor to the onions.