Stuffed Steak Roulades - great from the oven and they freeze easily too!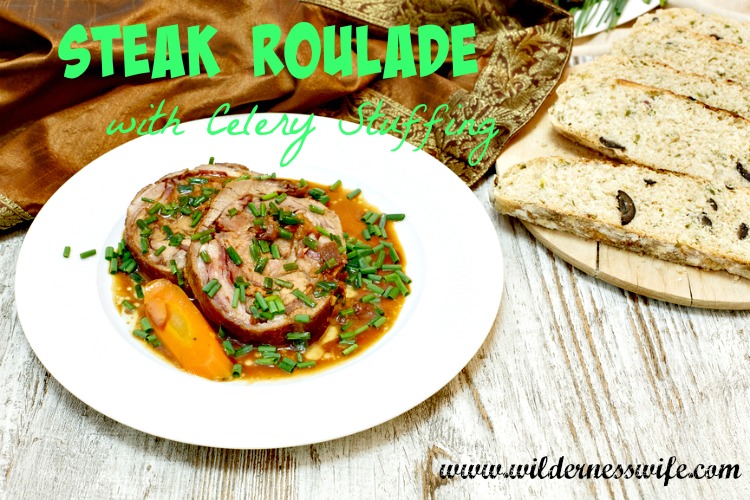 Stuffed Steak Roulades is a tasty recipe and it uses an economically priced cut of meat - flank steak. But another plus factor with this recipe is that I can double it and freeze half of it for a quick meal on those days when I am really pressed for time. Back in the day when I worked full-time and had 3 boys and hubby to feed each night, I used to use the freezer meal option a lot. I would designate 2 Saturdays a month as cooking days and work up a menu and shopping list. Friday night I would do all the shopping. I'd be up bright and early Saturday morning to start cooking huge batches of recipes to pack up and make freezer meals for the days ahead when I would be stressed for time. It seemed there was always a sports game, karate class, music lessons, or other activity that had the whole family on the move. It was a huge help to have decent meals all ready to heat up in no time flat.
Stuffed Steak Roulades - efficient and economical!
These Stuffed Steak Roulades was one of the family favorites. It was delicious, and it looked like I been cooking for hours. The Thompson family tends to be carnivores. They love their meat but that can get expensive so I really appreciated this Steak Roulades recipe because of its using flank steak, which is a less expensive cut of meat. The pounding of the meat with a mallet or rolling pin accomplishes 2 things - even out the thickness and also tenderizing the meat by breaking down the connective tissue. A win, win in my book.
Print
Steak Roulades with Celery Stuffing Recipe
Bill and the boys loved this yummy meal. It's a great use of flank steak and sides of any veggie will compliment it nicely. If making an extra freezer meal just double the portions.
Author:
Category:

Entree

Cuisine:

Slightly French Amercanized
2

lbs. flank steak

2

tbs, of seasoned flour, made by adding a pinch of salt & pepper

2

tbs. olive oil 2 onions, diced

2

carrots, sliced

1

c. white wine

1

c. beef stock
bouquet garni
kneaded butter, made with 2 tbs. of butter & 1 tbs. flour

¼

c. heavy cream
For celery stuffing:

2

tbs, butter

1 cup

finely chopped celery

1

tbs. fennel seed

1

clove garlic, finely minced

1

c. breadcrumbs (unseasoned)

1

egg, beaten
Instructions
Put flank steak between two pieces of waxed paper and pound with the intent to even out the thickness of the steak. I find that ½ inch is a good thickness but the goal is to have the thickness consistent. Set steak aside.
Next, in a dutch oven, melt the butter over medium heat.
Add celery, cover and cook gently for 10 minutes or till soft.
Stir in the fennel seed and garlic and cook for 2 minutes more. Do not burn garlic!
Scrape the celery mixture into a small mixing bowl and stir in breadcrumbs.
Add enough beaten egg to bind the celery/crumb mixture together.
Spread the stuffing over the flank steak and then roll like a jelly roll. Tie with string to hold the roll together. Use one piece of string for every 1 ½ inches of the roll, placing the string in the middle of what will be each individual 1 ½" roulade. This way the string will hold each roulade together after slicing. Wrap the roll tightly in plastic wrap and let rest in refrigerator for a minimum of one hour.
Remove the roulade from the fridge, unwrap, and with a very sharp knife, slice into individual roulades about 1 ½ inches thick.
Put the 2 tbs of olive oil in the same pot you used to make the stuffing and heat.
Dredge each roulade slice into the seasoned flour, and then brown the roulades on all sides.
Remove the roulade from the pot & place on a plate.
Lower heat and add carrot and onion to the pot. Cover and cook for 5-7 minutes.
Preheat oven to 350°F.
Place roulades on top of carrots and onion. Add wine, stock and bouquet garni.Cover and place in the oven for 1 ½ hours or until the roulade meat is very tender when tested with a fork.
Remove roulades and vegetables from the pot placing in your serving dish.
Strain the meat juices left in the pot into a sauce pan. Bring to a boil and whisk in the kneaded butter. Simmer for 2 minutes to cook the flour. At this point if you are planning to freeze part of the recipe divide the sauce and set the portion to be frozen aside and DO NOT ADD CREAM to this sauce. Stir in heavy cream in the sauce to be immediately served. Season to taste. Pour over the roulades when serving.
Prep for freezing -
If you cooked a double recipe to have some to freeze for another meal, set aside the portion for freezing and let it cool to room temperature.
Line an appropriately sized casserole with foil, leaving enough foil to overlap the dish by 3 - 4 inches. Spray the foil liner with non stick cooking spray. Put vegetables on the bottom, then roulades.
Place dish in freezer and let the contents freeze. Leave foil extended out, not folded over the dish. Pour sauce into a small freezer bag. Freeze it.
When solid, using foil to lift, remove roulades and veggies from casserole, place the bag of frozen sauce on top and completely double wrap the roulade and sauce in foil.
I then label the contents with name of meal, date frozen, and casserole dish it will fit in.
When ready to use, remove from the freezer and remove foil. Place in the appropriate casserole that has been sprayed with non stick cooking spray and let thaw. Put the sauce in a sauce pan.
Place casserole in a 350° oven for 20-25 minutes to reheat. Reheat sauce, add cream, and season as mentioned in the original recipe