Slow Cooker Coq Au Vin - Convenient French Comfort Food
Hearty Coq Au Vin sounds exotic, foreign and sexy but it really is French comfort food. Slow Cooker Coq Au Vin makes this recipe an easy, economical hot meal for a working family. Walk in the door after working all day, cook up a side of rice or egg noodles, or mashed potatoes and Voila! You have dinner ready in record time! Enjoy the meal and the oohs and aahs!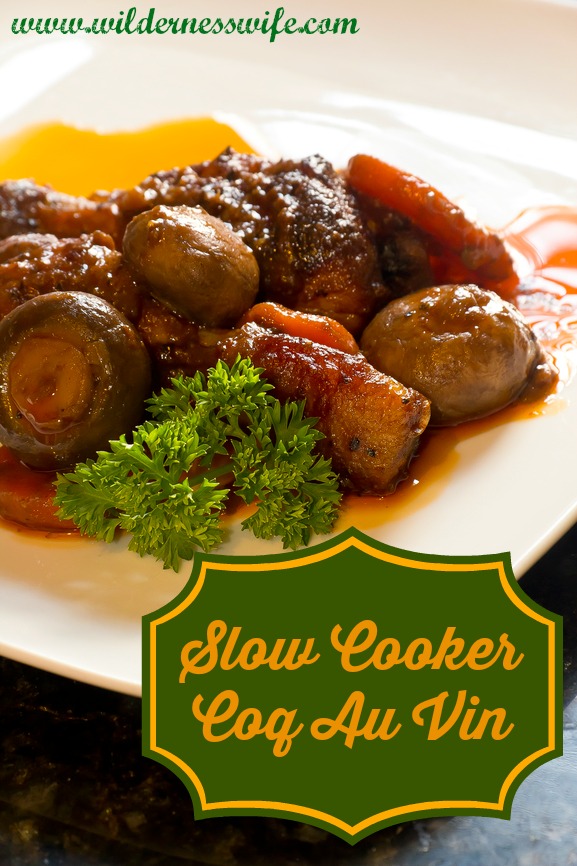 i use chicken thighs which are very economical and a bottle of reasonably priced wine which makes this a budget-wise dish. Slow Cooker Coq Au Vin is a huge favorite at the Thompson house. If you are wondering about the wine in the meal being appropriate for young children, realize that the alcohol will cook off when deglazing the skillet leaving the flavor but not the buzz.  And if you are still concerned you could replace ½ of the liquid with chicken stock without too much of the flavor.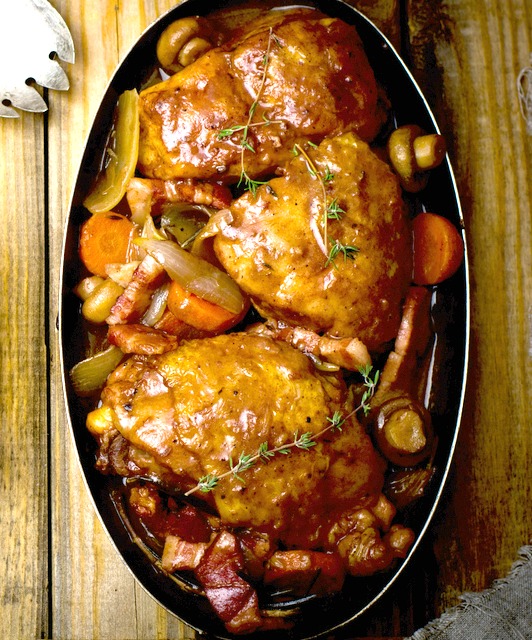 For more info about cooking with a slow cooker, read my post Slow Cooker Crock Pot Recipes and Basics 101  which will give you lots of basic helpful info on slow cooker - crock pot cooking.
Print
Slow Cooker Coq Au Vin
Hearty, flavorful, and economical, this recipe is great for the busy family that wants a substantial and filling meal ready to go when they get home from a busy day.
Author:
Prep Time:

20 mins

Cook Time:

8 hours

Total Time:

8 hours 20 mins

Yield:

6

servings

1

x
Category:

Slow Cooker

Cuisine:

American adaptation of French Classic
4

slices bacon

3

tbs. butter

3

lbs. chicken thighs

½

lb. fresh button mushrooms (baby bellas are my favorite)

3

c. wine

24

frozen pearl onions

3

med. sliced carrots, fresh or frozen

2

bay leaves

2

sprigs fresh thyme or

½ tsp

. dried

2

garlic cloves, sliced

1

tbs.tomato paste
salt & pepper to taste

3

tbs. cornstarch

¼

c. water
Instructions
Cut bacon into small pieces (1" is fine)
Cook bacon in a large skillet. (I personally love a cast iron for this) Remove bacon and set aside.
Add butter to bacon fat, and once melted, brown the chicken thighs in the skillet. Remove the thighs when they are golden brown.
Add fresh button mushrooms to skillet and lightly brown them. Remove mushrooms and place in slow cooker.
Place chicken thighs, bacon, garlic, pearl onions, and sliced carrots in the slow cooker.
Deglaze the skillet with wine scraping the skillet bottom with a wooden spoon to loosen all the tasty brown bits of goodness. If you are concerned about the alcohol content allow the wine to come to a simmer to evaporate the alcohol, and also replace half of the wine with chicken stock.
Pour the liquid from skillet into slow cooker.
Add bay leaves, thyme and tomato paste. If using fresh thyme create a string tied bundle with the bay leaves so they can easily be removed before serving.
Cook on high for 5-6 hours; on low for 7-8.
To thicken sauce, remove vegetables and meat to serving dish and keep warm. Discard herb bundle. Mix cornstarch and cold water in small bowl till cornstarch dissolves. Turn slow cooker to High and add cornstarch mixture stirring till it thickens the sauce. Pour sauce over chicken and veggies and serve.