Slow cooker ham recipe for Easter or any holiday dinner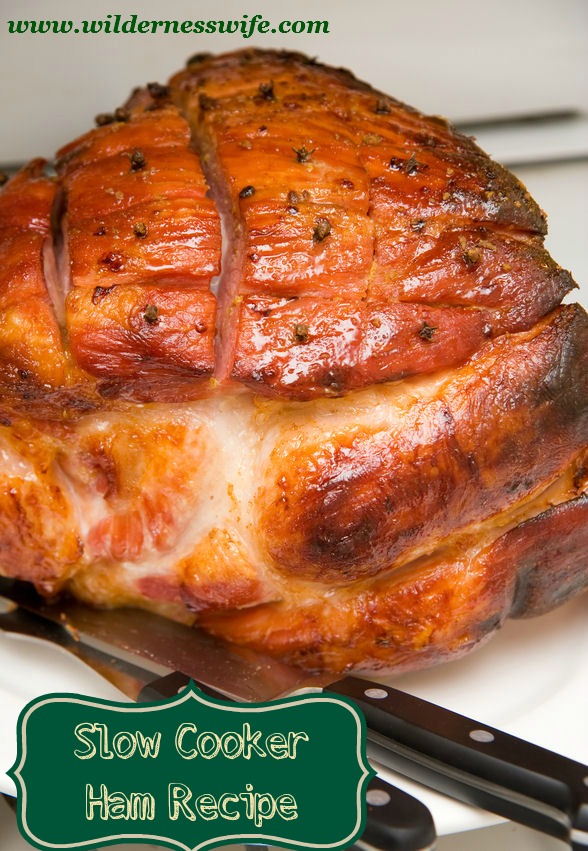 I'll be doing a Slow Cooker Ham recipe for Easter dinner this year. This "baked ham" recipe has consistently produced a delicious, tender, moist, and easy focal point for Easter dinner.  The ham is as delicious as it is beautiful and everyone who tries this ham recipe seems to have great success with it. (See all the comments below). Bill likes to eat Easter dinner about 1:30 PM  shortly after we get home from church so I time the ham so that it is done for 1 PM.  That gives me  time to get my side dishes cooked and the table set. I do a lot of my Easter dinner preparation the night before.  On Easter, it's just a matter of putting things in the oven and on the stove top during that last hour before dinner. And this ham recipe frees up oven space for more Easter side dishes to cook.
There are a few things that are important to remember in cooking a ham in a slow cooker, no matter which slow cooker ham recipe you use. Be sure to follow your slow cooker ham recipe carefully.
Choose the right size ham for your slow cooker ham recipe.  If you are not good at judging size and have to take a small measuring tape with you to the store, do it.  It is very important with any roast to be cooked in a slow cooker that the lid be able to seat itself tightly on the lip of the crock.  I have heard of people who were unhappy with the results of a slow cooker ham recipe and usually the reason is that the ham was too large preventing the lid from fitting properly so moisture escaped. Some people try to put foil around the lid in hopes of keeping the heat and moisture in.   That isn't a foolproof solution, and often ends in culinary disaster.
Buy the right type of ham for the slow cooker ham recipe you are cooking. There are many types of ham – precooked and uncooked, smoked,  dry cured and brine cured, shoulder, butts and shanks, spiral cut.  So pay attention to what the recipe calls for.  Using a recipe meant for a bone-in butt to cook a spiral ham, can leave you with a dry, overcooked mess worthy of the dog dish.
Pay attention to cooking time.  If your slow cooker ham recipe calls for a 7 pound ham in a 7 quart slow cooker to cook for 8 hours, and you have a 3 pound ham in your 4 quart slow cooker, you need to reduce the cooking time. As a rule, 1 hour of cooking time (on low) per pound will work well. If you are making changes to a recipe, be aware that overcooked ham will be dry and tough so you should keep an eye on the ham.
Be careful of your internal temperatures.  Use a meat thermometer to check your ham to be sure it is cooked. Not all hams are the same.  If you are cooking an uncooked ham, you want an internal temperature of 140F.  The internal temperature of a precooked ham should least 120F.
The age of your crockpot can make a difference in cooking time as the ham will cook quicker in a newer crockpot as the temperatures of newer crockpots are higher.  This change was instituted because of food safety issues and concerns that the lower temperatures of older crockpots cooking on low could enhance the growth of harmful bacteria.
A slow cooker ham recipe can result in a delicious succulent dinner loaded with flavor but like anything else you have to follow the directions.  For more facts and information on ham check out the USDA website. Have a Happy Easter!

Do you love slow cooker dishes? We have lots of them here at The Wilderness Wife so check out these tasty ones –
Slow Cooker Mushroom Barley Soup
Slow Cooker Chicken Vegetable Soup
Slow Cooker Olive Garden Zuppa Toscana Soup
Still want more….just type "Slow Cooker" in the search engine in our menu bar and you'll get even more.  Here at the The Wilderness Wife we say "Low and slow is the way to go!"
This slow cooker ham recipe is perfect for Easter Dinner. For more Easter Ideas from the Wilderness Wife check out these pages –
  This Slow Cooker Ham Recipe was featured at the following blogs –
Domestic Superhero
,center>