Slow Cooker Bourbon Glazed Spiral Recipe
Without a doubt, my Slow Cooker Bourbon Glazed Spiral Ham Recipe is one of my favorite baked ham recipes. The spiral ham lends itself to being cooked in a slow cooker because when a spiral ham is cooked in a conventional oven it can get very dried out. CrockPot cooking will make the ham incredibly moist and tender. Also cooking your ham in your CrockPot frees up your conventional oven for sides like Twice Baked Potatoes, Scalloped Potatoes, Cheesy Broccoli Cauliflower Casserole or Roasted Asparagus, all great side dish choices to go with your ham.
The Crockpot is Perfect for cooking your Ham
You will need a larger slow cooker that is oval in shape (easier to fit the ham into). Mine is an 8 quart Slow Cooker. I use this size a lot to cook whole chicken, turkey breasts, beef and pork roasts. I personally prefer the Smithfield Double Honey Glazed Half Spiral Sliced Ham, which is usually about 8-10 pounds. You may have to trim the ham a little to fit it in the CrockPot. Just wrap the trimming in the foil and keep in the refrigerator. They're great for chopped up for omelets, or ham salad. The Smithfield spiral ham comes with a "glaze" packet that I use in the creation of my bourbon glaze, but you can just add a little honey to the glaze mix if you buy a spiral ham that doesn't have a glaze packet. The Bourbon Glaze is a mixture of orange marmalade, Bourbon, Dijon mustard, orange zest, fresh orange juice, ground ginger, and Coca Cola.
Time To Put Your Spiral Ham in the Slow Cooker
Be sure to spray the Crockpot liner with a non-stick cooking spray.  It will help with the clean up later. Next pour a ½ cup of Coca Cola in the bottom of the Crock-Pot. Place your  spiral ham in the slow cooker and spread the slices so you can pour the glaze preparation on the ham and it will easily penetrate the ham so the flavors get into the meat.  The sweetness of the glaze adds the perfect touch to the saltiness of the ham. You will cook the ham on the low setting for 3-4 hours until it reaches an internal temperature of 140°F - 150°F (use a meat thermometer to check). Resist the urge to keep checking the ham and leave the crockpot lid on.  Every time you take the lid off, heat and moisture escape slowing the cooking process and potentially making a drier ham.  When the ham is done carefully remove it from the slow-cooker to a platter and tent it with foil while to let it rest. Pour the liquid from the slow cooker through a strainer into a saucepan. Heat it slowly over medium heat as you add a cornstarch slurry to thicken it into a delicious sauce to serve with the ham. Use 2 tbs. of cornstarch to a cup of liquid to create a gravy-like sauce to serve with your spiral ham. Dissolve the cornstarch in a small amount of cold water before adding it to the hot liquid to avoid lumps in the sauce.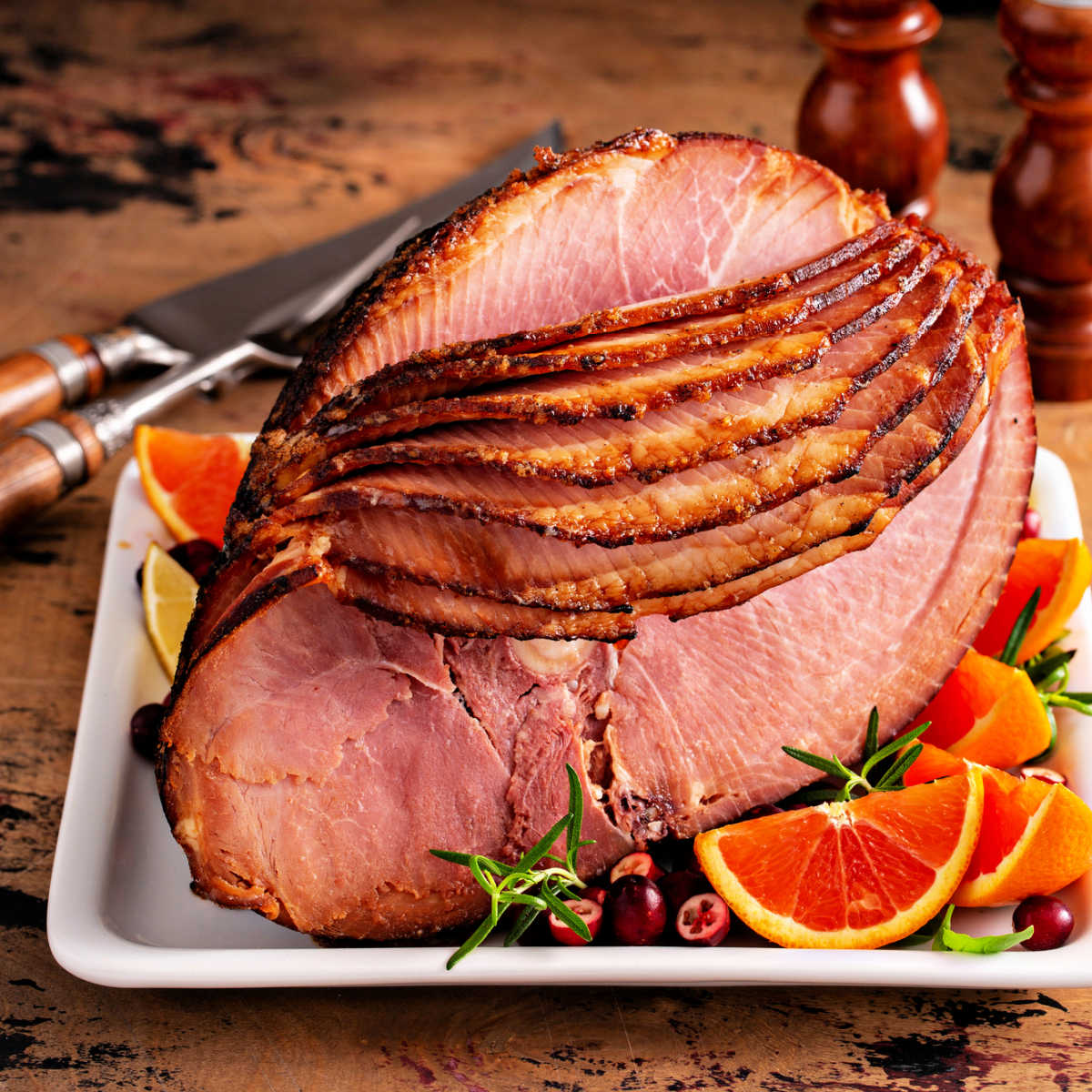 Cooking Ham in a Slow Cooker creates a moist and tender final product!
Whether its a spiral ham, a smoked ham, or an uncooked ham I always cook mine in a slow cooker. Each type of ham requires a different approach so be sure to check out my other slow cooker ham recipes for a tender, moist ham for your special dinner.
Print
Slow Cooker Bourbon Glazed Spiral Ham
Glazed with an orange and Bourbon Glaze, this slow cooker ham recipe is moist and absolutely delicious.
Author:
Prep Time:

15 mins

Cook Time:

4 hours

Total Time:

4 hours 15 mins

Category:

Meat Main Dish

Cuisine:

American
⅓

cup

Coca Cola

1

spiral ham (about

6

-

10

lbs)
Whole cloves (optional)
glaze packet contents (if ham has one or substitute ¼ cup honey)

¾

cups

orange marmalade

¼

cup

whole-grain Dijon mustard

½

cup

bourbon

2 tbsp

. fresh orange zest

2 Tbsp

orange juice fresh, if possible

½ tsp

ground ginger
Salt and black pepper to taste
corn starch
Instructions
Spray the CrockPot liner with cooking spray for easier clean up.
Pour Coca Cola in the bottom of the slow cooker liner.
If using cloves, insert them in the top of the ham and wedge a few between the slices.
Mix contents of the glaze packet (or honey if the ham does not have one), orange marmalade, mustard, Bourbon,orange zest, orange juice, ginger and slat & pepper (to taste). Be sparing with salt as the ham is very salty.
Cover and Set CrockPot on low for 3-4 hours. till internal temperature of ham reaches 140°F - 150°F.
Carefully remove ham from Slow Cooker to platter and tent with foil to keep warm while you make the sauce.
Pour liquid from slow cooker through a strainer into a sauce pan. Heat on medium.
Make a slurry of corn starch and a small amount of cold water, using 2 tbs. of corn starch per cup of liquid from the slow cooker. Stir over heat until it thicken to the consistency of gravy.