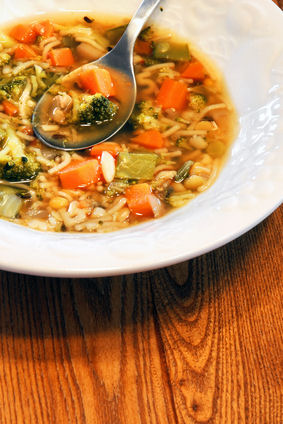 Vegetable Soup Recipe
Vegetable Soup…. it's a great nutritious pleaser at our house. We had another Souper Sunday Supper last night with a great big pot of Vegetable Soup! Sometimes it just good to go back to basics and there is nothing more basic than Vegetable Soup. We spent Saturday and Sunday afternoon getting ready for Hurricane Sandy.  We never get anything like a real hurricane here because we are so far inland but we do get wind and lots of rain from a storm like this.  Our preparation amounts to picking up anything that can blow around the yard and making sure that we have enough wood in the event our power goes out. Candles and oil lamps are strategically placed around the house, and then all we can do is wait.  So we didn't want a big meal Sunday night. We just needed something to warm us up and soup fit the task perfectly. I set the pot on the Vermont Castings Aspen Woodstove and let it simmer there.  I enjoy cooking on our woodstoves as I feel we are getting more value for the effort that it takes to get our wood supply in. Here in the North Woods we lose power a lot in the winter and that back up energy source makes you feel real secure. Now back to the soup……..
You can add any vegetables you want.  I went by what I had on hand. That's the beauty of a soup like this; it uses up a lot of things you have hanging around in the fridge.There is nothing more fragrant than a pot of soup simmering on the stove.
Print
Good Ol' Vegetable Soup
Always nutritious and a great way to use up leftover vegetables!
Author:
Prep Time:

20 mins

Cook Time:

60 mins

Total Time:

1 hour 20 mins

Category:

Soup

Cuisine:

New England, American
1

tbs. butter

1

tbs. olive oil

1

c. diced onion

2

tbs. minced garlic

2

14 oz. cans of chicken stock

2

c. water

1

bay leaf

½ tsp

. dried marjoram

3

carrots, diced

3

stalks celery, diced

1 cup

frozen green beans

1 cup

frozen broccoli florets

6 oz

. pasta, noodles, or rice
salt and pepper to taste
Instructions
In a large stock pot, melt butter and add olive oil.
Add onion and cook until translucent.
Add the garlic. Cook for 1 minute more.
Add chicken stock, water, bay leaf, marjoram, and vegetables. Season with salt and pepper.
Bring to a boil and simmer for 30 minutes or until all vegetables are tender.
Add pasta or rice (your preference). Cook until pasta is done. (about 10 minutes)