Easy Vegetable Soup Recipe
Vegetable soup....it's easy and nutritious and as the soup simmers away, the vegetables impart all their healthy nutrients including minerals, vitamins and antioxidants into the broth. The beauty of a soup like this is you can add any vegetables you want. I usually go by what I have on hand in the fridge. When prepping other recipes, if I have any extra vegetables left over I put in a freezer bag and keep it in the freezer till I have enough material to make a soup.
What vegetables can you use?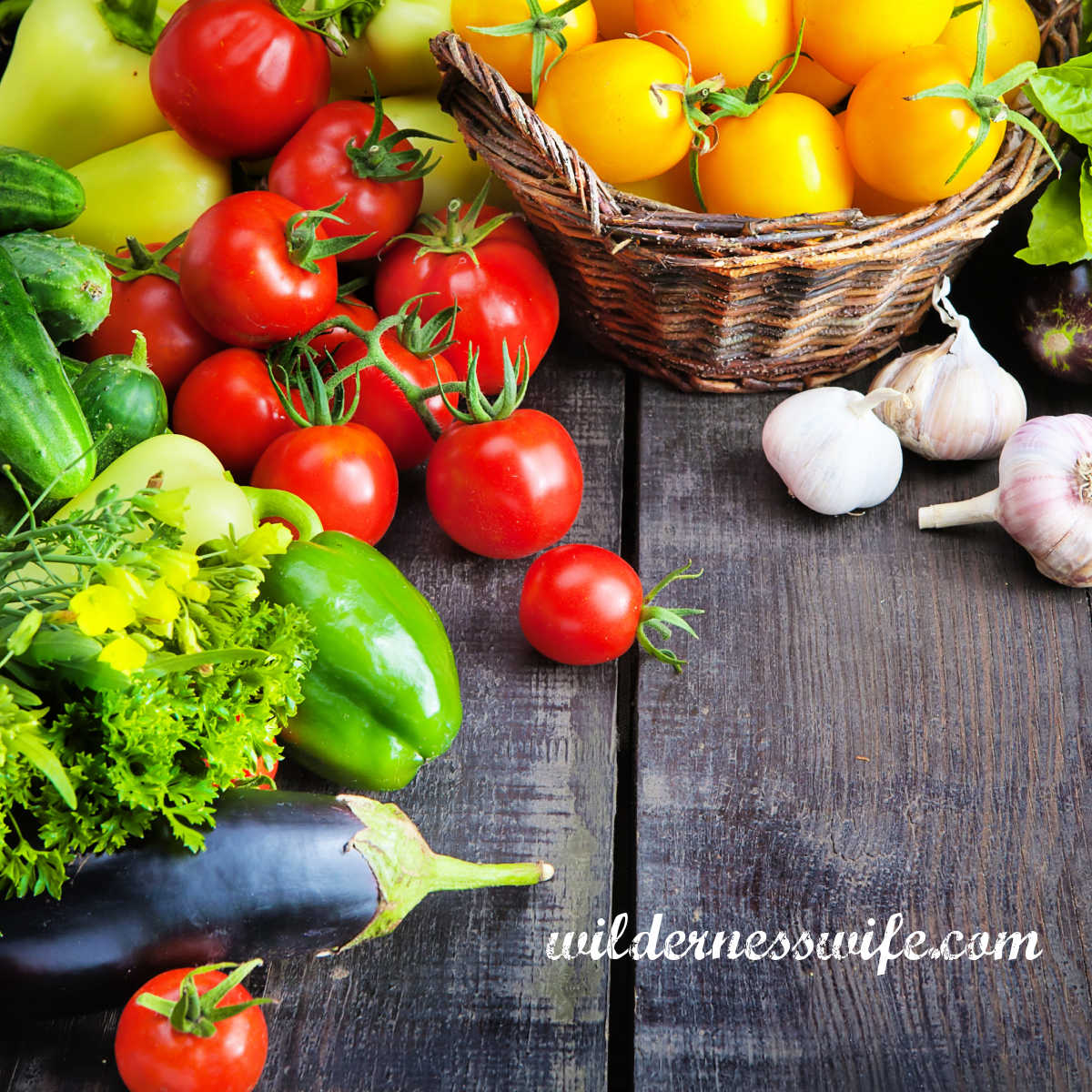 All veggies work. I start the soup by sautéing carrots, onions, and celery in olive oil and butter in my soup pot, I then add whatever broth I'm going to use and add the vegetables in a progression determined by their cooking time. Example, dry beans should be precooked and added in the beginning but if you add potatoes at the beginning, they'll dissolve by the time you get the carrots to cook tender. Cooking time will also be determined by the size you cut the vegetables. The smaller the pieces the quicker they cook. During the last 15 minutes you can add pasta or rice if you like.
What seasonings should you use?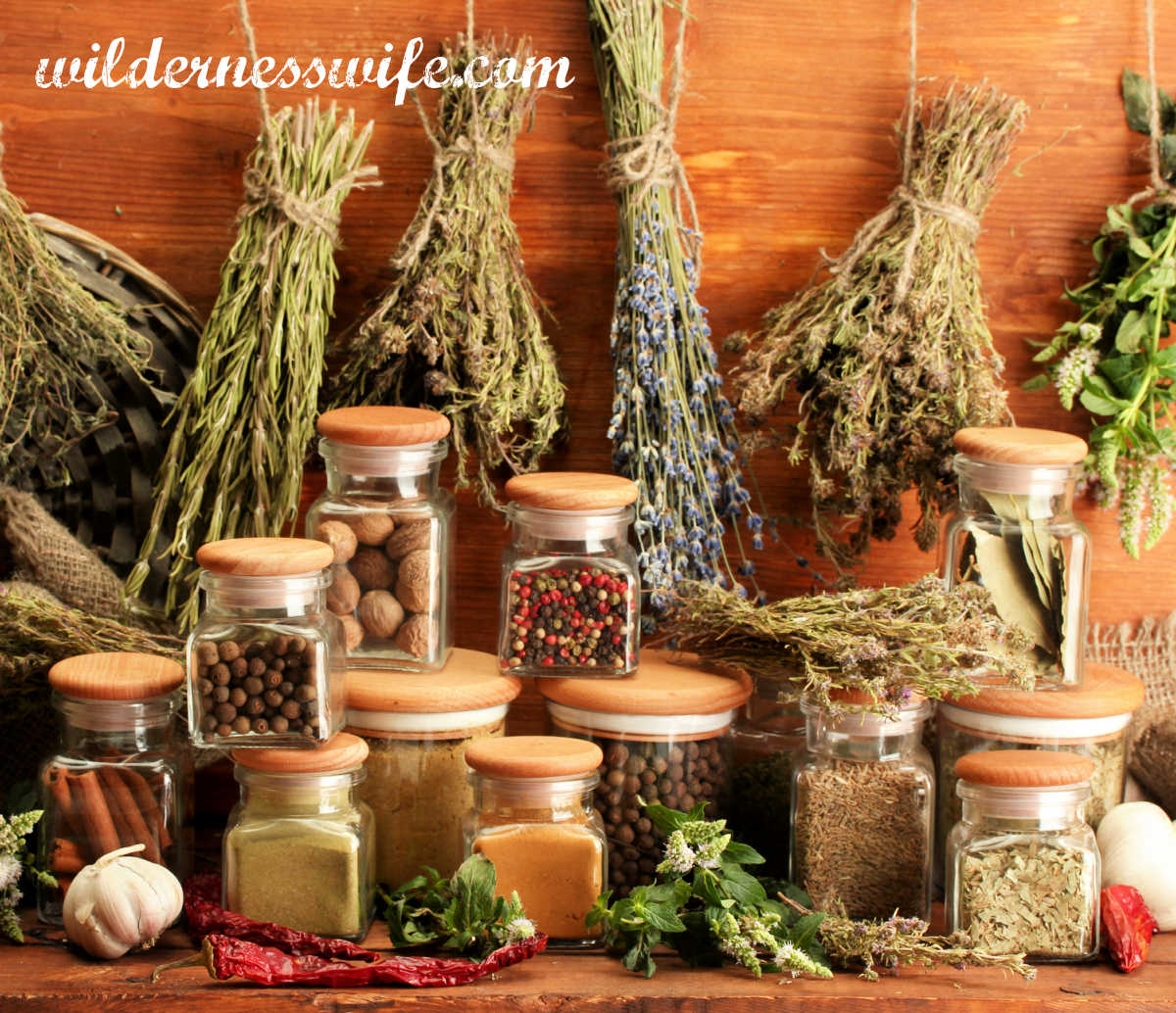 Again its a matter of personal preference but I like to make a bouquet garni by bundling fresh thyme, marjoram, rosemary, and basil leaves tied with a string and toss them in the pot. The bundle can easily be pulled out at the end of the cook time. A bay leaf or two depending on the size of the pot adds great soup flavor. Mincing up a clove or two of garlic and adding during the last two minutes of sautéing is another flavor enhancement. Tomato paste is a good addition also as it adds a rich depth of flavor.
Here is a list of seasonings that I often use when making vegetable soup:
Basil
Thyme
Oregano
Marjoram
Rosemary
Italian seasoning mix
Herbs de Provence
Red Pepper Flakes
Paprika
Curry Powder
Salt
Fresh Ground Pepper
Can I cook my vegetable soup in a crockpot?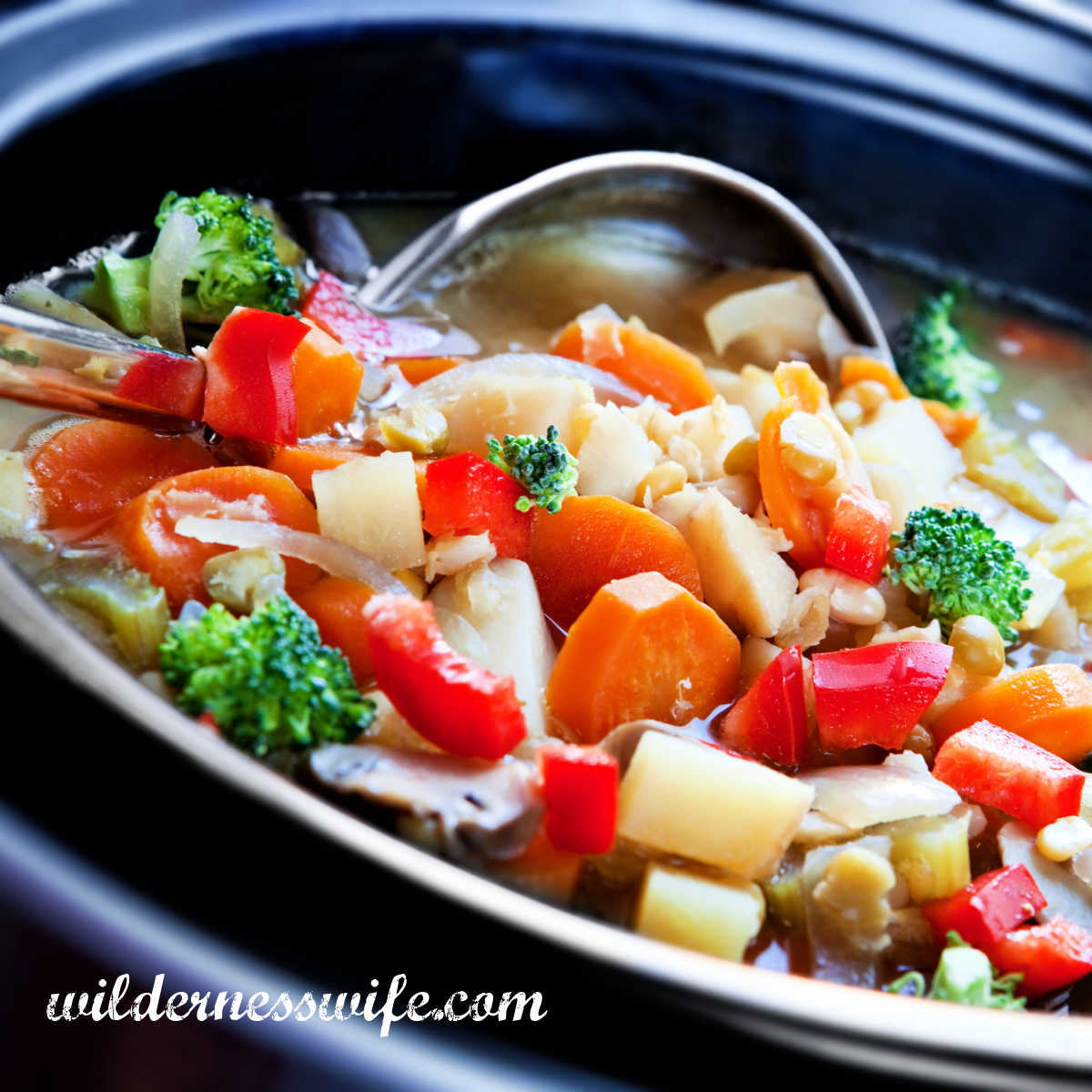 Yes, it's a great way to do a vegetable soup. In the beginning, sauté the carrots, onions, celery and garlic in a sauté pan and add them to the slow cooker. Be sure to "deglaze" the pan with some broth so you get all those extra flavor bits from the sauté pan and add that to the crockpot. Cook on low for 4-5 hours and add the softer veggies like peas, potatoes and any pasta or rice during the last hour.
What kind of broth should I use?
If you have homemade stock that's the best but there are a variety of canned broths available at the grocery store. Of course if you want to go totally vegan, you should use canned vegetable broth. If sodium content is a health issue, go for low sodium broths.
Can I freeze the vegetable soup?
Yes, the soup lends itself to freezing. Make a double batch which gives soup for a meal and then leftover soup to freeze for a quick meal later on.
Mor Wildernesswife Soup Recipes -
Print
Good Ol' Vegetable Soup
Always nutritious and a great way to use up leftover vegetables!
Author:
Prep Time:

20 mins

Cook Time:

60 mins

Total Time:

1 hour 20 mins

Category:

Soup

Cuisine:

New England, American
1

tbs. butter

1

tbs. olive oil

1

c

. diced onion

2

tbs. minced garlic
2

14

oz

. cans of chicken stock

2

c

. water

1

bay leaf

½ tsp

. dried marjoram

3

carrots, diced

3

stalks celery, diced

1

cup

frozen green beans

1

cup

frozen broccoli florets

6

oz

. pasta, noodles, or rice
salt and pepper to taste
Instructions
In a large stock pot, melt butter and add olive oil.
Add onion and cook until translucent.
Add the garlic. Cook for 1 minute more.
Add chicken stock, water, bay leaf, marjoram, and vegetables. Season with salt and pepper.
Bring to a boil and simmer on medium heat for 30 minutes or until all vegetables are tender.
Add pasta or rice (your preference). Cook until pasta is done. (about 10 minutes)