Fluffy, Flaky and very Tasty Biscuits Recipe - a basic Biscuit Recipe!!!!
My Flaky Biscuit Recipe is simple. Simple techniques, very few ingredients, and a short bake time make for easy success. Homemade biscuits come together quickly and they are so much better than canned biscuits.
Baking Biscuits from Scratch is easy using this Recipe!
It seems like nobody makes biscuits from scratch any more.  Everybody wants to keep the giggly Pillsbury Dough Boy gainfully employed so they keep making their biscuits from those refrigerated cans. But homemade biscuits from scratch don't take that much longer, and they are so worth the effort.  Homemade biscuits are absolutely delicious and my biscuit recipe is easy to follow. And of all the  baked "quick breads", biscuits are the easiest, quickest to make and bake, and the most versatile. A good basic biscuit dough, and a little creativity and there is no end to what you can come up with….savory, sweet, dessert, crust, side dish, appetizer. Biscuits are best!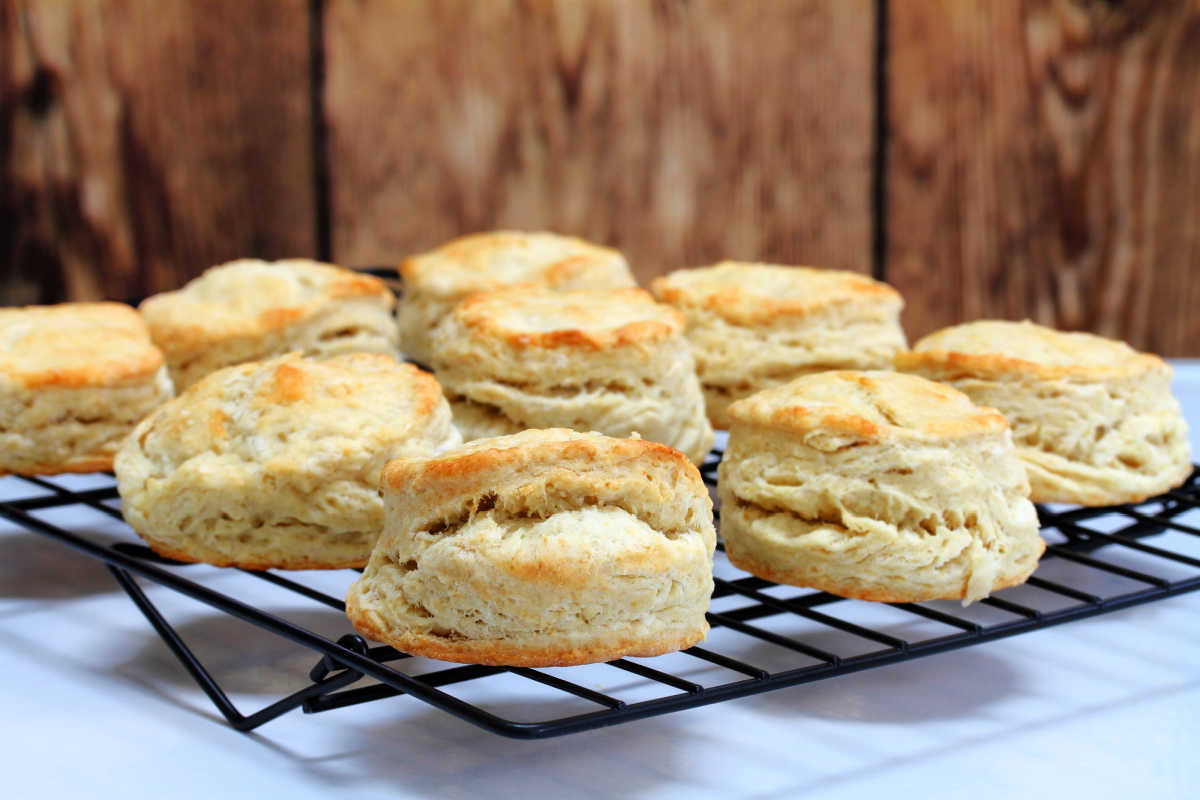 My Biscuit Recipe only uses 5 ingredients
 My biscuits are more economical the ones from the dairy case and there are ways to speed up the biscuit-making process with a little organization and forethought. The ingredients for my homemade biscuit recipe are as follows -
Flour - All purpose flour is best but the very best flour to make biscuits is White Lily. The reason is it made from a "soft, winter wheat" which is low in protein. This helps to keep the dough low in gluten and more tender.
Butter - the butter needs to be cut into ¼ - ⅜ inch cubes and kept very cold.
Baking powder - use "Aluminum-free" baking powder. Baking powders with aluminum in them leave a metallic taste in the mouth.
Salt - I prefer Kosher Salt for all my baking. I definitely stay away from using iodized salt because iodized salt has an unpleasant bitter taste in the mouth.
Cold whole milk - Use whole milk. It makes for a softer texture dough.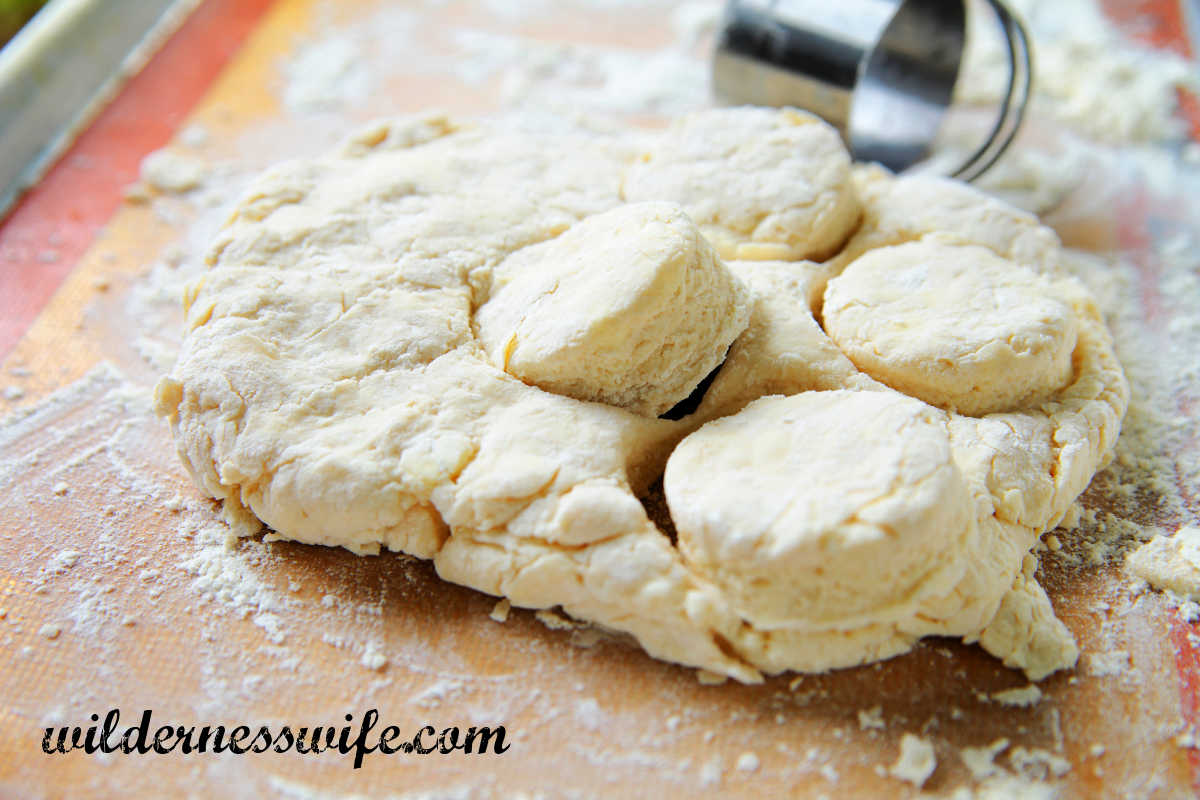 Helpful hints for biscuit success
To have success with this biscuit recipe, keep your ingredients cold. Cold ingredients make for flakier biscuits because the solid fats make the flaky layers in the dough. Mix until the ingredients are just combined. Overmixing increases gluten making for tougher biscuits. Bake them closer together. This will force the biscuits to rise higher. Use a cast iron pan as it distributes the heat more evenly.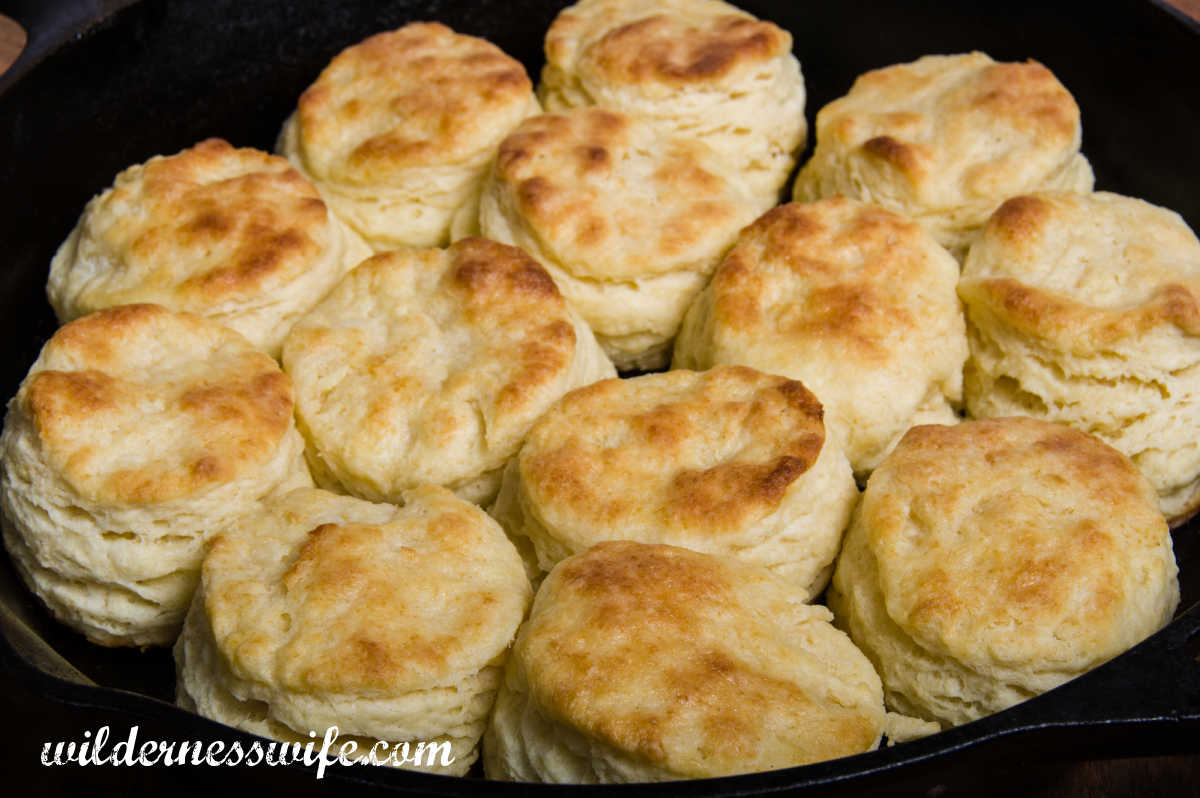 Variations on the basic recipe theme
This recipe can be used in many ways. One way is being used as a crust on pot pies.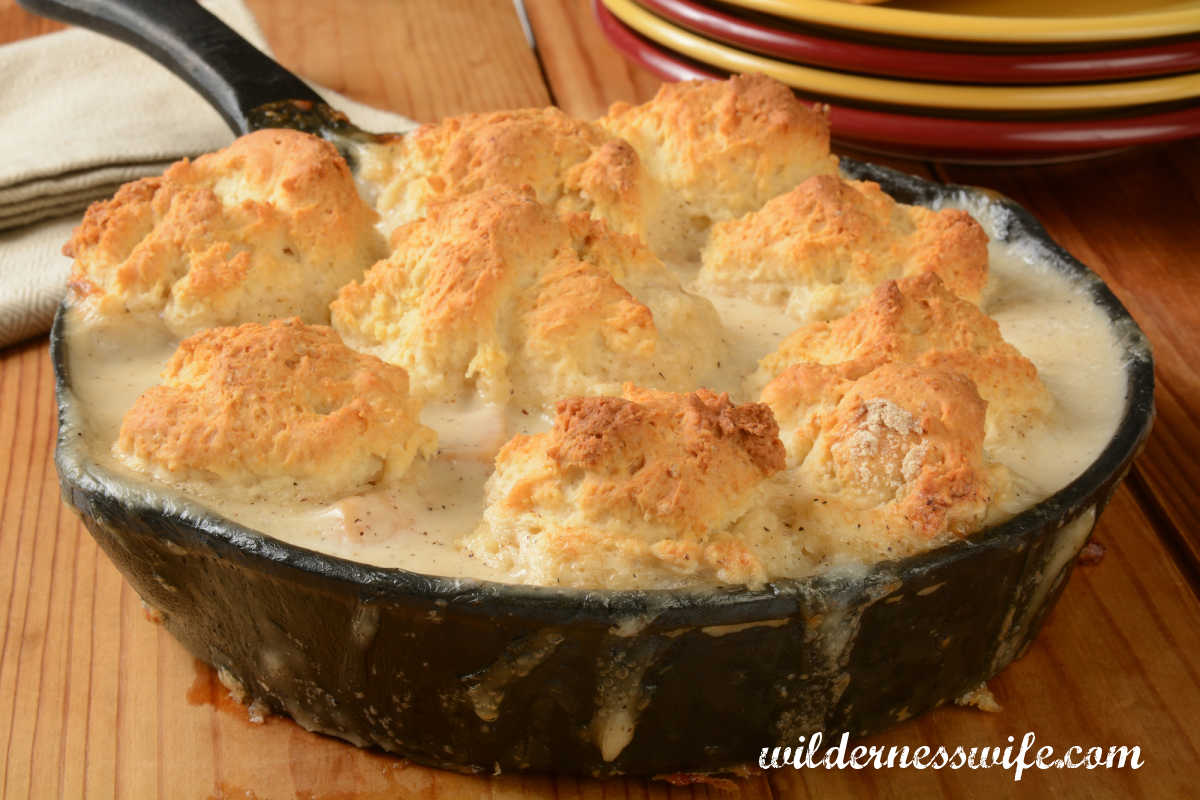 Biscuits with Sausage Gravy is a favorite southern dish. These biscuits are perfect for it.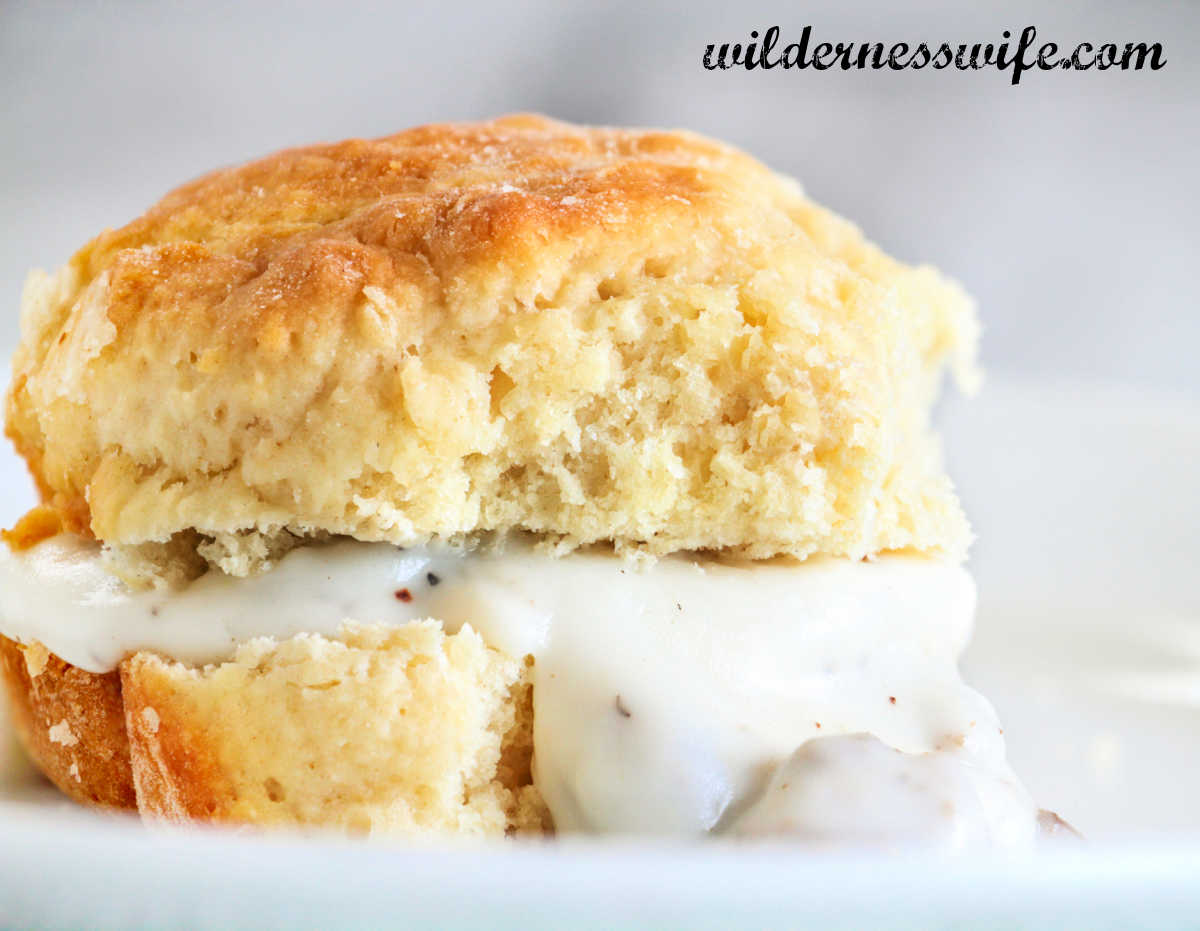 Additions of ingredients like herbs or grated cheese can make a savory biscuit that is a great accompaniment to a meal.
Try these other Wilderness Wife quick bread recipe -
Print
Baking Homemade Biscuits...an act of love!!!!!!!!
Making biscuits from scratch isn't difficult and it doesn't take that much time.  I don't understand why people use the dough from the can.  To me, it's tasteless, totally bland with no texture and making them from scratch makes such a tasty product.
2 ½ cups cold flour
2 tablespoons baking powder
1 teaspoon salt
8 tablespoons cold butter
1 cup cold milk
Instructions
Preheat oven to 425F
Mix dry ingredients together.
Add butter and mix gently with flour.
Combine with a pastry cutter until the butter is the size of small peas.
Mix in butter with a wooden spoon. Gently mix. Don't over mix!
Form dough into a ball of dough.
Use your hand to gently flatten dough. Cut out the individual biscuits. Place closely in a pan (cast iron
is the best.)
Cook at 425F for 14 minutes.
Notes
It is so important to this recipe that everything is cold. Mixing bowl, pastry cutter, wooden spoon, flour, butter, milk. all need to be cold and I keep them in the refrigerator prior to combining them.