Easy Quick Apple Dessert – A delicious autumn baked apple delight!
It's autumn and apples are in abundance!  There are chilly fall days when I want an easy apple dessert that's warm and delicious but I don't have time for complicated recipes with pie crust and such.  One of the "weapons" in my dessert arsenal is Baked Apples.  I have a number of baked apple recipes.  What I like about them is they a fairly quick prep time.  I can get them in the oven to bake while I prepare the rest of our supper and they are ready to serve at the end of the meal with little fuss.  This Baked Stuffed Apple recipe is a real fall favorite here at the Thompson household.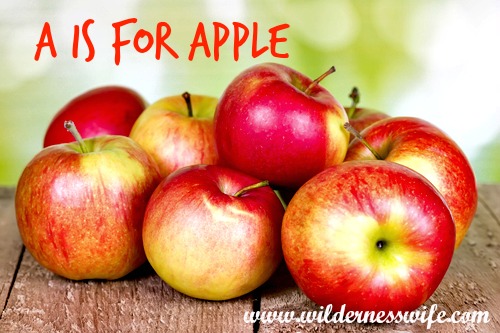 When you are going to bake an apple you need to choose the best varieties.  Some apples are "eating" apples.  They taste great fresh but their flesh doesn't keep its shape during the baking process and becomes a mushy, shapeless (but still tasty) mess.  Tart firm apples such as  Granny Smith, Honey Crisp, Pink Lady, and Mutsu (also referred to as Crispin) are the most often used for baking, making pies, cobblers, and crumbles. You can serve the baked apple plain or add whipped cream or vanilla ice cream to make it more special.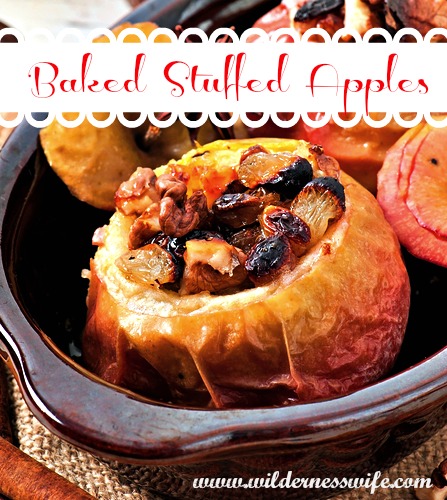 Baked Stuffed Apple Recipe
| | | |
| --- | --- | --- |
| Stuffed Baked Apples Dessert Recipe | | Print |
Author:
The Wilderness Wife
Prep time:
Cook time:
Total time:
An easy dessert that can bake while you prepare the rest of your meal - it'll ready just when you are ready to serve I and it'll be full of delicious fall yumminess!
Ingredients
6 large baking apples
½ c. firmly packed brown sugar
½ c. golden raisins
¼ c. chopped walnuts
½ tsp. cinnamon
¾ c. honey
½ c. water
1 tbsp. butter
1 tsp. lemon zest
Instructions
Preheat oven to 350F.
Wash apples and core, then pare about ¼ of the way down from the stem end so they sit flat. Stand them in a shallow baking dish.
Mix brown sugar, raisins, walnuts, and cinnamon in a small bowl.
Spoon mixture into the centers of the apples, and pack them down well.
Combine honey, water, butter and lemon zest to boiling in a small sauce pan. Pour over the center of each apple.
Bake in oven, basting often with syrup, for one hour or until apples are tender but still firm enough to hold their shape.
Serve warm - alone or with whipped cream or ice cream.