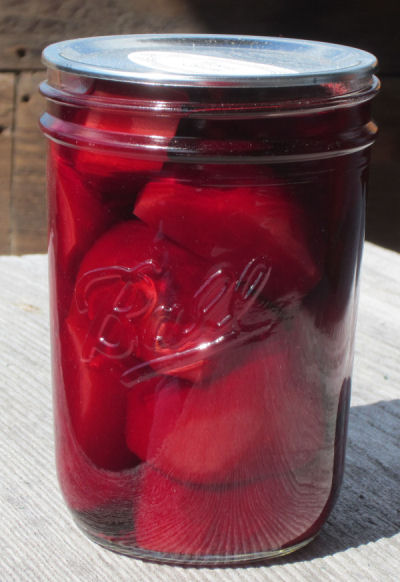 This week we can start harvesting beets.  We have been sneaking a few smaller ones the last few weeks boiling them with the greens still attached.  I love beets! In fact, I'm a big fan of all root vegetables. I love the "earthy" flavor that they all have.  Beets are an extremely adaptable veggie as you can roast them, boil them, and even pickle them.  And pickled beets are a very versatile side dish.  You can eat them right out of the jar, or you can add them to salads, or serve them alone with a variety of dressings. Serve pickled beets as German cooks do, as an accompaniment to any kind of cold meat. This tasty pickle adds a spark to leftover chicken, turkey, pork or beef. Make them part of a tasty "relish" tray joined with carrot and celery sticks, olives, and a variety of pickles. Drained, chopped pickled beets add a zing to potato salads of all kinds. Use pickled beets instead of tomatoes in winter green salads. Combine baby spinach, pickled beets, orange or tangerine sections and a little red onion. Pickled beets stand up well to the stronger tastes of gourmet greens like arugula and mesclun mixtures.
And trust me, there is something very satisfying about canning your own pickled beets. They are one of the easier items to can. Because you use vinegar in the process, the acidity allows you to use the boiling water bath method of canning as opposed to pressure canning them.
Pickled Beets Water Bath Canning Recipe
| | | |
| --- | --- | --- |
| You can't beat Pickled Beets...another day of canning! | | Print |
Recipe type:
Vegetable Side Dish - Water Bath Canning
Author:
The Wilderness Wife
Prep time:
Cook time:
Total time:
Canning your garden produce gives you great quality, and is so a money saver. Try this pickled beet recipe. Its one of my favorites and you will be able to enjoy your garden through the winter months!
Ingredients
35 - 40 small beets, unpeeled
2 cups sugar
2 cups water (reserved from cooking the beets to remove skins)
2 cups white vinegar
whole cloves
1 teaspoon ground cloves
1 teaspoon allspice
1 tablespoon cinnamon
Instructions
Wash beets.
Cut stems to about 2 inches, and leave on the tap root. This will help keep the color when you boil the beets to loosen the skins.
In a large pot cook the unpeeled beets until fork-tender (do not overcook) cool and then remove the skins. Reserve 2 cups of the beet water. The skins are easily removed. Take the beets one at a time and hold them under running water and gently rub the beet to remove the outer layer of skin. Cut off the tops and tap roots.
Slice the beets about ¼-inch thick or you can cut them into cubes.
Pack the beets snuggly into sterilized canning jars being careful not to bruise them. Add 3-4 whole cloves to each jar.
In a large saucepan combine the sugar, water, vinegar, ground cloves, allspice, cinnamon and remaining whole cloves; bring to a boil and simmer for about 10 minutes making sure that the sugar granules dissolve.
Quickly pour brine over the beets in the jars, leaving ¾-inch headspace (the liquid should go no further than the shoulder of the jar!). Remove air bubbles with a plastic knife or other small tool.
Wipe the jar rims clean, put on lids and hand tighten the bands.
Process in a boiling water bath for 12 minutes. Remove from water and allow to cool on a rack. As with all pickled items, they taste best after a few weeks.
For more canning recipes try these Thompson Family Favorites –