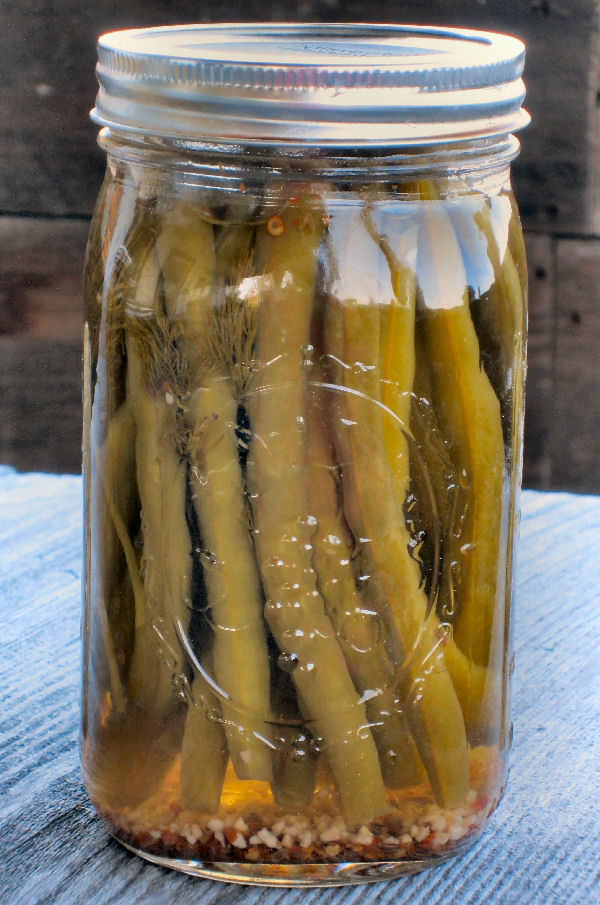 This time of year it's a race to use up the veggies that a "bursting at the seams" garden produces.  There's a limit to how much you can eat of any one vegetable variety and still be able to use the word "variety". Mention the word zucchini and Bill turns the color of one. Same thing with the wax beans and green beans so I spent this weekend cleaning up the" bean scene" in the garden with a marathon canning session. I spent Saturday getting "pickled" by making Dilly Beans. For those of you who haven't canned I am doing this post as a "water bath canning 101". Don't be afraid to try canning.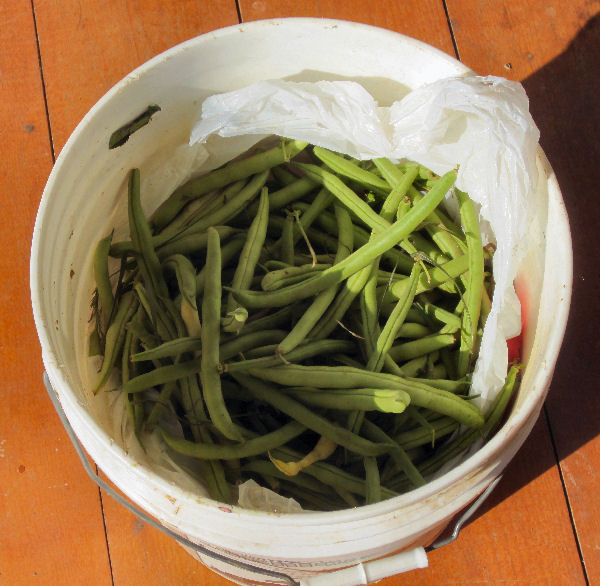 If you are new to canning, there are two types of canning – water bath and pressure canning. Water bath canning is the method you use to preserve high acid foods like tomatoes and tomato sauces, pickles and pickled relishes, jams, jellies, and preserved fruit. Pressure canning is the method that you use to preserve your low acid foods like plain vegetables, potatoes, soups, meats, and anything else that does not have acid in the produce or the ingredients.  For dilly beans, we will be using the water bath method because it is an acidic, pickled end product.
Whatever method you use, cleanliness is next to godliness when you are canning. I wash all the surfaces (countertops, cutting boards, etc.) that I am using with a disinfecting bleach solution. I wash all the utensils I will be using along with my canning jars in the dishwasher.
I use an old black-speckled canning kettle like my Grandma did.  The technology has not changed over the years. I've had the same one for 35 years.  It has had a lot of canning jars put through it in that time! You can still buy them at Wal-Mart or online at Amazon. Be sure you use real canning jars and don't try to save money by using old mayonnaise or baby food jars.  These are OK when you making refrigerator pickles or jam but when you are doing water bath canning you need real canning jars that are in good condition with no knicks on the rim or cracks in the jar body.  You can pick used ones at yard sales.  Just carefully examine them.  Don't use any that have any flaws. You can reuse the screw down band as long as they aren't rusty but you cannot reuse the lids. Another handy tool to have is a jar lifter.  You'll find those where they sell canning supplies.
You will need the following ingredients to fill 7 pint jars – double everything if you are doing quarts.
4 pounds green and/or yellow wax beans
1 3/4 teaspoons crushed dried hot red pepper
1 ¾ teaspoons dried dill seed
7 clusters  of fresh dill flower heads
3 ½ teaspoons       minced garlic in olive oil
2 ½ cups cider vinegar (ensure 5% acidity)
5 cups water
5 tablespoons pickling salt
Fill your canning kettle with enough water to cover the top of the canning jars resting on the wire rack by about 2 inches. As this amount of water takes a while to heat I start heating it while I pack my jars. Bring the water to a boil. Wash your canning jars with hot, soapy water or in a dishwasher; rinse well and put them upside down on a clean dishtowel. I wash the lids, bands in hot soapy water, rinse them thoroughly, and then put them in a pan of water on the stove and bring them to a boil to sterilize them. I leave them in the water until I am ready to use them.
Next I sort my beans choosing ones that are the right length for the size canning jar I am using and  I only use the beans that are in peak condition.  I put aside beans that are blemished or past their prime.  When you can, you only want to use premium quality produce.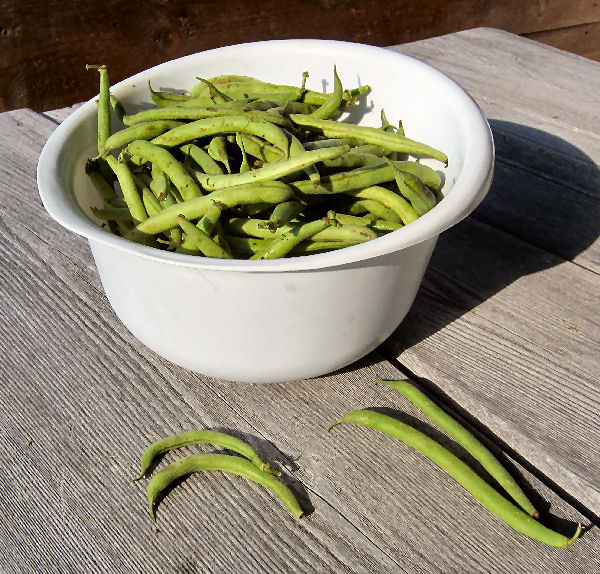 I wash the beans under cold running water in my colander making sure that I get rid of all dirt and bugs.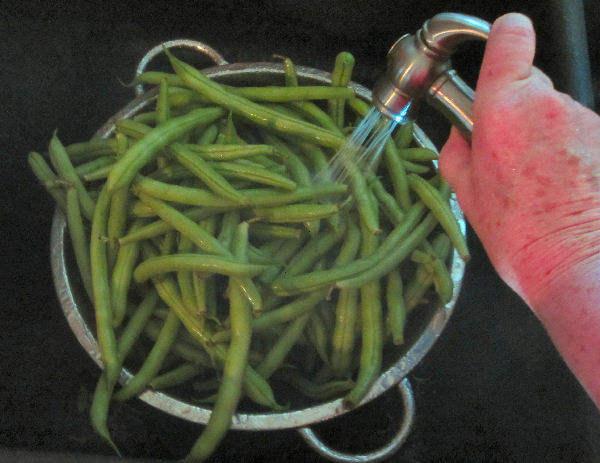 Next I remove the tips of the beans on both ends. I use clean scissors to do this, and if necessary, I trim the beans so they will fit upright in the canning jars.  It may be overkill but I wash the beans a second time in the cold running water.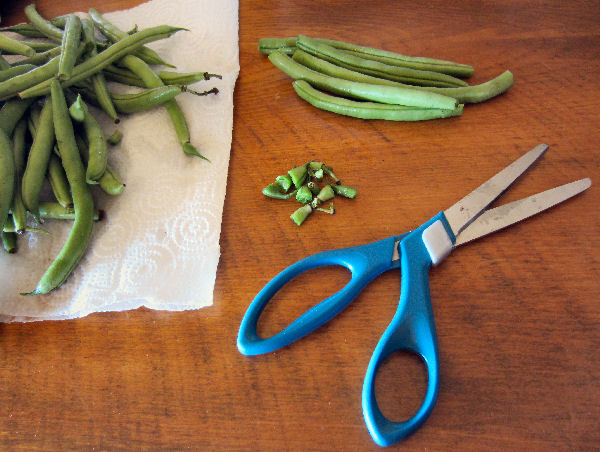 The next step is to put the following ingredients in each jar –
½ tsp. of minced garlic
¼ tsp. of dill seed
¼ tsp. of crushed red pepper flakes
1 cluster of fresh dill weed from my garden ( if you don't have fresh dill just double the amount of dill seed.)
Now I pack the beans into the jar as tightly but neatly as I can.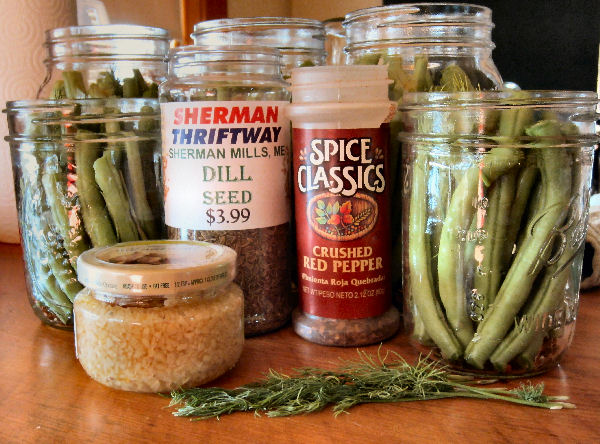 In a pan on the stove I combine 2 ½ cups of 5% acidity vinegar, 5 cups of water, and 5 tbs.canning salt and bring it to a boil, stirring to dissolve the salt. Be sure to use canning salt and not table salt. Table salt has additives and will make the liquid in your jars cloudy looking. I then pour the hot brine over the beans, leaving 1/2 inch of headspace at the top of the jar.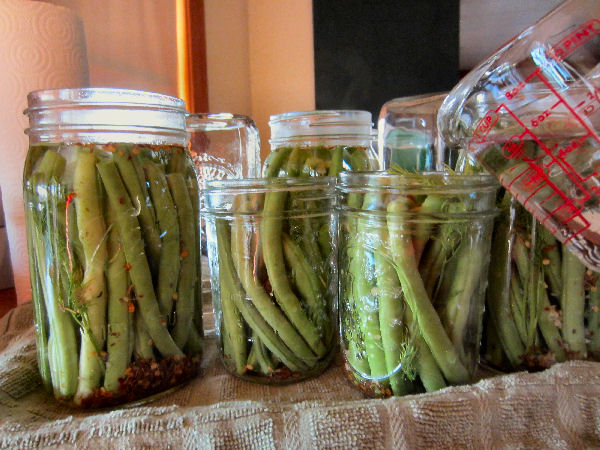 Next, take a knife, slim rubber scraper, or spatula and run it around the inside of the jar to get rid of any air bubbles. Sometimes you will have to add a little more brine after doing this.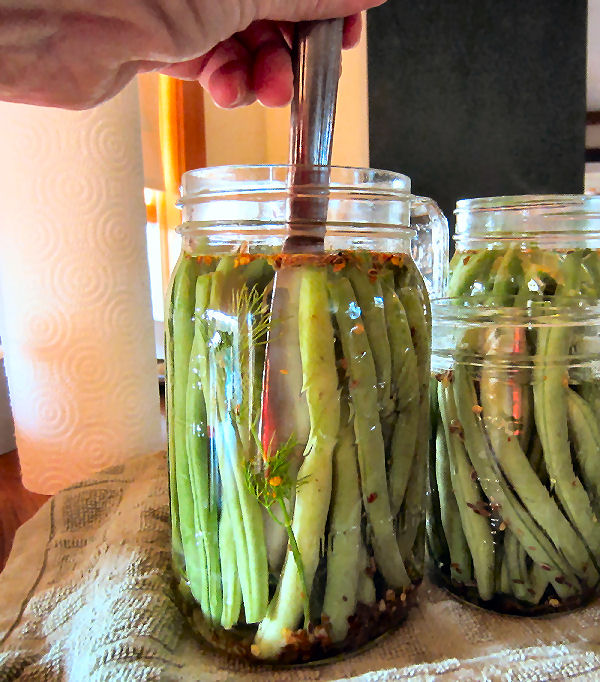 Then wipe the jar rim with a clean cloth or paper towel to remove any debris so that you get a nice tight seal.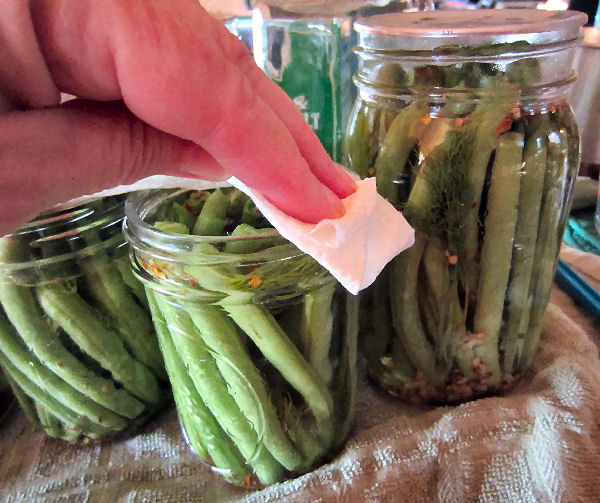 Top with a new sterilized lid and screw on the metal band to hand tight. Do not over tighten. Most canning jars sold today use a two piece self-sealing lid which has of a flat metal disc with a rubber-type sealing compound around one side near the outer edge, and a separate screw-type metal band. The flat lid may only be used once but the screw band can be used over as long as it is clean and doesn't rust.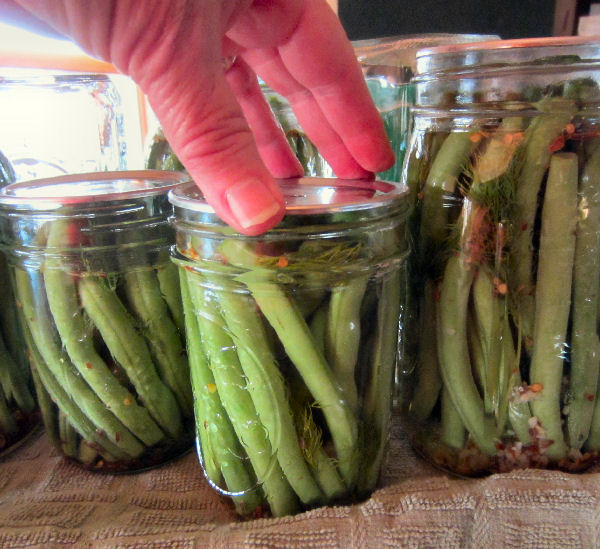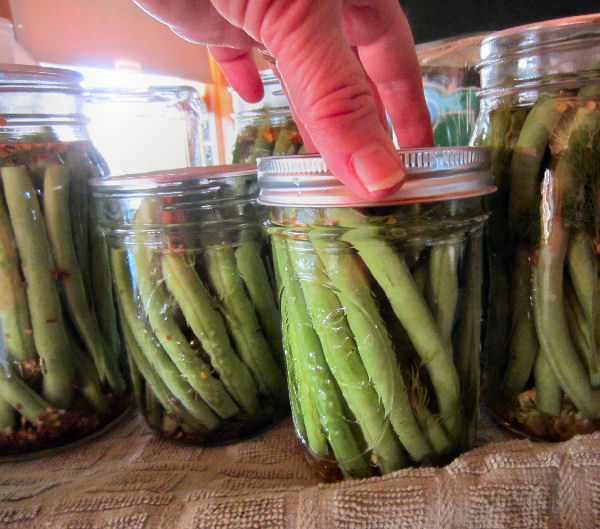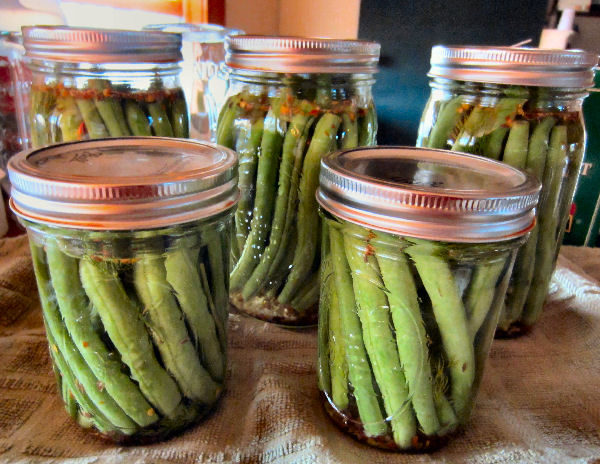 Using a "jar lifter" place them in the hot water in the canner.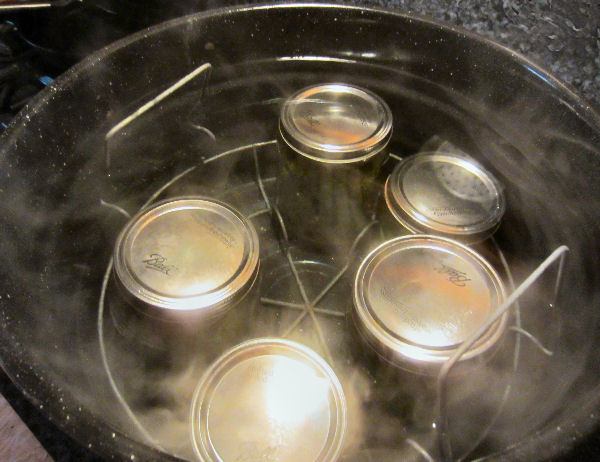 "Process" the filled jars in the boiling water canner for 15 minutes, but you may have to adjust this timing dependent on where you live. Start your timing from the moment the water starts to boil after you put the jars in. Check your altitude (feet above sea level) adjusting  timing for altitude by the table below.
Altitude Adjustments for Boiling Water Bath Canner
1001-3000 ft.- add 5minutes
3001-6000 ft.- add 10 minutes
6001-8000ft. -add 15 minutes
8001-10,000ft.- add 20 minutes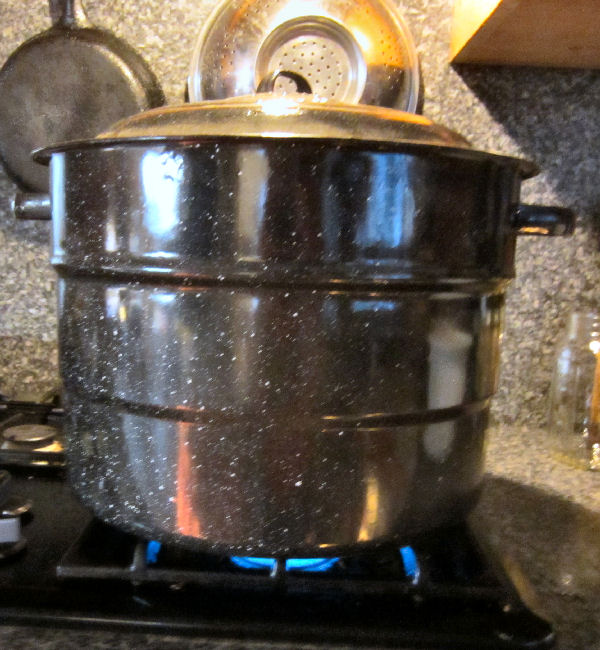 Remove jars using a jar lifter and cool.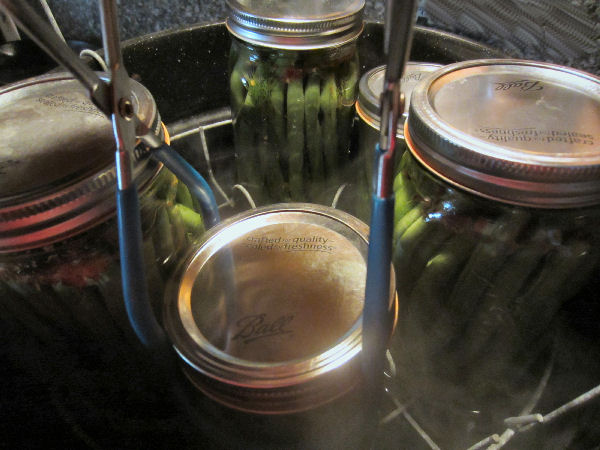 Check lids for seal after 24 hours. You will hear a popping sound in the kitchen as each jar cools and the lid is pulled down tight as the air in the jar contracts. The lid should not flex up and down when center is pressed. The beans will need to sit for 4-6 weeks to get fully flavored. Never use a jar of food where the lid has "popped up". That means there is some bacteria spoiling the food and gas is raising the lid center.  Do not eat it!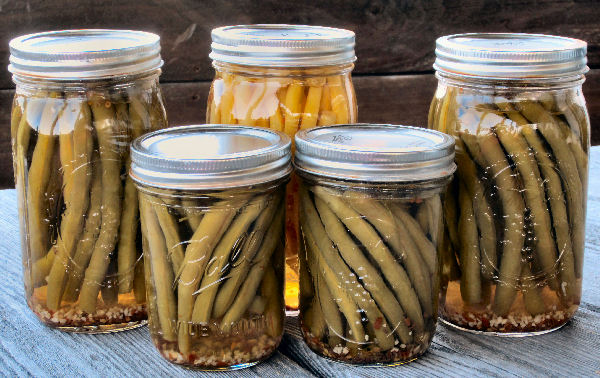 Remember DON'T cut corners, or take shortcuts, or skip steps! Home canning is doable and safe if you "keep it clean" and follow directions. If you enjoyed this recipe, could you give Wilderness Wife a "like" on our Facebook page – CLICK HERE