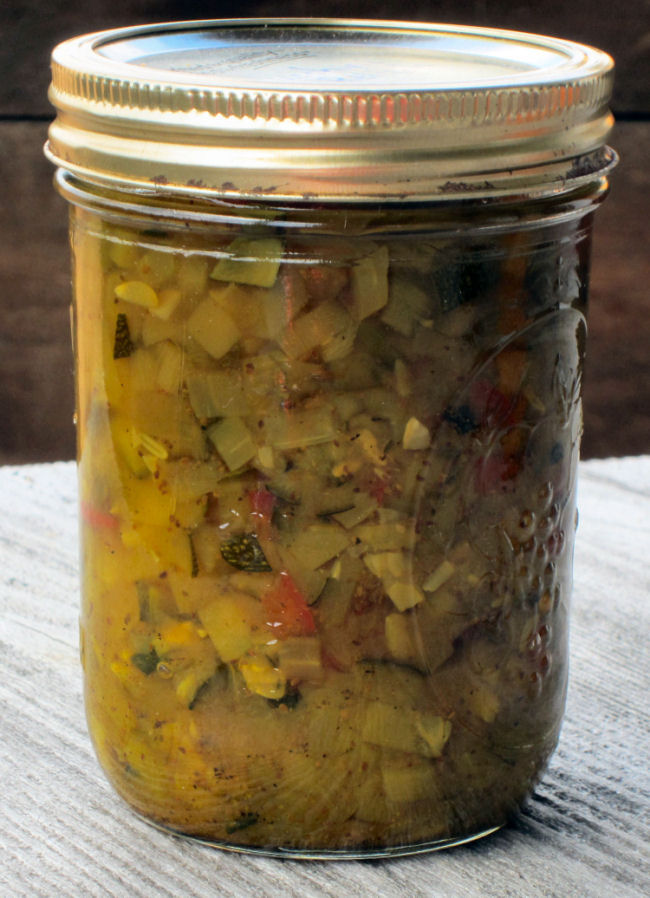 It's that time of the year when the garden is bursting with zucchini, and the family is so sick of eating it that they turn zucchini green when they hear the word.  Then you discover the monster zucchinis that are  the size of a baseball bat hidden under the leaves.  What to do? When life hands you monster zucchini, make relish!! For relish you want lots of flesh and not the seeds so the big guys are perfect. Our pastor's wife, Jo, makes the yummiest relish (she always gives Bill a few jars at Christmas and he hoards it like gold) and she shared her recipe with me. Try it…..you will love it!
Zucchini Relish Canning Recipe
This recipe makes 5 1/2 pints of relish.
12 cups finely chopped zucchini
4 cups finely chopped onion
1 finely chopped large green bell pepper
1 finely chopped large red bell pepper
1 4.5oz. can of chopped green chili peppers
4 tbsp. of pickling/canning salt
Combine the vegetables and sprinkle with the pickling/canning salt.  Stir well & and let set overnight in the refrigerator.
Next morning rinse well in cold water in a colander and drain. Squeeze excess liquid from them.
In a big pot on the stove, mix:
3 cups white vinegar (5% acidity)
5 cups sugar
4 teaspoons celery seed
2 tbsp. mustard seed
1 tbsp. turmeric
1 tbsp. corn starch
1 tsp. coarse ground black pepper
½ tsp. nutmeg
Heat these ingredients to boiling and boil for 2-3 minutes to make syrup.
Add the well-drained veggies and simmer for 15 – 20 minutes.
Add hot mixture to sterilized ½ pint or pint Mason jars. Leave ½" headspace. Process in a water bath for 10 minutes.
Remove jars from water bath and allow to cool undisturbed for 12 to 24 hours. Then wipe clean jars and lids and store in a cool dark place for up to 12 months. (You will likely hear the jars pop when they seal shortly after removal from water bath. The next day test the seals by pushing on top. There should be no movement of the lid. Also gentle pressure from your fingertips on edges of lid should reveal that it is securely suctioned onto the jar.)
Note: The relish tastes good from the start, but allowing it to set for 6 weeks will deepen the flavor, which is often the case with pickled items.
If you enjoy this recipe, could you give Wilderness Wife a "like" on our Facebook page – CLICK HERE