Sugared Asparagus – a delicious asparagus recipe from my past
I'm always looking for different ways to serve asparagus and this sugared asparagus recipe  is a keeper. I found it a few years back in a folder of my mother's recipes.  It sounded so different and the prep was so easy I had to try it.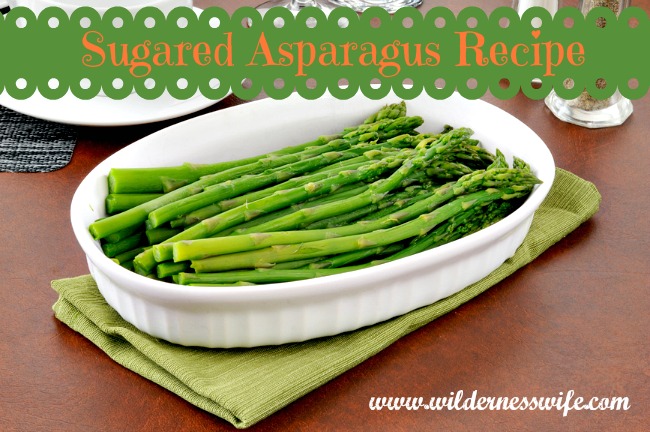 Grow your own asparagus – you'll notice the difference!
I love asparagus so much that we put in our own bed of it a few years back.  Harvesting asparagus in the spring is one of the joys of gardening.  There is no comparison with the flavor of fresh asparagus from your own garden and it is worth the minimal effort it takes to create and maintain your own patch. The commercially grown asparagus in the grocery store is alright but you will definitely recognize the difference when you harvest your own.

| | | |
| --- | --- | --- |
| Sugared Asparagus Recipe - another way to use a spring favorite | | Print |
Recipe type:
Vegetable Side Dish
Author:
The Wilderness Wife's dear Mom, Gloria Binks
Prep time:
Cook time:
Total time:
Discovered in a folder full of my late Mom's recipes, this is Sugared Asparagus Recipe is a different way to serve a tasty spring delight.
Ingredients
3 tbs. butter
2 tbs. brown sugar
2 lbs. fresh asparagus spears trimmed to fit skillet or saute pan you will use. If stems are thick, be sure to peel them to remove the woody portion.
1 tsp. lemon zest
1 cup of chicken broth
Instructions
In skillet, melt the butter over medium heat and add in the brown sugar stirring till it dissolves.
Add the asparagus spears and saute over medium heat for about 3 minutes (a little longer for thicker stems).
Add the chicken broth and lemon zest.
Bring to a boil: then reduce heat and simmer, covered for 8 - 10 minutes, or until the asparagus spears are crisp-tender. (Don't overcook or they get mushy.)
Remove asparagus to a warm serving dish and keep warm.
Cook the sauce until reduced by half.
Pour the sauce over asparagus and serve.