Chunky Pumpkin Chutney .....great way to use up pumpkins from the patch!
Chunky Pumpkin Chutney ... say that 3 times fast! It's a great fall condiment and the perfect way to use up any fresh pumpkin flesh you have like from making a Jack-O-Lantern. If you don't know what a chutney is here's the scoop (no pun intended).
What the heck is a Chunky Pumpkin Chutney?
Technically Chutney is a sauce used in the cuisine of India that includes such forms as a spicy coconut dip, a tomato relish, a ground peanut garnish, or a cucumber, yogurt, and mint dip.  But Chutney got Anglo-sized because India was a British colony at one time. In the English version, Chutney uses tart fruits such as sharp apples, damson plum pickles, or rhubarb with some granulated or brown sugar included.  Vinegar was added to the English version to help with a longer shelf life like jams, jellies, and pickles.  Its popular in English pub fair and is often accompanies cold meats, and cheddar cheese.   My dad came to this country from England so I grew up with a passionate love for chutney that most Americans might not have.  My personal favorite manufactured chutney is Crosse & Blackwell Genuine Major Grey's Chutney.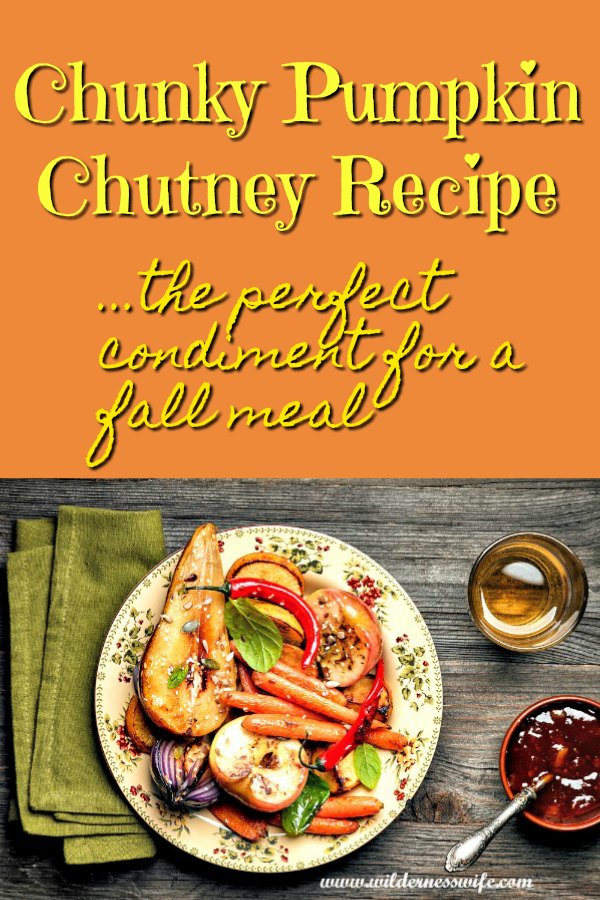 The Best Chutney is the Chutney you make yourself!
I love chutneys of all kinds. They add so much to an ordinary, ho-hum meat entrée. And I love making my own Chutney.  There's nothing like the satisfaction of preserving food you have grown yourself so this is a great way to keep the goodness of the sugar pumpkins we grew in the garden in use all winter and spring. This Chunky Pumpkin Chutney Recipe is great for the fall.  The colors, the flavor…. Try this scrumptious chutney with your holiday meals or try it as a wonderful homemade gift for Christmas giving.
This recipe will require processing by the water bath canning method. We have a water bath canning tutorial here - (See Dilly Beans Tutorial for water bath canning method)
Print
Best Pumpkin Chutney Recipe
A refreshing addition to any meal with a meat entrée and it's great served with cheddar cheese too!
Author:
Prep Time:

30 mins

Cook Time:

20 mins

Total Time:

50 mins

Yield:

3

-

4

pints

1

x
Category:

Condiment - Relish

Cuisine:

Anglo-Indian
2 ½

c. cider vinegar

1

c. sugar

1

c. brown sugar

2 tbsp

. salt

3 ¼

c. fresh pumpkin meat, peeled, seeded and chunked

2

c. ripe tomatoes, peeled and chopped

1

c. onions, peeled and sliced

¼

c. dried cranberries

2

cloves garlic, chopped

2 tsp

. each ground ginger, black pepper, and allspice
Pinch of ground cloves
Pinch of nutmeg

1 tsp

. ground mace
Instructions
In a large saucepan, place vinegar, salt, and sugars. Bring to a boil and stir until sugars and salt are completely dissolved.
Reduce heat and add the remaining ingredients. Cook slowly, gently stirring occasionally, until the chutney is thick. Cook till the pumpkin chunks are tender but do not overcook, or the pumpkin chunks will lose their shape.
Pour the chutney into hot, sterilized jars and seal with lids. Process in a hot water bath for 20 minutes. (See Dilly Beans Tutorial for water bath canning method- link in article above) Yield: 3-4 pints.