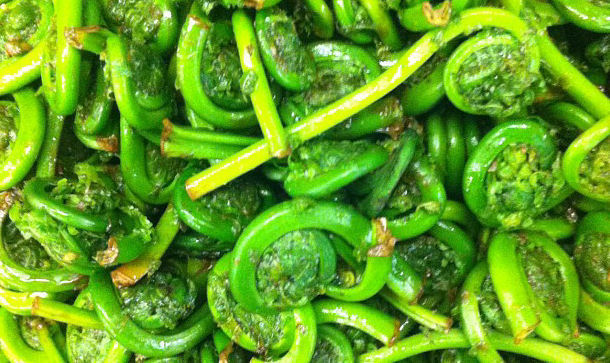 Consider this the definitive Northwoods Fiddlehead Cookbook!
Fiddlehead Casserole
This one is just a variation of the old holiday favorite, "Green Bean Casserole"
Ingredients:
•1 can Campbell's cream of mushroom soup
•½ cup milk
•1 teaspoon soy sauce
•4 cups cooked fiddleheads
.Fresh coarse ground pepper
•1-⅓ cups French's French Fried Onions
The important thing here is to precook the fiddleheads. If you didn't see yesteday's post, first rinse them thoroughly under cold running water in colander. Then boil for 10 minutes. Change out the water and boil in the fresh salted water for another 15 minutes. Now they are ready to be incorporated in the casserole. Mix the cooked fiddleheads with Cream of Mushroom Soup, milk, soy sauce, ⅓ cup of the French Fried Onions and pepper. Bake for 25 minutes at 350 degrees till the mixture is hot and bubbly. Stir it and add the remaining onions sprinkling them on top. Put back in the oven for another 5-10 minutes. The recipe appears on the back of cans of Campbell's cream of mushroom soup. You can also find the recipe instructions for Classic Green Bean Casserole online at the Campbell's Kitchen Web site.
Dijon Fiddleheads
■1 pound fiddleheads, cleaned and rinsed thoroughly in cold running water
■½ cup plain yogurt
■½ cup mayonnaise
■1 tablespoon lemon juice
■3 teaspoons prepared Dijon mustard
■3 tablespoons chopped scallions
■salt and pepper, to taste
Boil or steam the fiddleheads for 20 minutes. If boiling change the water after 10 minutes. Drain in a colander. Whisk the remaining ingredients together while warming in a double boiler. Just warm the sauce, do not heat it to bubbling. Serve the fiddleheads, while still hot, topped with the sauce.
Cream of Fiddelhead Soup
2 lb. fresh fiddleheads, thoroughly rinsed and cleaned under cold running water
1 large white onion, chopped
3 Tbsp. unsalted butter
5-6 cups chicken broth
1 cup white rice
2 tablespoon fresh coarsely chopped sage leaves
1 cup sour cream
½ cup heavy cream
salt & pepper to taste
¼ tsp. fresh lemon juice
Cook the fiddleheads in a pot of boiling salted water for 10 minutes. Drain in colander. Sautee onion in 2 Tbsp. butter over low heat in a large pot until transparent. Add fiddleheads and a little salt and pepper, stir for around five minutes until tender. Remove a few of the fiddleheadsand carefully slice them each into two cross-sections and set aside. These will be your garnish. Add 5 cups broth, rice, and sage. Simmer for 15 minutes until the rice is tender. Purée soup with an immersion blender or in a countertop blender in small batches, until it's blended smooth. Return all soup to the big pot. Over low heat gradually stir in the heavy cream and sour cream. If it seems to thick, just add some more chicken broth until it's the consistency you want. Bring to a boil, whisk in remaining butter. Stir in lemon juice and serve in individual bowls garnished with the sliced fiddlehead in the center.
Fiddlehead Bacon Cheese Omelet
Ingredients:
4 slices of bacon, cut in ½' pieces
¼ cup chopped onion
¼ cup chopped bell pepper
¼ cup sliced baby bella mushrooms
½ cup cooked fiddleheads
4 eggs
2 tbsp. of heavy cream or milk
¼ cup grated cheddar cheese
chopped chives
Cook bacon pieces in a cast iron skillet. Remove bacon and place on paper towel to drain. Sauté the onion and pepper until translucent in the bacon fat in the skillet. Add the mushrooms and fiddleheads, and sauté about 2-3 minutes longer. Remove sautéed vegetables and keep warm in oven (along with the serving plates) while making the omelet.
Drain of most of the bacon fat from the skillet leaving about a tablespoon to coat the bottom. Whisk eggs and heavy cream in small bowl. Pour egg mixture into the pre-heated skillet over medium-high heat, and cook quickly. When bottom of omelet is cooked and top is still a little runny, spread the sautéed vegetables on one half of the omelet and fold the other half of the omelet over top. Sprinkle the grated cheese on top and cover briefly to allow cheese to melt. Sprinkle the chopped chives on top of the omelet just before serving.
Karen Porter's Fiddlehead Dip
1 garlic clove, finely minced
10 to 14 ounces fiddleheads, chopped
1 cup mayonnaise
½ cup grated Parmesan cheese
1 cup grated cheddar or Swiss cheese
1 cup chopped fresh tomato
½ cup chopped fresh sweet Vidalia onion
Thoroughly wash the fiddleheads in cold running water. Put in a pan of cold salted water and soak for 30 minutes, then rinse again under cold running water. Add the garlic clove to the bowl of a food processor and mince. Add the fiddleheads, pulse to mince. Add the mayonnaise and pulse just to mix. Scrape the mixture into a medium sized bowl and fold in the cheeses. Lightly oil three, one cup crocks and divided the mixture evenly between the crocks. Bake in a preheated 350 degree oven for 20 to 25 minutes, until the top is lightly browned. Sprinkle with chopped tomato and onion. Serve warm with crackers or bread.
Serving size: ¼ cup. Serves about 12
Sheryl's notes: The recipe for fiddlehead dip was adapted from a recipe given to me by a friend who credits the original recipe to Karen Porter, an avid outdoors woman and fiddleheader from Winterport, Maine. I have prepared the mix for the dip, spooned it into the crocks and stored them in the refrigerator for as long as two days before baking. The unbaked mix also freezes well.
PRESERVING AND CANNING FIDDLEHEADS TO EAT YEAR ROUND
Of course, the window of opportunity to have fresh fiddleheads is a narrow one. Preserving them by canning and pickling allows you to enjoy them year round. In early spring, it's all about serving them straight up, but I put up a good deal too, pickling them, as well as freezing some in vacuum packs for the winter. Freezing is the most common and safest way to preserve fiddleheads.
FREEZING FIDDLEHEADS
To freeze fiddleheads make sure to follow these steps:
1.Clean them by cutting off any browned stem ends and removing the brown, papery outer shell by gently rubbing them under cold running water. Be sure to rinse them thoroughly.
2.Blanch a small amount of fiddleheads at a time for two minutes in 4-6 cups of water. As a reminder the blanch time starts when the water comes to a rolling boil after adding the produce.
3.Cool in a ice bath immediately after blanching (half ice water mixture)
4.Dry thoroughly and place into moisture and vapor proof containers such as resealable plastic bags. Do not over fill bags.
5.Place container in freezer.
6.To use frozen fiddleheads thaw in refrigerator or cold water. Cook in a pan of boiling water for 10 minutes, drain and rinse and put into fresh salted water and boil for another 15 minutes.
CANNING FIDDLEHEADS
PRESSURE COOKER CANNING METHODS ARE NOT RECCOMENDED FOR FIDDLEHEADS. tHE PREFERRED AND SAFEST METHOD IS BOILING WATER BATH CANNING.
Plain and Pickled Fiddleheads
cider vinegar
sugar
⅛ teaspoon each of pepper, ground nutmeg, cinnamon, allspice and celery seed
Pour enough vinegar over the fiddleheads to cover; then strain it off into a pan. Add 1 cup sugar for every gallon of vinegar. Add a large pinch of each of the spices and celery seed. Boil this syrup for 7-8 minutes; then pour over the fiddleheads in pint-sized jars. Seal and process for 10 minutes in a boiling water process canner.
Sweet Pickled Fiddleheads
1 quart cider vinegar
5 cups sugar
2 teaspoons salt
Mix vinegar, sugar and salt in saucepan; bring to a boil, pour over fiddleheads in pint-sized jars; seal; process 10 minutes in boiling water process canning kettle. Makes 6 pints.
Sugar-Free Fiddlehead Pickles
1 gallon vinegar
1 teaspoon powdered saccharin (if desired)
1 teaspoon powdered alum
½ cup salt
½ teaspoon powdered cloves
1 teaspoon powdered allspice
1 tablespoon powdered cinnamon
½ cup dry mustard
Pack fiddleheads into jars; pour enough liquid to cover fiddleheads; seal at once. Process for 10 minutes in boiling water bath. Let stand at least two weeks before using.
Mustard Fiddlehead Pickles
1 quart button onions (peeled)
1 quart fiddleheads
2 cups salt
4 quarts water
1 cup flour
6 tablespoons dry mustard
2 cups sugar
2 quarts vinegar
Wash and prepare button onions and fiddleheads. Mix salt and water. Pour over fiddleheads. Let stand overnight. Bring to boil, and drain in colander. Mix flour and dry mustard. Stir in enough vinegar to make smooth paste. Add sugar and vinegar. Boil until thick and smooth, stir constantly. Add the fiddleheads and cook until they are just heated through. (Overcooking makes them soft instead of crisp.) Pour into jars and seal immediately. Process 10 minutes in boiling water process canner. Makes 8 pints.
Quick Sour Fiddlehead Pickles
½ gallon cider vinegar
2 cups water
½ cup salt
½ cup sugar
½ cup mustard seed
Mix ingredients, bring to boil. Pour over fiddleheads in pint-sized jars; seal; process 10 minutes in boiling water process canner.
Bread and Butter Fiddlehead Pickles
4 pounds fiddleheads
3 large onions, thinly sliced
½ cup salt
cold water
3 trays ice cubes
5 cups sugar
5 cups cider vinegar
1 ½ teaspoons turmeric
1 ½ teaspoons celery seeds
1 ½ teaspoons mustard seeds
In 8-quart enamel, stainless steel or glass container, stir fiddleheads, onions, salt and enough cold water to cover fiddleheads until salt dissolves; stir in ice. Cover; let stand in cool place 3 hours. Drain fiddleheads and rinse with cold running water; drain thoroughly.
Measure sugar, vinegar, turmeric, celery seeds and mustard seeds into 8-quart Dutch oven or heavy saucepan. Over high heat, heat to boiling. Reduce heat to low; simmer, uncovered 30 minutes, stirring often. Meanwhile, prepare jars and caps. Add fiddleheads and onions to Dutch oven; heat to boiling. Spoon hot fiddleheads into hot jars to ¼ inch from the top. Immediately ladle syrup over fiddleheads. Process 10 minutes in boiling water process canner. Cool jars and test for air tightness. Makes about 6 pints.
.