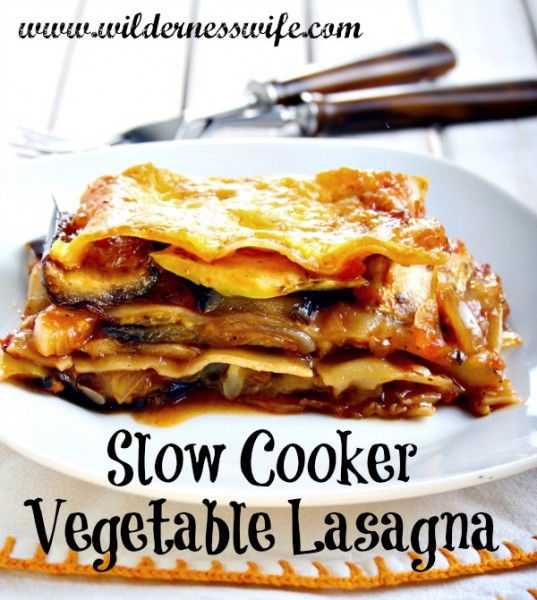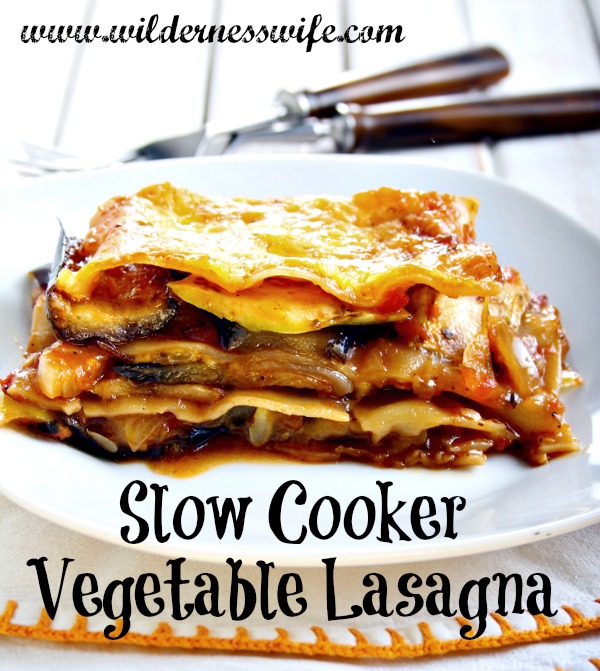 Slow Cooker Vegetable Lasagna fills your Crock-Pot with healthy goodness!
Lately, I am working on some healthy alternatives to some of my old favorite foods.  Lasagna has always been an ultimate comfort food for me.   I was very guilty of loading it up with lots of calories and fat.  But this Slow Cooker Vegetable Lasagna has all the tasty, cheesy goodness of lasagna but eliminates the usual ground beef (red meat) , sausage (processed meat), and whole milk ricotta cheese (fat).  All these high calorie, high fat ingredients are replaced with healthier alternatives without a loss of the "comfort" factor, and cooking in my slow cooker makes it convenient for those busy days when I need a quick meal to serve.
Changing a recipe from a rich, fat laden recipe to a healthier one is just a matter of substituting comparable but healthier versions of the ingredients.  In this recipe I use low fat ricotta in place of whole milk ricotta. I use vegetables with a "meaty" texture like mushrooms to replace the meat.  Using lots of herbs adds significant flavor to make this as tasty as the original version.  Using a Slow Cooker allows you to have a hearty meal ready on the table after a busy day without having to rush, rush, rush. This Slow Cooker Vegetable Lasagna is a winner for the family that wants to improve their diet.  Served with a crusty garlic bread and a fresh green salad, you have a complete meal ready to serve in under an hour.
Helpful tips –
Although any fresh mushroom can be used I prefer small portabella mushrooms because of their meaty texture and their distinct flavor. But they have one drawback – the dark gills on the underside of the mushroom cap, although edible, will turn a casserole like this an unattractive gray color.  I take a spoon with a sharp edge and scrape the gills away discarding them.
Slow Cookers/crock-pots are great at retaining heat.  Turn off the slow cooker and let the lasagna set for about an hour.  This allows any excess moisture to be absorbed into the noodles.  The recipe can get a little soupy if not allowed to "rest",  still delicious but not quite what you want for lasagna texture.
Slow Cooker Vegetable Lasagna – Healthy Comfort Food