Slow Cooker Beef Stew – The solution to a chilly Fall day!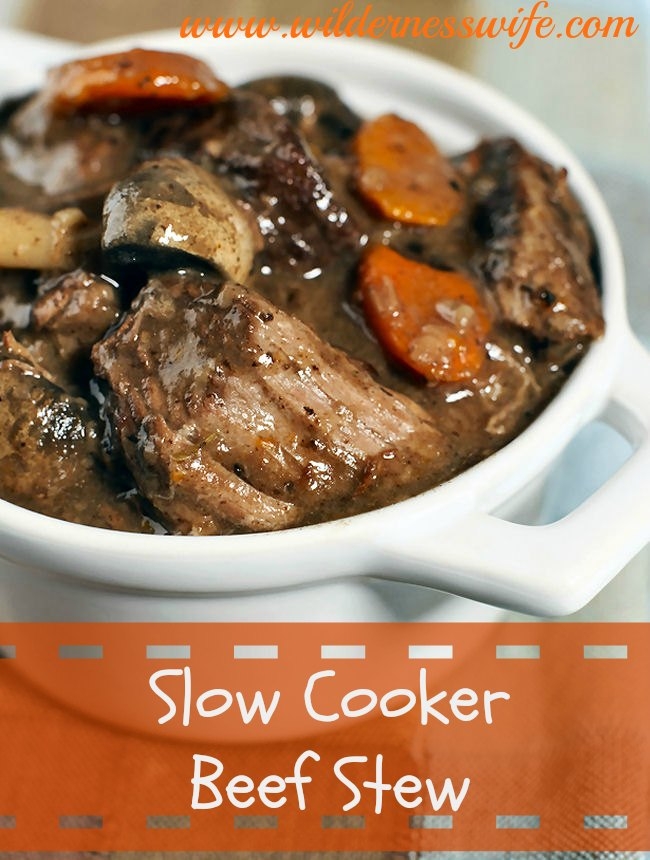 There is nothing so comforting as sitting down to a bowl of piping hot, gravy laden beef stew on chilly fall night.  The beauty of doing it in a slow cooker is once you assemble it the stew takes care of itself and is waiting for you at the end of the day.  A hearty, glorious meal in a bowl, it's easy to serve.  Just add the three B's to the menu – bread. butter, and a beverage – and dinner is on the table in a flash at the end of a busy day.  Oh, bless that slow cooker! In my days of having a young family, with a hubby and three hungry boys to feed, and a full time job, my slow cooker was my go-to appliance.  I would just load it up in the morning, head off to work, and we would come home to a tasty, wholesome meal.  No fast food, frozen food, or convenience food, just good nutritious home cooking from scratch.  I would cut all my veggies up the night before and put them in containers so all I had to do in the morning was put everything in the slow cooker, turn the dial, and head to work.
It can't get any easier than this beef stew recipe.  If you can peel a potato, and slice a carrot, your the chef!  And its a great meal that even the fussiest kids will eat.  In the words of Julia, "Bon Appetit"!

Try some of my other slow cooker comfort food recipes –
 Slow Cooker Corned Beef & Cabbage
Slow Cooker Chicken Vegetable Soup