We all have those days when we feel like the rabbit from Alice In Wonderland. "I'm late! I'm late for a very important date!" The lazy hazy days of summer are over after next week and it's time to get organized and get back to the busy school and work grind. There never seems to be enough time to pack lunches, get the kids everywhere they have to go for after school activities plus cook, do laundry, vacuum. So I admit I look for shortcuts and convenience products that save me time. Minute® Ready To Serve Rice is just one of those products that I count on to help me get a nutritious meal on the table in record time or to pack a quick lunch.
I LOVE rice! I can sit down and eat a bowl of it with just butter, salt, and pepper and its even better if I add in some tasty leftovers. Take a day like yesterday. It was a busy day and I was going to have to eat on the run. I had to be at church to get things ready for the girls club.  So on the way out the door I grabbed a Minute® Ready to Serve White Rice individual serving size and some leftover chicken. The rice heated up in 60 seconds then I stirred in the chicken and a packet of sweet and sour sauce that I had left from Chinese takeout. It was quick, yummy and easy to clean up after.  Along with the convenience it also gives me a healthy option, Minute® Ready to Serve Rice provides easy portion control since it's conveniently packaged in two individual single-serve cups.  Being a diabetic controlled by diet, this helps me keep track of diet requirements. Easy portion control works for me!  I also love the variety that gives me all sorts of possibilities with many varieties including: all new varieties such as Brown & Quinoa and Basmati Rice, as well as Whole Grain options of Brown Rice, Brown & Wild Rice and Multi-Grain Medley. Also, there's Jasmine Rice, White Rice and flavorful mixes. Click here for a handy list of all varieties.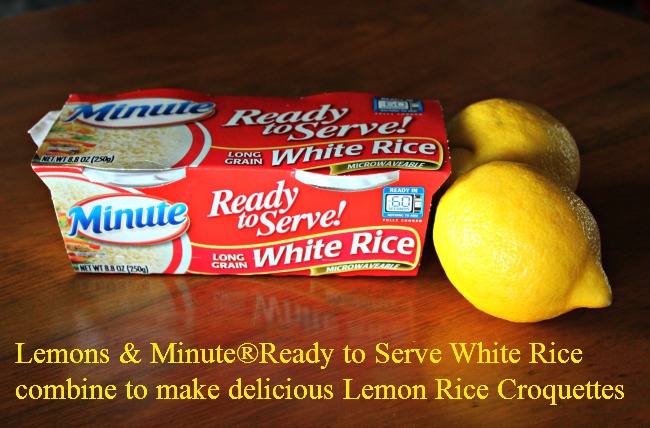 Not only was it a pretty busy day but a hot one at that. It was just going to be Bill and I for supper so I needed a quick and easy plan for that meal too and try not to heat the kitchen up in the process. When Bill gets home he wants to eat so getting supper on the table quickly was my goal. Bill also wants a "real" meal not fast food so I had 30 minutes to get it all done and please his taste too. My meal plan was grilled salmon, lemon rice croquettes with a lemon caper sauce that can be used on the fish and the lemon rice croquettes, and canned French cut green beans for a veggie. Salmon cooks quickly on the grill and he loves salmon (particularly because this salmon he caught on a fishing trip last month) and the lemon rice croquettes will compliment it beautifully. He'd think I had been cooking all day.
Before I left for church, I had taken some salmon out of the freezer and had started the croquette preparation. The mixture has to chill in the fridge before you shape it to fry.   The lemon rice croquettes are great with fish but usually they will take me more than a half hour to make and I had to get to church. I have to cook the rice and then let it cool. Even with boxed Minute® Rice, the cooling takes more time than I had. Aha! I sped up the process by using Minute® Ready to Serve White Rice, which is all cooked and at room temperature. There is a basic formula to croquettes which is to use 3/4 cup of thick sauce for every 2 cups of ground or minced cooked solid food. The solid foods should be well drained of moisture. To shape the croquettes, you spread the mixture into a greased flat pan, and then chill it. When chilled it can be removed from the pan by cutting into equal squares, and then shaped in your hand into whatever form you wish. Croquettes can be shaped into balls, as I have done here, or rolls, or eve cones.  So after I got that done I was off to church.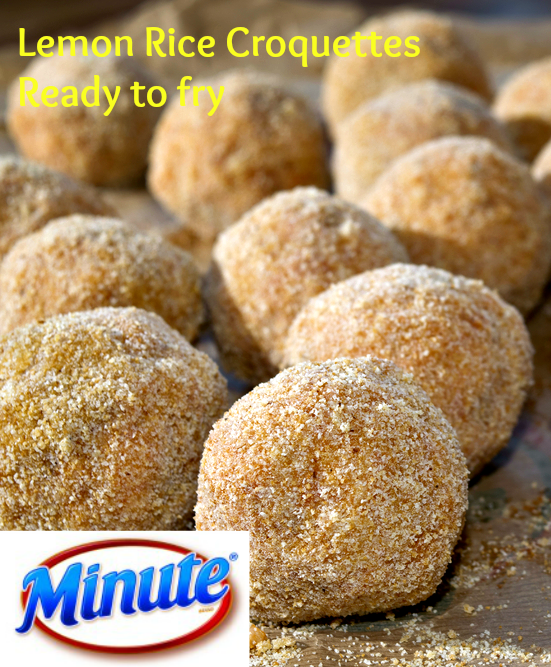 First thing when I got home, I turned on the fryer so the oil could heat. Then I set up my "coating station". Coating is a three step process. I set up three dishes – one with flour, one with beaten egg, and one with seasoned breadcrumbs.  I roll the croquette in the flour, then dip in egg, and then roll in the breadcrumbs.  The next step is to deep fry them in oil heated to 380 degrees from 2-5 minutes depending on the size. When I take them out of the fryer I place them on paper towels to drain while I get other parts of the meal ready. I was on time with everything ready to go when Bill came through the door. I am sharing my recipe for lemon rice croquettes and the lemon caper sauce so enjoy.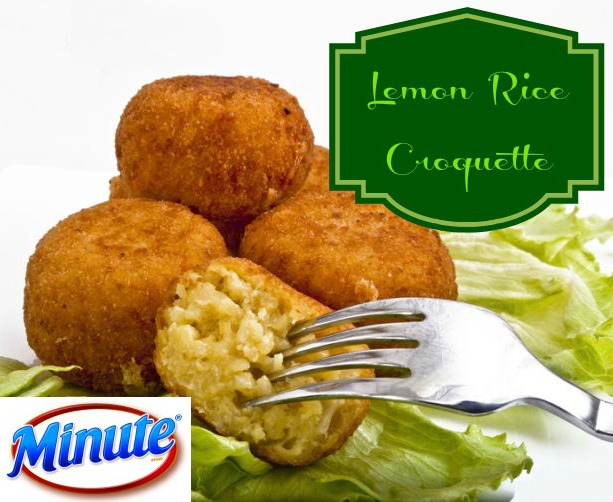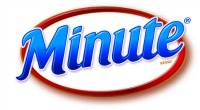 This recipe for Lemon Sauce makes a great sauce for fish also.

This recipe has been featured at –