My hubby loves this Crusty French Baguette Recipe!
One of Bill's favorite breads is the crusty French Baguette and he says that my recipe is one of the best he has ever had. I had never made a French Baguette until we moved here to remote northern Maine.  Bakeries were plentiful in southern New Hampshire where we grew up so I never had the need.  But here in northern Maine bakeries, and in particular ones that sell traditional ethnic breads like Baguette and Italian breads, are nonexistent.
So I researched my cookbooks a few years back to come up with a recipe to make Bill his favorite, the Crusty French Baguette. In my research, I found that that the baguette's ingredients list is very simple – just 4 ingredients, but that the process is different than a lot of yeast breads.  It is definitely not a fast food process but instead a lengthy process, not in labor but in total time with longer rising times than most yeast breads and the need for a starter mix.  I did find "faster" recipes but because of the certain steps left out they do not have the authentic flavor that only the longer process can impart to the dough.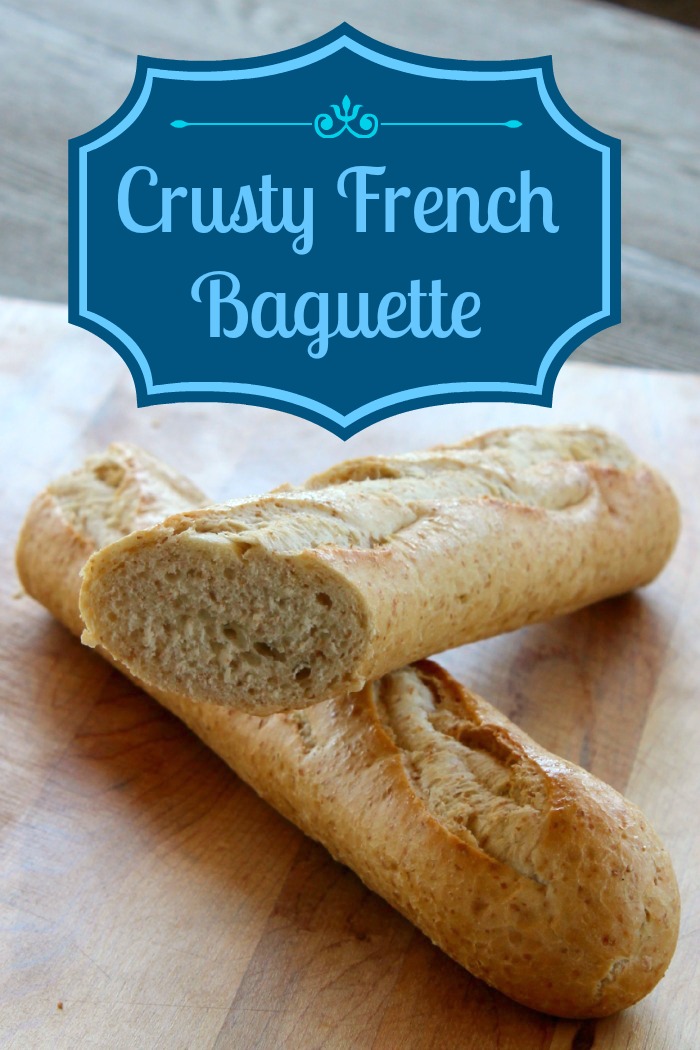 I have well meaning people question things like the ingredients; why only 4 ingredients or isn't there supposed to be sugar to promote the yeast growth? The ingredients are simple – water, yeast, flour, salt. And the omission of sugar is not a mistake. The small amount of yeast and the extra-long rise causes the growing yeast to release organic acids and alcohol which will give your baguettes their outstanding flavor. The process is as important to the baguette as the ingredients so don't skip steps.  Making a baguette is part science and part art.
Equipment that I use to make a baguette
I use a stand mixer with a dough hook to make bread. It is so much easier than hand kneading and works really well producing a consistent product time after time. Another piece of equipment that I find invaluable to make artisan bread is a pizza or oven stone.  It gives an evenly distributed subtle heat to the bottom of the bread and assures even cooking. I also use parchment paper and a cast iron skillet in the process.
Making the Baguette Starter – what makes the baguette special!
We are going to start the day before we plan to bake with the creation of a "starter" much  like the process for sourdough bread. The ingredients for the starter are going to be very simple – 1/2 cup of room temperature water, 1/16tsp. of active dry yeast,  1 cup of all purpose flour.  In a medium sized bowl, add the yeast to the water and gently stir to dissolve the yeast. Add the flour and mix gently to make a soft dough.  Cover with plastic wrap and set aside for at least 14 hours (overnight works well) at room temperature. The starter should increase in size and become very bubbly.

If you enjoy home-baked bread you might like these recipes –
Cranberry Pumpkin Seed Artisan Yeast Bread
Olive Oil & Rosemary Artisan Bread