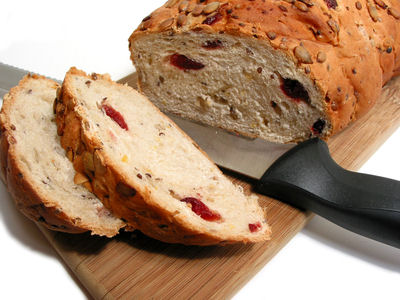 Cranberry Pumpkin Seed Artisan Yeast Bread – a new twist on that holiday favorite – Cranberry Pumpkin Bread!
This makes a tasty bread to serve with Thanksgiving dinner in place of dinner rolls, and makes a delightful and thoughtful Holiday hostess gift. Cranberry Pumpkin Bread is an old holiday standard but this recipe adds a new twist – Pumpkin Seeds and Yeast.  Cranberry Pumpkin Bread with the volume turned way up!
Don't throw away those pumpkin seeds!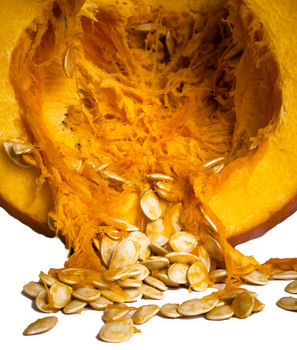 After carving the Jack O lantern for the front porch or making the fresh puree for the pumpkin pie, why waste all those tasty seeds when you can turn them into a tasty treat.
The first step in the preparation is separating the seeds from the stringy pumpkin "guts". As I scoop the seeds and guts from the pumpkin, I place them on a few layers of newspaper. Then I pick the larger clumps of pumpkin fiber from the seeds. Next I put the seeds in a large bowl of warm water, The seeds will float to the top. As they do, I rub them between my hands to remove the last of the pumpkin residue and place them in a saucepan full of water.
Step 2 is removing the shells from the pumpkin "meats" inside. To do this I put the seeds in a large pot of water – 1 quart of water for every 2 cups of seeds is a pretty good ratio. Add 2 tbs. of salt to each quart of water. Bring the seeds and salted water to a boil and boil for 30 minutes. Drain the seeds in a colander and let them cool enough to be able to touch them. Then just pick up the seed in one hand and pull the shell off with your other hand. The shells will come off the seed fairly easily.
At this point they are ready to use in the above bread recipe or you can toast them in the oven for a yummy and healthy snack. Oil a sheet pan and spread the pumpkin seed meats on it in a thin layer. You can salt them or sprinkle them with different seasonings like garlic powder. Cook in a 300 degree oven for 30-40 minutes.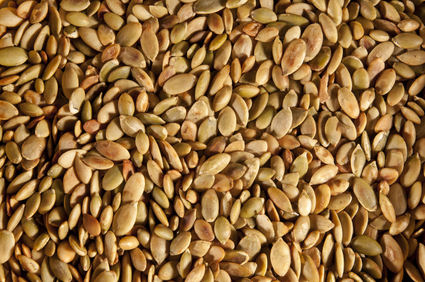 If you enjoyed this post. please, please show your support – "like" The Wilderness Wife on Facebook or "follow" The Wilderness Wife on Twitter ( I promise that I am not a "twitter pest" and only tweet when there is a new post on the Blog). Thank you for your support!