Hi there and welcome to my world! I'm Sheryl aka The Wilderness Wife and I created this blog in 2012 to share my life here in northern Maine with friends and family. As time went on more and more visitors showed up that I had never met before. It is amazing that I have been able to connect with so many wonderful readers from all over the world who have enjoyed my recipes, crafts, gardening tips,  decorating ideas, family activities and pets.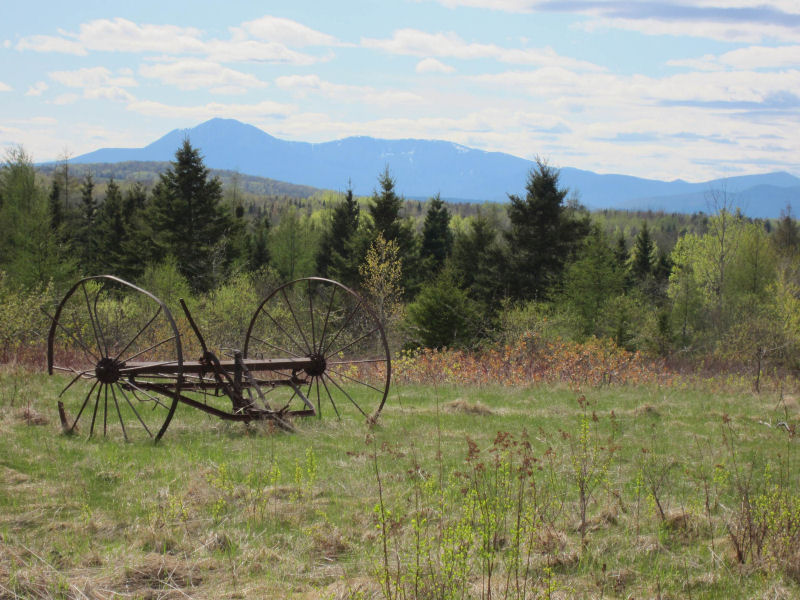 I live in a tiny town called Sherman, Maine in the heart of logging and potato country, about 90 miles north of Bangor. Sherman has a small (population of 450) and is very remote but incredibly beautiful. I am very fortunate to have picturesque views of Mount Katahdin, the northern terminus of the Appalachian Trail, which is about 20 miles to our west.
I love lifestyle blogging because it allows mre to touch on so many subjects but I have to be honest with you in that I love to share recipes and talk about the pets.
Before we go any further I need to make a disclosure here about my recipes. I am all about easy, tasty and "reasonable" recipes. Wilderness Wife recipes will not contain exotic, hard to find ingredients or require gourmet chef equipment or techniques. I am an "old school" home cook passing on favorite recipes i have gleaned from my experience as a working mother and from family and friends. You will not find a lot of recipes for the latest food fads here. I use butter, sugar, and regular all purpose flour. This blog is not a great source of gluten free, keto, or other special diets. Personally, I hate kale so you won't find many recipes using it. Kale chips, yuck, who thought of that horror? Same thing with cilantro, yuck. I grow herbs in containers on my deck right outside the kitchen door as I love having fresh herbs to use in my cooking. Cilantro will never be one of them! My recipes are basic, tasty, fairly economical, sometimes not very healthy (to that I say, All things in moderation!) so keep that in mind. No one says you have to eat the whole pie in one setting (occasionally I have come close LOL). Baking, slow cooking, and grilling are some of my favorites styles of cooking. Cooking and creating recipes is one of my joys. I have years of experience cooking for my husband and 3 sons and love sharing what I have learned with the young families that visit my blog. Quote from my husband, Bill – "Never trust a young, skinny cook."

My other passion in life is my pets – 2 crazy cats and the German Shepherd dogs that my son, Doug, and I breed, raise and train to be mobility service dogs for the disabled. My father was a professional animal trainer with a number of circuses in his younger days.  As a young child I learned from him how to communicate with animals and have them respond to instruction. Animal training is all about developing a bond and a channel of communication with the animal. You can learn more about our beautiful German Shepherds at The Haven Kennels website.

Creativity and crafting has always been an important part of my life. I am a primitive Americana folk artist much in the style of Charles Wysocki and Linda Nelson. Telling stories through my paintings has always been fun for me. I have taught decorative painting as a national travel teacher, written articles for craft magazines, and designed painting projects for craft paint companies including DecoArt, FolkArt, and Delta Ceramcoat.

My paintings have been licensed and reproduced as home décor prints, greeting cards, and home décor products. One of my favorite painting endeavors are my Americana house portraits that allow me to work closely with clients incorporating special memories into the painting.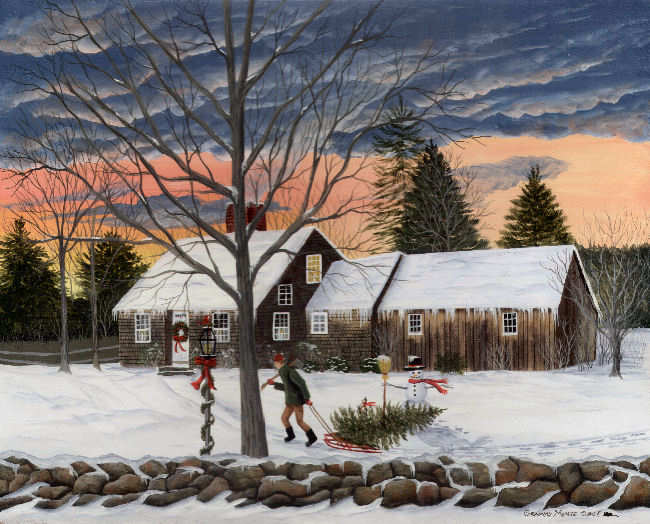 As bloggers we offer the following services –
The Wilderness Wife Blog has turned into a very successful full time business for me, something that I never realized would happen when I started my blog. I provides both myself and my son, Doug, with very interesting and creative jobs.
Sponsored Posts – we have worked with numerous brands including Minute Rice, Birds Eye, Purina, Clorox, Nine Lives, Smithfield Meats, Walmart, Target, Home Depot, Tyson, Kraft, Green Giant, and more. We also offer post-specific recipe development and giveaways.  All sponsored content is supported with social media posts and strong SEO for search engines.
Recipe Development – I've been baking and cooking for years. I know what it is to try to get a meal on the table for a husband and 3 sons after working all day. Helping working families plan and cook meals is one of my favorite endeavors.  Let me create a recipe using your product to share with my readers and yours.
Social Media Campaigns – We offer campaigns on Pinterest, Twitter, Facebook, and Instagram to promote your content.
Blog Consultation Services – After 7+years of blogging, I have pretty much done and seen it all. From WordPress to Pinterest, I can help you sort out the headaches of blogging and get your blog on the path to being a successful business.
Pinterest Account Management – The Wilderness Wife team specializes in the development and management of Pinterest accounts with a strong focus on Pinterest being not just a social media channel but a visual search engine.  Our techniques will turn your Pinterest account into a source of website traffic, increased followers, and strong producing evergreen content.
I look forward to sharing my life with you so I hope you join me as I share my recipes, practical knowledge, and love of fun with you. If you would like to join my mailing list for my monthly newsletter, just sign up on the form in the column to the right.