The Lowly Onion Becomes Slow Cooker French Onion Soup
This recipe for Slow Cooker French Onion Soup allows the lowly onion, the bridesmaid never the bride of the culinary world, to show off its star quality.  How many savory recipes, particularly soup recipes, can you think of that don't include the onion?  Not many!  It always seems to be there….the little background note that is sliced and diced into obscurity in thousands of recipes.  Poor little onion, a sort of Rodney Dangerfield of ingredients, that get's it's chance to be a headliner act in Slow Cooker French Onion Soup.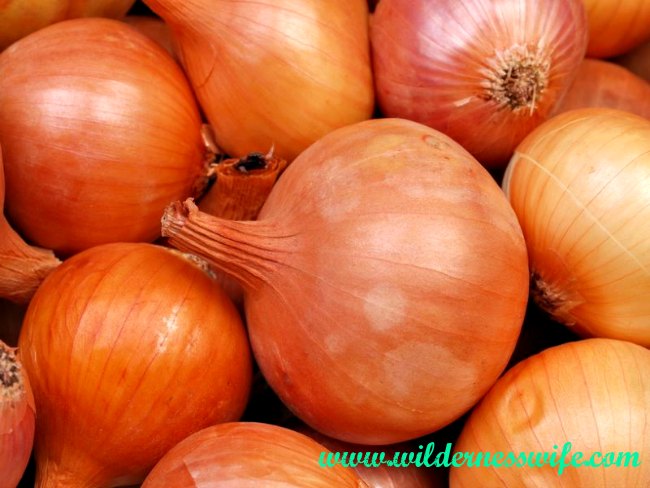 Bill and I have been eating a lot of soup lately.  Maybe it's the dreary, grey stormy days that we have been having lately with snowstorms and ice storms and nights as cold as -31F, that makes a big bowl of steaming soup so comforting. Certainly the aroma of a big pot of soup fills the house a fragrance  more appetizing than any potpourri.  Sometimes I make soup on the kitchen woodstove but when I need the soup to take care of itself on those busy days that I can't babysit the woodstove, I rely on my slow cooker. The good old crock pot has been my favorite small appliance for years.  I bought my first one in 1976 and have never been without one since.  Over the years I have perfected my slow cooker recipes and have quite a repertoire of them.  This one for Slow Cooker French Onion Soup is a favorite because it is yummy, economical and so easy to prepare even a beginner can have great success with it.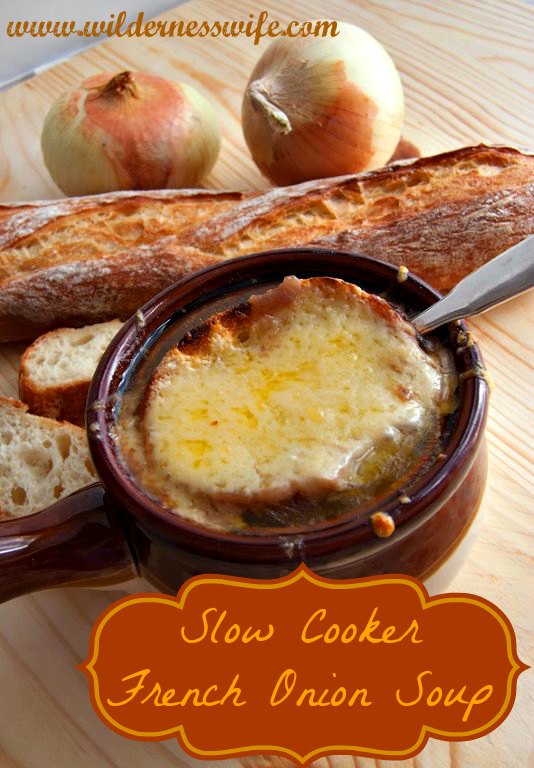 Note that the starting of this soup can be done in two ways – in the crock pot from the beginning or transferred from the sauté pan. Both come out good and starting it in the crock pot can save you time if you are in a rush. So if you need to get it together quick, just throw all the ingredients in the slow cooker and turn it on. But taking the slower route of caramelizing the onions in the sauté pan can add a depth of flavor that is truly yummy!  Try both and let us know what you think!
Print
Slow Cooker French Onion Soup
Economical and comforting, this tasty soup is the perfect end to a chilly winter day!
Author:
Prep Time:

15 mins

Cook Time:

8 hours

Total Time:

8 hours 15 mins

Yield:

5

-

6

1

x
Category:

Soup

Cuisine:

Franco American
6 tablespoons

butter

4

onions, sliced
Kosher salt and ground black pepper

2

garlic cloves, chopped

1 cup

red wine or cooking sherry

2

bay leaves

2

fresh thyme sprigs

8 cups

beef broth

1

baguette, sliced

1 cup

grated gruyere cheese

½ cup

freshly grated parmesan
Instructions
Melt butter in sauté pan over medium heat.
Add onions, and sprinkle with salt and pepper. sauté until caramelized and tender (about 15-20 minutes).
Add garlic and cook 3 minutes more.
Pour onion from pan into slow cooker.
Add wine to sauté pan to deglaze the pan. Be sure to loosen all the delicious crusty bits from the pan bottom. Pour this into slow cooker.
Tie the bay leaves and fresh thyme sprigs in a bundle with string (makes it easier to retrieve at the end of cooking time) and place the herb bundle in the slow cooker.
Pour in 8 cups of beef broth.
Cook on High for 5-6 hours or Low for 8 hours.
Remove herb bundle.
Serving preparation:
Slice baguette and place on cookie sheet. Sprinkle cheese liberally on each slice
and toast in broiler for 5 minutes or until bread is toasty and cheese is melted.
Ladle soup into individual bowls and float a cheesy baguette slice on each
This post was featured at –