Apple Spinach Salad is Quick and Easy and oh so nutritious!
Whether its summer or winter, this Apple Spinach Salad is a tasty and nutritious, and very quick to make.  When I plan a meal, I like to include a salad side dish to add texture and freshness to the menu.  And frankly, the same old standard tossed salad gets boring so I try to mix things up by trying new salad combos.  The spinach i , of course, on the tart side so the apples should be a crisp but also sweet eating apple.  For this Apple Spinach Salad, my apple of choice is the good old standard Macintosh, but I also use Fujis, Pink Ladies, Empires, and Crispins depending on what is available and what looks the best at the grocery store.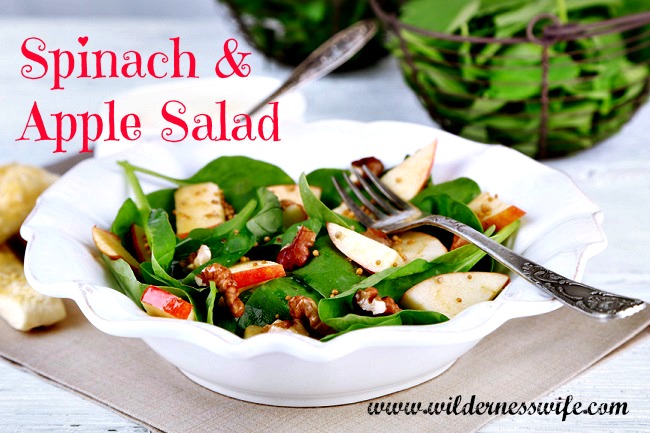 Apple flesh turns brown very quickly when exposed to the air but if you use lemon juice to coat it the slices will stay white and more visually appealing.  Not only does food have to taste good, but it is important to make sure that it has great eye appeal also.  This combination of colors in the Apple Spinach Salad makes a very pretty side dish with the dark green of the spinach, the reds of the apple skin, and the brown of the toasted nuts.

This is a great salad to go with a pork entree, but pairs well with poultry and beef.   We enjoy it anytime of the year but it is a great addition to a summer evening meal providing great flavor, texture, and a pretty side for the meal.